A Taylor guitar for less than a grand? Maybe, the first thing you'd say is that it's another "dumbed-down" version of the premium Taylors. However, you're very wrong right there.
The Academy Series models, which the 12e belongs, is a series consisting of three models with new designs and purpose. They offer maximum playability at prices less than $1000. They are also easy-to-play and have interesting sound quality. Other models in this series are the 10e and 12e.
Below is a review of the Taylor Academy 12e model. This is my review, so expect opinions and personal recommendations in between.
Editor's Pick
Pros
Plays easy on the fingers, especially when fingerpicking
The armrest is perfect for players who place their picking arm on the guitar top
Labeled knobs are excellent, along with the tuner onboard
Nice-sounding guitar with enough volume
Cons
Coin-shaped batteries easily ran out
Not the kind of guitar for people who want bling and striking finishes
Lack of bass control on the ES-B pickup/preamp combo
Design & Construction
Taylor is one of the best brands when it comes to guitars. So, players are expecting a lot, especially for its affordable acoustic-electrics. With the Taylor Academy guitars, particularly the 12e, I am giving two thumbs up to Taylor. It lives up to the expectations of the fans, by dressing the 12e with solid Sitka Spruce top, laminate layered Sapele back and sides with the smooth matte-varnish finish.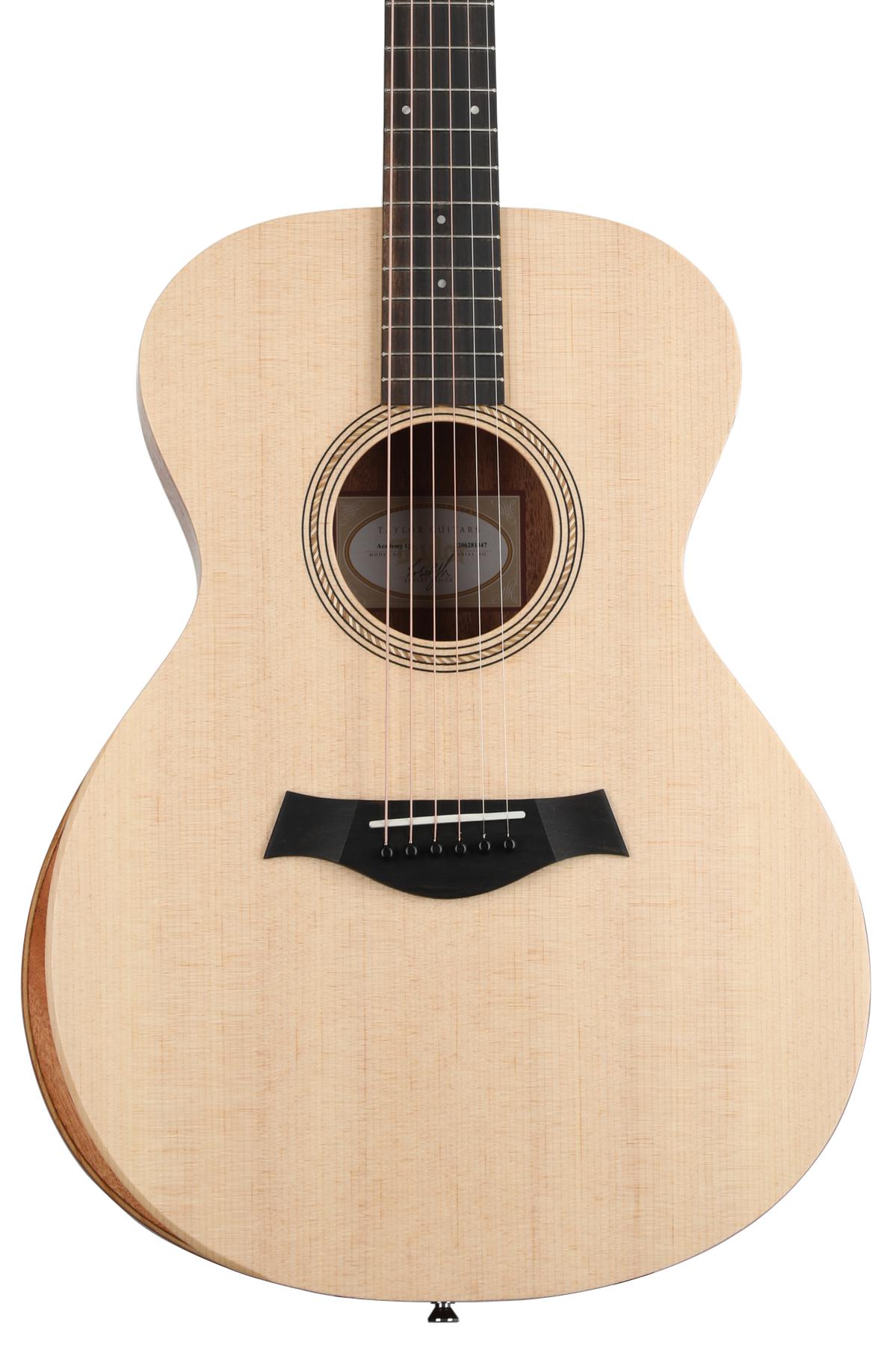 And, as I have mentioned in the quick review, there is nothing fancy with the 12e — no purfling, except the three-ring rosette made of Baltic birch. There's only a top binding (no back binding) that offers more projection and volume. Yet, as a manufacturer that's known for its consistently fine craftsmanship, you are assured that you are getting a durable guitar.
This six-string guitar has a grand concert body style and an armrest bevel, a perfect companion for fingerpickers. It has a body width of 15-inch, length of 19.5-inch and depth of 4 3/8-inch. It's lightweight at only 8.7lbs, so beginners won't find it cumbersome to play.
The neck is made of Mahogany with slim profile and rounded "V" peak at the center with a flawless matte finish. It features Taylor neck joint with West African ebony fretboard. The fretboard has 20 frets decorated with 4mm dot inlays of Italian acrylic. It's another acoustic-electric with a shorter scale length of only 24 7/8-inch and a narrower nut width of 1 11/16-inch.
This guitar is a non-cutaway with clean and symmetrical look, perfect for those who don't usually play the upper register. It has a standard headstock with Copafera overlay, a printed Taylor logo, and chrome tuners. You'll also find an ebony bridge, Micarta nut and saddle, and the stock Elixir Phosphor Bronze light strings.
Taylor equipped this guitar with its very own Expression System® 2 piezo pickups with onboard preamp and built-in digital chromatic tuner. It only has Tone and Volume controls that are properly labeled. This features an LED display for the tuning and low battery indication.
The pickup/preamp system is powered by two button cell 3v lithium (CR2032) batteries, which provide approximately 300 hours of use. It'll automatically turn off after 3 minutes of inactivity to extend the battery life. However, based on my experience they ran out faster; other users had the same issue, too.
Playability & Performance
At first glance, what catches your attention isn't the fancy vibrant colors or other decorative elements in this guitar, but the armrest. The armrest bevel in the lower bout, usually found on top-end models, accommodates players who rest their picking arm on the guitar's top. This gives them more playability and comfort.
When you hold the guitar, the first thing you feel is the slim profile of the neck. It's engineered to offer smoother and more enhanced hand feel that beginners will surely like.
With the shorter scale and the ebony fretboard, it's very easy to move up and down the fretboard. Though it's a non-cutaway guitar, the neck is smooth, so it's easy to access the upper-register frets, but might take a bit of practice.
The chrome tuning machines are pretty much decent and reliable in keeping the strings in perfect tune. So, you can barely use the digital tuner onboard. The action is perfectly low without any fret buzz and doesn't need to adjust the truss rod. Even for long hours of playing, it'll stay in tune — a really helpful guitar quality for beginners.
The electronics onboard is straightforward to use. It has the tone and volume controls with proper labels. It has a built-in chromatic tuner with LED display for the tuning and low battery indication. It isn't a sophisticated pickup/preamp system, but it'll deliver warmer and fuller sound when plugged into my Fender Acoustasonic amp.
"It's important to give a beginning player the most comfortable, gratifying experience to make a welcoming first impression," said Taylor's master luthier Andy Powers for the Taylor Academy Series. From my review on 12e's playability and performance, it seems that Powers and everyone in his team who work on the guitar really did a great job.
Sound
Amazing! Definitely a Taylor! Those were the first two statements that I said after playing a few chords on the Taylor Academy 12e. It's not flashy, but with the right setup of the strings, the intonation, and the tuning, it can sound more like expensive Taylors.
The solid Spruce top and the laminate Sapele back and sides offer a more balanced and vibrant tone. It has warm with slightly bright sound, without being too boomy or distorted. It has more volume, with great projection and nuances at lower volumes.
You don't need to have a trained ear to realize its tonal versatility. Though the pickup isn't high-end, you'll get a great sound output when you plug it in. It sounds more organic and you can hear the natural resonance out of the 12e.
Value for Money
For a beginner looking for a guitar that's playable and can sound better with proper setup, Taylor Academy 12e might be a bit expensive. I don't know if you'll agree with me, but there are a lot of non-Taylor acoustic guitars out there that are cheaper than this one. I played other entry-level guitars even at sub-$200 range, and they seem to offer great tone too.
But, if you're talking about Taylor signature tone, it's a different story. The 12e is definitely a great alternative to expensive Taylors. Aside from the tone, the armrest bevel is also another highly sought-after feature that's only found in expensive guitars. So, perhaps, for fingerpickers and those who like to learn fingerpicking styles, the guitar is a worthy buy.
Verdict
Editor's Pick
Such simple acoustic-electric guitar is usually overlooked by players who like fancy, vibrant-looking with shiny inlay guitars. With Taylor guitars, you'll have to pick and play them to appreciate their greatness. Like the mid-priced Taylor Academy 12e that is simple but becomes beautiful when played.
Playing the 12e is comfortable and produces a pleasing Taylor tone. Since it's designed to have maximum playability, indeed, it's easy to play with low, yet buzz-free action, smooth and slim neck profile. The electronics onboard is useful, but the coin-shaped batteries seem unreliable. Despite that, it can deliver great performance with outstanding sound quality.
GET THE TAYLOR ACADEMY 12E HERE