Whether you want to just test the waters in this thing or you'll really interested, Squier Classic Vibe Telecaster will surprise you in many ways.
One is how it's cheaply priced, for all the good things this Tele have.
Let's get into the details to know if this budget telecaster is worth our money. Here are among the features that the Vibe 50s excel at.
Editor's Pick
Squier by Fender 50's Telecaster – Maple
There is one real instrument that equals with expensive Fenders, not in price, but in sound quality. That is the strongSquier Classic Vibe 50s Telecaster/strong. It has everything a beginner needs in a guitar and a pro's playing partner in case he gets bored with all the complicated stuff.
CHECK PRICE ON SWEETWATER
CHECK PRICE ON GUITAR CENTER
We may earn commission from purchases made from our links, at no additional cost to you.
Aesthetics-Wise, It's Awesome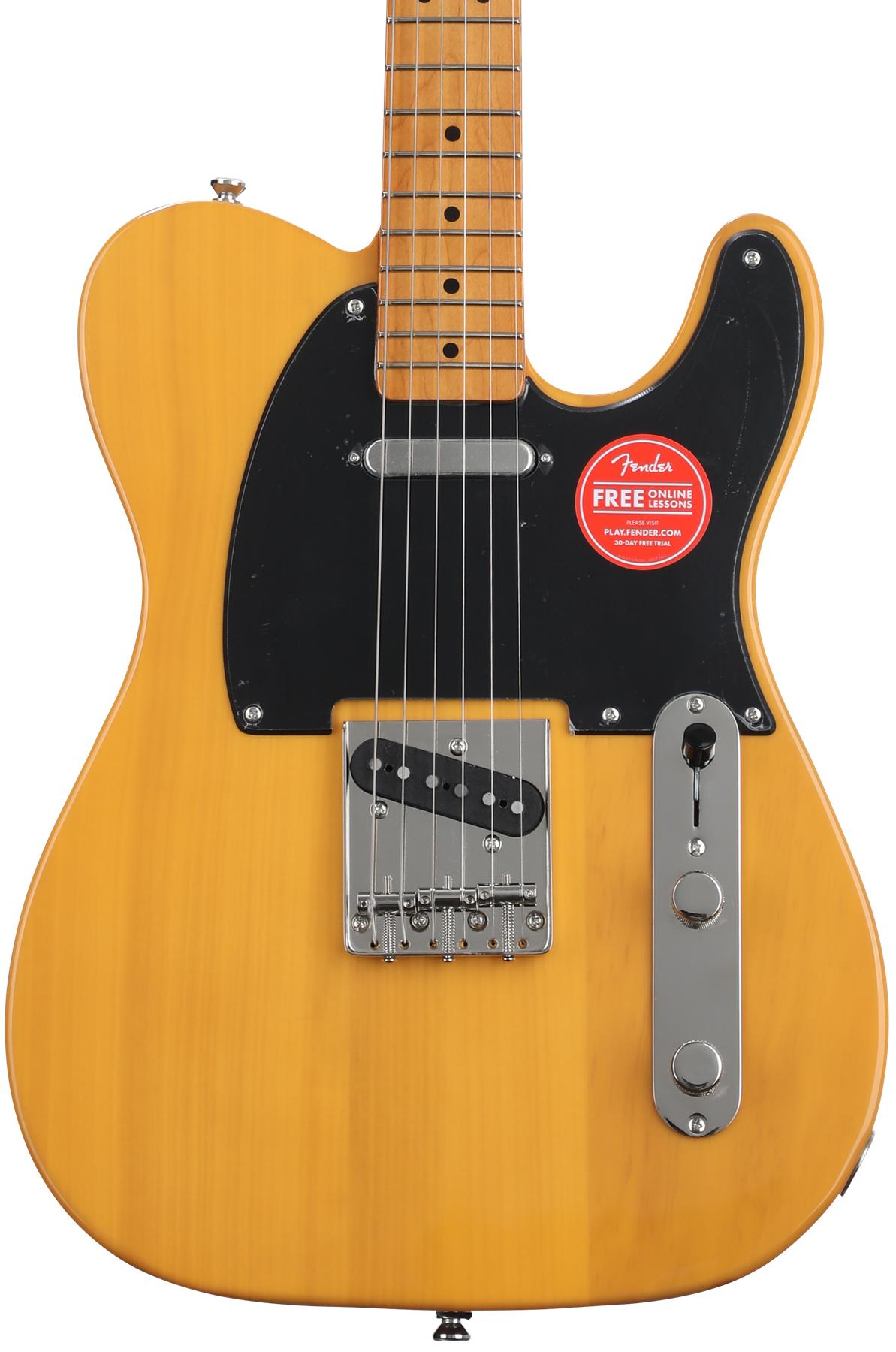 The body is made of pine and it's not very common to a Telecaster. The pale transparent finish is fantastic and seems to be perfect. It has the vintage C-shaped maple neck.
The back is fully lacquered with a satin feel. Its fingerboard comes with 9.5-inch radius and 21 medium jumbo frets. This flatter radius signifies comfort and action, and easy bending after the 12th.
Both the body and the one-piece maple neck seems to be well made and solidly glued together.
Although the guitar is a little heavy, it's an advantage for some players for great stability. The overall fit and finish of the guitar are superb.
Specs
Playability
The comfy C-shaped neck gives this guitar great comfort and playability. It stays in tune pretty well.
It may not be among shredders and the fastest action there is, but it works magic. With its glassy fingerboard, sliding and bending have never been this easy on this thing. It has great sustain, too.
Sound Quality
One of the deciding factors whether to have a Squier or not is through the quality of the sound it produced.
It's like, the whole thing has common signature tone. And, this Tele has that, and a lot more.
Maybe it's the pine body, the Classic Vibe is more resonant. It lacks that Tele twang. Hence, it doesn't produce brighter sounds its cousins have.
You can also produce distorted tones from this thing.
Setup and Hardware
Seems like the setup is great right out of the box. Although it doesn't mean to be "zero" adjustments, it means that only a few tweaks are necessary.
This means that you can set up the guitar yourself and don't necessarily go to repair shops.
When it comes to the hardware, it has that vintage-style two custom Single-coil Tele pickups – at the neck and the bridge.
The neck pickup gives that high-gain sounds of rock and blues, while the bridge pickup is responsible for the Tele bite.
The Classic Vibe may not have reputable pickups, but it has Alnico III magnets. And, as per checking, this is the only version of the Classic Vibe with Alnico III.
This is the one that makes the surprises.
It can give a surprising blend to give clarity and warmth to the sound. With proper setup, this combination is really not usual in Tele.
Perfect Balance
Do you know what one thing really separates this from the common junk electric guitars out there?
It's the balance.
You can feel the perfect balance in its sound – not too bright, nor too deep.
An Entry-Level Guitar with a Plus
The balanced sound is all there that separates this Tele from the rest. Although it's just one, it's powerful.
You can not only give your Tele and beating to get a twang, you are actually making your own music style.
And, as a musician, it's a great plus to have a unique playing style.
So, even though this entry-level fella can't give you the luxury of playing blues, rock, country, and punk without hassle, this helps you wield your sword.
So, better keep crushing with this ax!
Pros
Well-crafted headstock
Great for string bending at higher notes.
Cons
A little heavier than its competitors
Cheap pickguard
Pickups are great, but a little noisy
Drawbacks
I've seen Yamaha, Fenders, Gibsons, Les Paul and their entry-level alternatives. And this one doesn't seem to be different from them.
The design and hardware? Nothing unique. Even its 50s vibe can't even bring the good old days back with its strings.
So, I might be looking for some alternatives, probably better, like this Fender Standard Telecaster, or the Fender Standard Stratocaster.
Verdict
Editor's Pick
The guitar is excellent and recommended. For a few hundred dollars you are not only getting an entry-level electric guitar, you are buying a Squier.
Ever wonder, why almost every part of the Vibe 50s is in vintage-style?
Because it wants to bring players the 50s Tele look and feel, as well as the sound quality.
So, this is not actually a replica of the legendary Telecasters in the 1950s.
At the bargain price and if this guitar serves you well, then, having one is a good idea.
Even though it's not a replica or might come with cheaper parts, given its price, the review shows likable features about this guitar. So, maybe it's something to get some thought of.
Do you agree with this review? Let me know by leaving your comments below!