The Seagull S6 Original Acoustic Guitar
With many guitarists raving about the Seagull S6 original acoustic guitar, it may have you wonder why.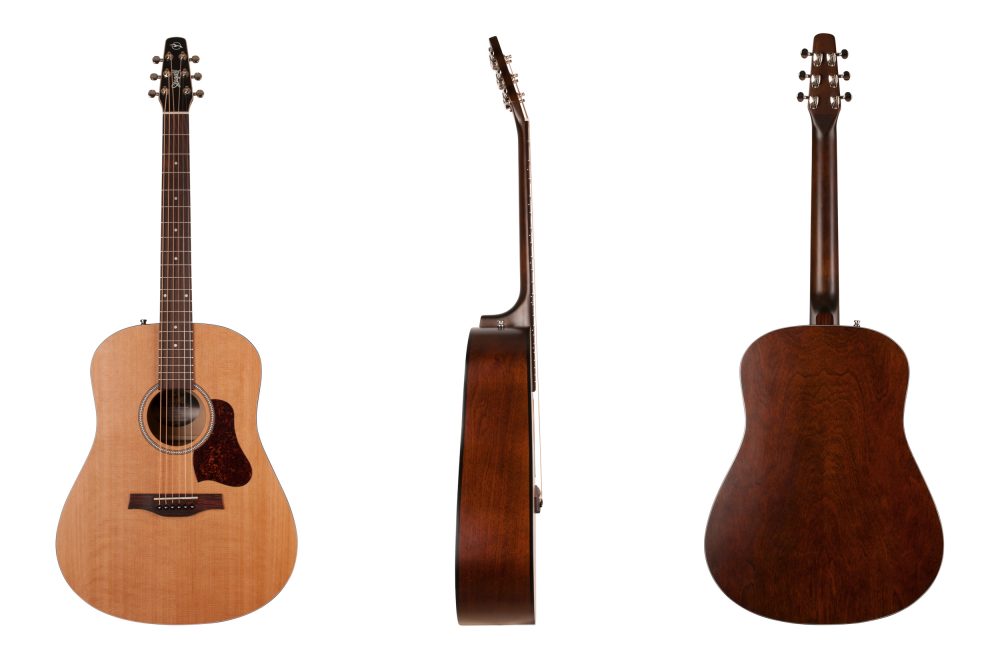 Compared to most mass-produced guitars from China, this guitar was handmade in Canada, which makes it even more unique and the assurance of a well-built instrument.
Its quality alone is what makes the Seagull S6 such a worthy investment.
Pros
One of the only guitars handmade in Canada for assured quality
Bright and vibrant sounds, amazing clarity
Comes with the quality saddle and nut for improved tone and playability
Better tuning stability with the small head and thick neck

Cons
Some guitarists may find that it has "too" bright or vibrant sounds
A bit more expensive than the usual acoustic guitar
Solid Construction for Easy Playing
Let's first talk about the solid build of the Seagull S6, which is what makes it different in beautiful ways.
While it may seem like your typical guitar first glance, it's the quality of materials that you can feel and hear. The Seagull S6 has a pressure-tested solid cedar top for a beautiful tone.
The company also used Canadian Wild Cherry for its back and sides, which you can't find in guitars from this price range.
With its cedar top, you get different tonal qualities which helps the guitar's tone open up with age. It also has the simple look and finish that makes it loved and built to last for a long time.
Bright and Vibrant Sounds
When you listen to the Seagull S6 while it's being played, you won't believe that it comes at the price set. It sounds phenomenal, comparable to the higher-end guitars twice its price.
You can expect a subtle twang in its tone, matched with the full-bodied resonance and excellent sustain to sound like quality music to the ears. Thanks to its cedar top, it responds well to any finger-picking patterns and arpeggios.
It may be too bright for some, as open chords sound a bit chimey. However, it also has the thick sounds that accent the root notes.
Variations To Choose From
Excellent Action and Feel
Only a handful of guitars with the similar price range as the Seagull S6 would play very well. With the S6, you can compare it to higher-end guitars in regards to its feel and playability.
Beginners will be able to adapt to its shape quickly, learning the ropes without the hassle or frustrations.
There is also an electric-acoustic version of the Seagull S6, which comes with a Quantum 1.
This has the versatile controls that make the model nice to play with.
However, it is much more expensive compared to its original acoustic.
Detailed Saddle and Nut
The Seagull S6 original uses a Compensated Tusq made from Graph Tech, which has improved the playability and tone.
There also saddles with the guitar, which are pieces of wood which hold strings below the guitar's sound hole. This is a major characteristic of high-end guitars, making it surprising for the Seagull S6 to have.
Furthermore, there are nuts, (a raised piece of wood found on your fretboard), which helps position the guitar strings from different heights. This makes it easy to play without the worry of the action and string's thickness.
It's these small details that make the Seagull S6 feel like a high-end guitar.
Thick Neck and Small Head for Better Tuning
When picking up the guitar, your hand won't wrap around the neck as much as the usual guitar. Furthermore, the head is a bit smaller compared to other acoustic guitars.
You might be wondering: How does this design make the guitar even better?
This is because Seagull claims that through putting the tuners in line with its nut, it would improve the tuning stability. The guitar will stay tuned for longer and maintains its quality sound despite the many plays.
Besides that, because of its neck width and length, it will make it easier for players to move from low to high notes quickly and without the hassle.
My Verdict
You'll be surprised that while there isn't a ton of extraordinary features when you first look into the Seagull S6, the quality is evident once you play.
From its feel to solid construction, the guitar is ensured to last for a good and long time. While it doesn't produce the best bass and may be "too" vibrant for some, the sounds open up with age.
With that being said, should you invest in the Seagull S6?
At such an affordable price, you are getting something far more worthy than what's paid for.
It has a host of quality features from its exceptional sound, durability, unique construction, and the playability for beginner and advanced guitarists.
Regardless of what your skill level, you will enjoy the acoustics of the Seagull S6, making it a worthy investment without breaking the bank.