Quick Review: The Seagull Entourage Rustic has a solid cedar top that's been pressure tested to ensure quality and durability and has that semi-gloss custom polish finish making it look fancy. With the sides and the back made from Canadian wild cherry and the neck from Silver Leaf Maple and is integrated set into the body to complete its very elegant look. This guitar also features a double action truss rod that can be reached through the sound hole, a compensated Tusq Graph Tech nut, a nut width of 1.72 inches, a scale length of 24.84 inches, and a Tusq Graph Tech saddle to complete the package.
Editor's Pick
The Seagull Entourage Rustic Guitar is closely compared to Seagull S6. Both guitar are best in their own rights, and in this review, we will take a closer look in the seagull entourage's features.
Verified buyers rated it 4.6 out of 5 stars and here's what we think about it.
A Closer Look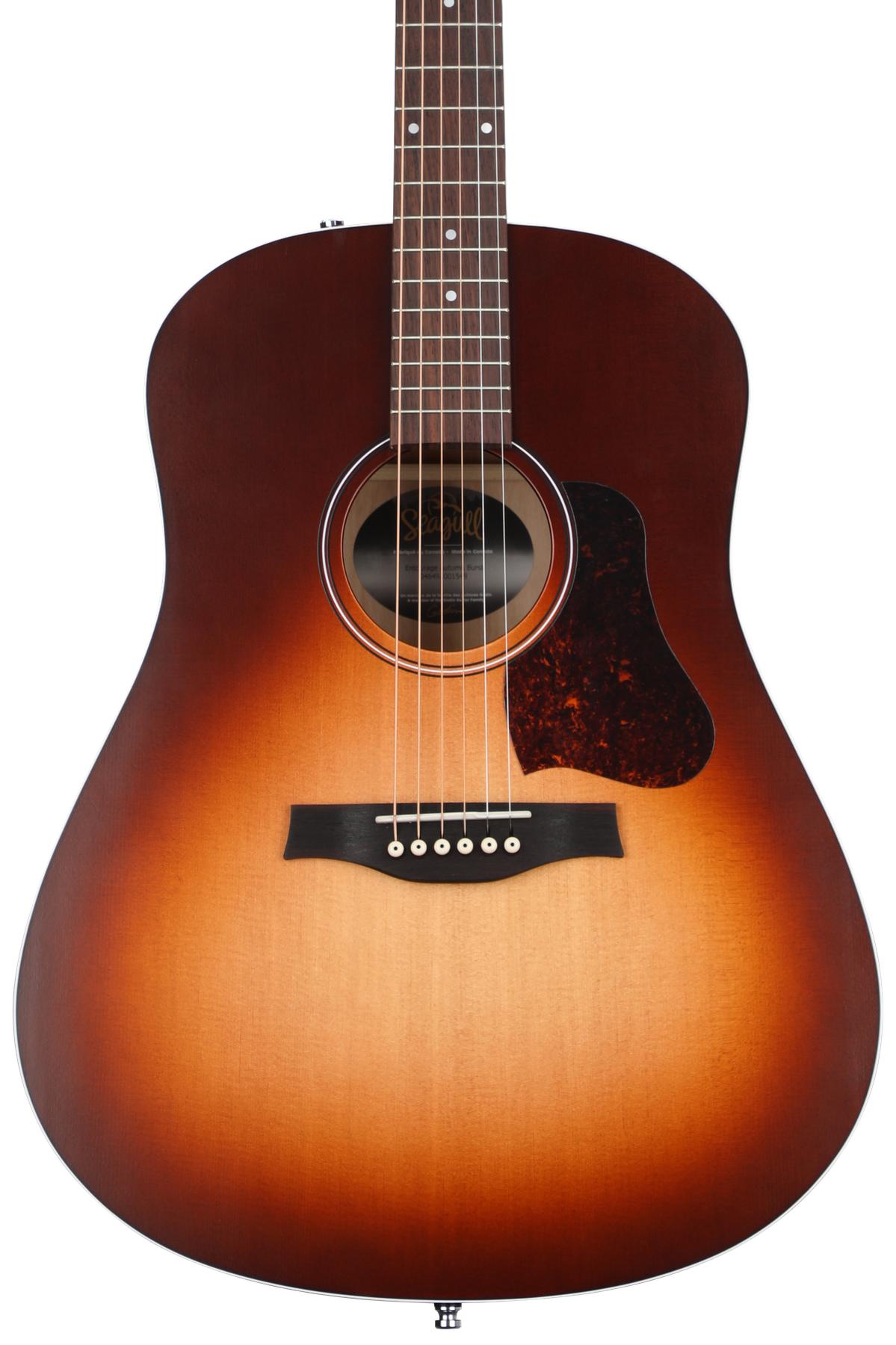 Since the first release about 15 years ago, the Seagull Entourage Rustic has maintained a solid feel with softwoods ideal for acoustic guitars. It might not be a big name in the guitar industry such as Gibson or Fender so the design might not be as fanciful, but it is decent enough to pass for presentable.
Modeled after the award-winning Seagull S6 original, this guitar is thinner and has a richer and warmer tone.
Solid Craftsmanship
The craftsmanship and sound that the Seagull Entourage Rustic has are astounding for a guitar at its price level. Seeing that guitars are compared regarding their playability and sound, the Seagull Entourage Rustic is a real gem that can be easily acquired at a throwaway price.
Lately, not many manufacturers are opting for wild cherry as a material in making guitars.The reason for this is the dull feeling that the cheaply laminated plywood is reminiscent of the cheap look it gives the guitar.
the Seagull Entourage Rustic uses high-end wild cherry to ensure that the guitar retains a classy look and feels fragile while in your hands.
This feature also helps guarantee playability because the musician will feel more comfortable.
Semi-Gloss Finish
The only issue raised by some people over the Seagull Entourage Rustic's finish is its semi-gloss finish. There is a false feel to it, perhaps because it is a little bit too thick for a guitar finish. However, the gloss affects the tone of the Seagull Entourage Rustic in no way and can comfortably pass for an understandable disadvantage.
The Seagull Entourage Rustic, just like all other guitars made by the company has a comforting feel familiar only with Seagull guitars. Not to mention, it is guaranteed to serve you for a very long time without changing the tone of the sound. Its thin neck is particularly ideal for small to medium-sized hands with great fret access made possible by the set neck.
Fret Access
The Seagull Entourage Rustic's fret access stretches all the way up to the 16th fret. It looks like a simple acoustic guitar, but the Seagull Entourage Rustic fret access is unbelievable. The sound on the Seagull Entourage Rustic is also bright and very clear. Regarding the tone, most Seagull guitar players can tell you when someone else is playing with that model from over a mile away. Its distinct sound helps it stand out among stiff competition.
A Bright Sounding Guitar
If you prefer bright sounding guitars, then the Seagull Entourage Rustic is your guitar of choice. The reason it is so bright is because the manufacturers made it with more treble than bass. If you are a beginner, the first few weeks might see you hitting all the wrong notes, and they will sound awful. However, after getting used to it, you will feel and enjoy the clarity that comes with well-played notes on a bright sounding guitar.
The bright sound is also an asset for most music producers who like crisp tones to accompany their vocalists and blend into a beautiful song. The Seagull Entourage Rustic makes this possible by clarifying all the notes and making the chords vibrant and somewhat enthusiastic. For a simple looking guitar, the Seagull Entourage Rustic sure does a lot to offer.
Comes in a Thin Neck
A thin neck is appreciated by many guitarists because it leaves room for proper hand movement thereby enhancing playability. With a 1.72-inch nut width and a thin neck, the Seagull Entourage Rustic is among the easiest guitars you will ever play. A pressure tested solid cedar top makes sure that the tone is not compromised while the rosewood bridge and fingerboard further complement the design.
The variations in the Seagull Entourage Rustic's design from its predecessor have even gained credit from guitar lovers for enhancing the sound. Whether the better sound can be attributed to the change in design or just additional specification;
the Seagull Entourage Rustic sure has a distinct ring to it that can only be identified with the guitar.
A lot of musicians have expressed their disdain when they are in the zone playing their favorite jam then the guitar changes regarding consistency. It can be the end of a recording session or even cause an event to pause as you reconnect a better guitar.
Also, inconsistency interrupts the purity of the sound and messes it up completely leading to awful music.
The Seagull Entourage Rustic is consistent and is guaranteed to maintain an optimum performance until you are done playing.
Pros
The neck is slim, making it comfortable and easy to play
Tone from the guitar is very warm while still being articulate
Cons
Stand-alone guitar without a case
Not suitable for nylon strings
Seagull Entourage Rustic Guitar Specs
Top Material: Pressure-tested solid Cedar
Back Material: Canadian Wild Cherry
Side Material: Canadian Wild Cherry
Neck Material: Silverleaf Maple
Finish: Rustic burst custom polished finish
Conclusion
Editor's Pick
Compared to many guitars on the market, the Seagull Entourage Rustic is an amazing guitar. It is not just the specs and modern design that make it stand out from the other guitars but its crystal clear tone as well.
If you have played this guitar for a considerable length of time, its sound is unmatched and can be distinguished even before you lay your eyes on the guitar. Sometimes music requires a deep sound hence the bass guitar. However, if you are looking for bright and clear sounds, the Seagull Entourage Rustic is your ideal guitar.