Editor's Pick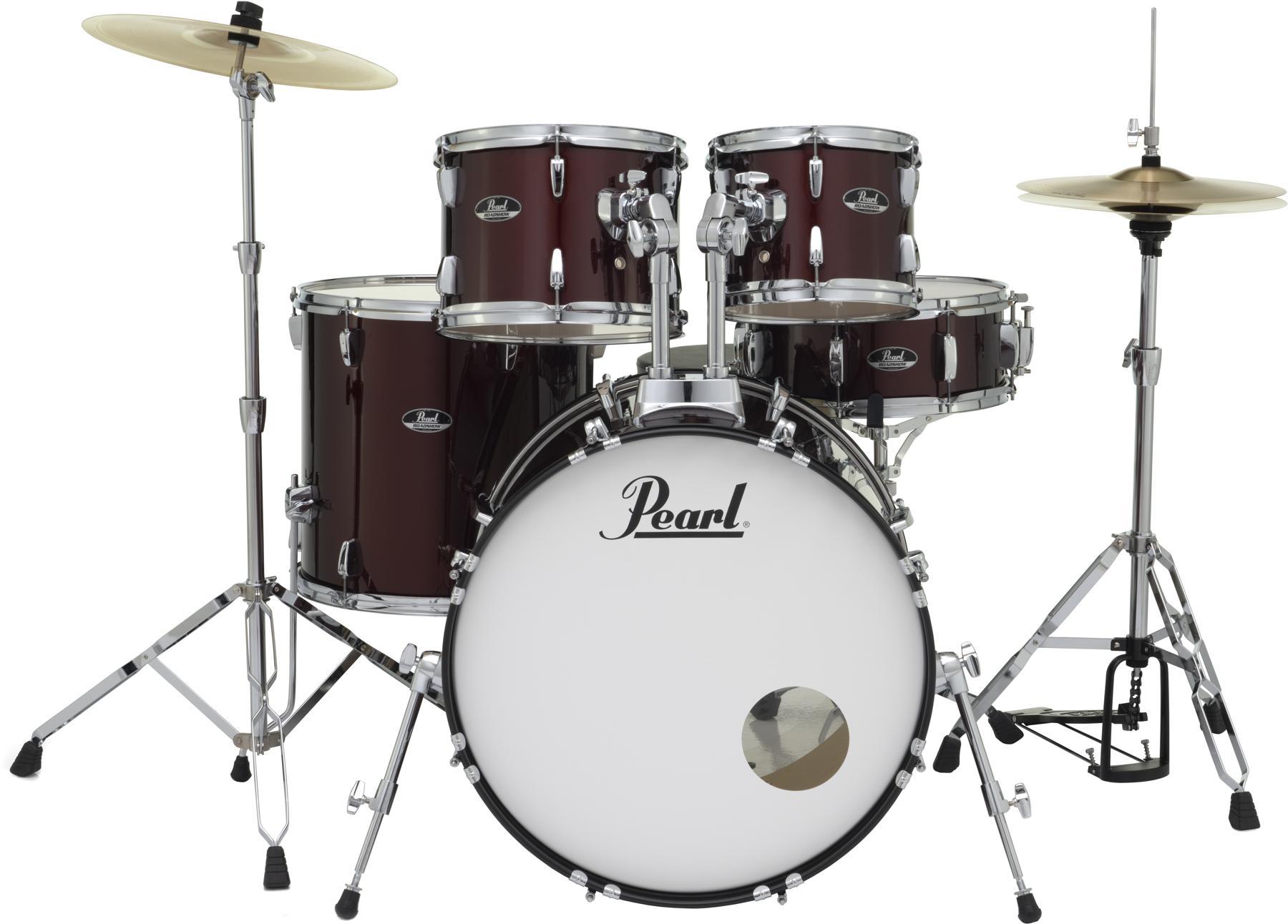 The 5-piece drum set is very common and undoubtedly, Pearl is a very sound brand when it comes to drums and drum set. And, with its Roadshow drum set, you are given a complete package for you to start drumming right away. To familiarize yourself with this drum set, we are giving you a comprehensive review below.
Strong and Reliable Construction
The drum set is made of 9-ply poplar shell with a covered wrap finish. Although the 9-ply poplar configuration is a bit "basic," these drums can give you better sound no matter what genre you are trying to play.
Poplar is good when it comes to durability and will surely last for several years. It may have quite different sound characteristics compared with drums made of more expensive maple. But, for beginners, these differences are hardly noticeable, and won't affect practice sessions.
It comes with exciting color options to choose from. You can opt to choose Charcoal Metallic, Wine Red, Jet Black, and Bronze Metallic. So, you pick which color finish you want that perfectly fits the overall design of your studio or your room.
Useful Hardware
For hobbyists and beginning players, the hardware for this drum set is more than enough. It includes two cymbal stands, a snare stand, and a hi-hat stand. These support the tom drums, snare, and cymbals pretty well.
However, for faster and more experienced drummers, these stands are not stable enough to support speedy plays. So, you may consider upgrading these stands as you upgrade your drum skills.
However, as a practice instrument, these stands will support your long jamming sessions. Another feature of this drum set is the drum throne and the bass drum pedal, which accommodate beginners and first-time drummers. With proper use of the drum pedal, you'll surely achieve the sound and effect that you want.
Solid and Clear Sound
The Roadshow drum set features a great snare drum that produces crisp and snappy sounds – a perfect compliment to the tom-tom in this set. The snares, kick, and toms are very reliable in giving clear and very solid sound.
Though the drum pedal is just the standard one, it can accommodate a wide range of drumming genres, which makes it more exciting.
The cymbals included in this set are just the ordinary ones. They are quite entry-level cymbals, which won't provide more dynamic range of playing. However, since this drum set is upgradable, you can change the cymbals, for example, to achieve the sound you like.
What's Inside the Box?
The Pearl Roadshow drum set is available in four different configurations and inclusions.
This includes Fusion, Jazz, New Fusion, and Rock.
The Jazz drum set offers smaller snares, drums, and toms to provide crispier jazz sound – that's why it's called jazz configuration. The Fusion configuration is for rock and roll players to have access to softer rock tones. The Rock configuration is primarily made for rockers, especially heavy metal and hard rock, since it provides heavy and deep tones.
For this review, I am focusing on the New Fusion configuration. This allows you to play both rock and roll, modern pop and soft tones, as well. You'll get excited and achieve great sounds from the following:
22 x 16 Bass Drum
1 x 8 Tom
12 x 9 Tom
16 x 16 Floor Tom
14 x 5.5 Snare Drum
16 Brass Crash-Ride
14 Hybrid Hi-Hats
A Beginning Drummer's Perfect Tool
If you need a drum set at home or in your studio for practice, Pearl Roadshow is perfect. However, if you are beginning to develop your skills and going faster, especially when playing jazz, the stand may not be able to tolerate fast play. So, this Pearl Roadshow is really fit for beginning drummers, especially for those who are just starting to play drums.
Exciting Bonuses
Aside from useful hardware, you'll also get maple sticks and stick bag for storage. The drum key is a very essential tool in this drum kit, as well.
The key will help you make better adjustments on the drum heads. Beginners may find it challenging to tune the drums, but since it has a drum key, tuning will be a bit faster and easier. Some manufacturers don't include the drum key, but, Pearl is indeed a great one to have included a drum key even to its entry-level drum set.
Pros
Great quality and finish
Everything feels sturdy, especially the stands and the hardware
Drums can be tuned easily; stock heads sound nice
Foot pedals for the hi-hat and bass drum are so responsive
Cons
Setting up the whole drum set might be time-consuming and challenging for beginners
Cymbals aren't too responsive and not that good sounding
The hardware of this drum set might not be ideal for advanced players
Deal breaker, but not quite
Drums are made for different purposes. However, some expensive drum sets are more versatile than cheaper ones. So, if you are on a budget, be sure to check the cymbals and how it can affect your drumming skills.
As mentioned a few times in this review, it might not have the best cymbals that you can find and it's best to upgrade them. In addition, if you need a drum set that you can grow old with, Pearl Roadshow might not be the one. Although poplar seems to be a solid material, it'll wear and tear faster than a maple kit.
So, if you want to really spend your money wisely, better buy a more expensive maple drum set. But, this is just my personal opinion. Mine shouldn't influence your decision, as we might have different needs and preferences.
Verdict
Editor's Pick
This is a great drum set for beginners. It has everything you need for you to start drumming right out of the box. However, this might not be for every single drummer, especially the advanced players.
Is this worthy to buy?
For beginners who need a practice drum set, it's a perfect pick. But, if you are looking forward to using this drum set for recording or performing, especially if you want to play jazz, this is definitely not worth buying.
Related: Best Professional Drum Sets
Furthermore, you should buy a more expensive and more reliable drum set if you think of having it for a lifetime.