Quick Answer: While some may prefer the tried and tested classic Martin D-28, we think that Martin D-18 is the better acoustic guitar. Because of the excellent tonewood combination, Martin D-18 delivers a sharp sound that's both powerful and balanced, but with a cheaper price tag.
Down below, we'll get to see what both of these guitars offer. Shall we get started?
| | |
| --- | --- |
| | |
| | |
| | |
| | |
| | |
| | |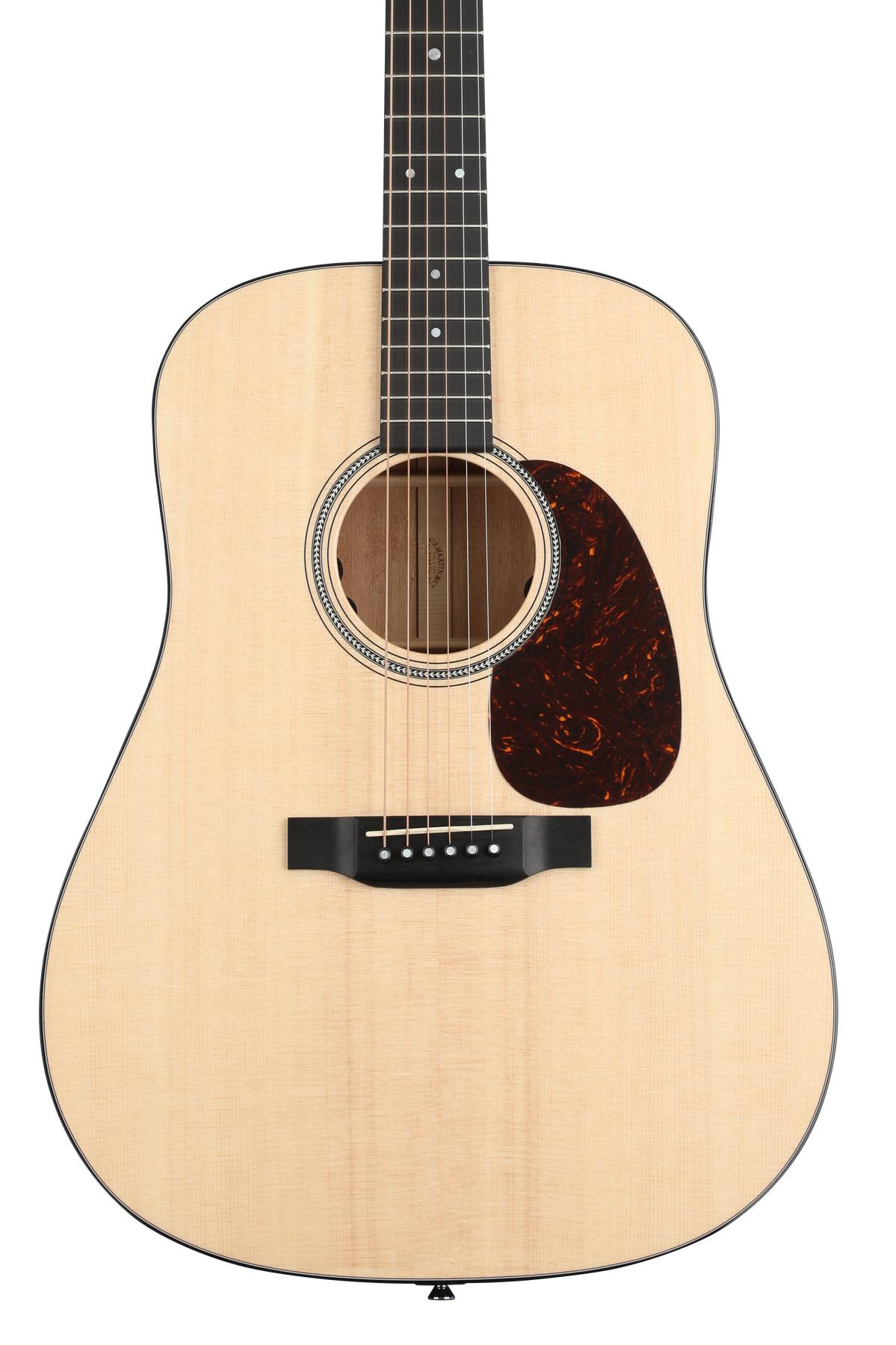 Excellent craftsmanship, rich tone, and beautiful looks—those are just some of the first impressions you will get when someone talks about the Martin D-18. Tried and tested for decades, the D-18 is and will always be a part of music history. Considered as one of the top choices of professional guitarists when it comes to dreadnoughts, expect the D-18 to always bring beautiful tonality.
Perfect for a full-on bluegrass jam, the Martin D-18 has that classic "just right" tone that's piercing enough not to cut through and overbear other instruments. Behind its rich tone and pleasing sonic detail is its perfect tonewood combination, with a solid Sitka spruce top and mahogany body. Aside from its awesome sound, the D-18 sits beautifully with natural gloss finish with tortoise-colored binding.
The D-18 is also perfect for any performance on stage or in a recording inside a studio. With its ability to blend in smoothly with other instruments or just in combo with your own voice, sound engineers have no trouble working with it. That being said, it has been played on stage with your music idols such as Clarence White and Elvis Presley to name a few. Even after a few decades, the D-18 still has its stunning and remarkable sound.
Sized like a regular dreadnought, the D-18 has 14-fret design. With its iconic rich tone and acoustic projection, the D-18 captures every player's heart.
Its focused tone that's never boomy, low frequency response, and well-balanced tonal range go perfectly with any instrument. An iconic piece indeed, the Martin D-18 does not disappoint.
Editor's Pick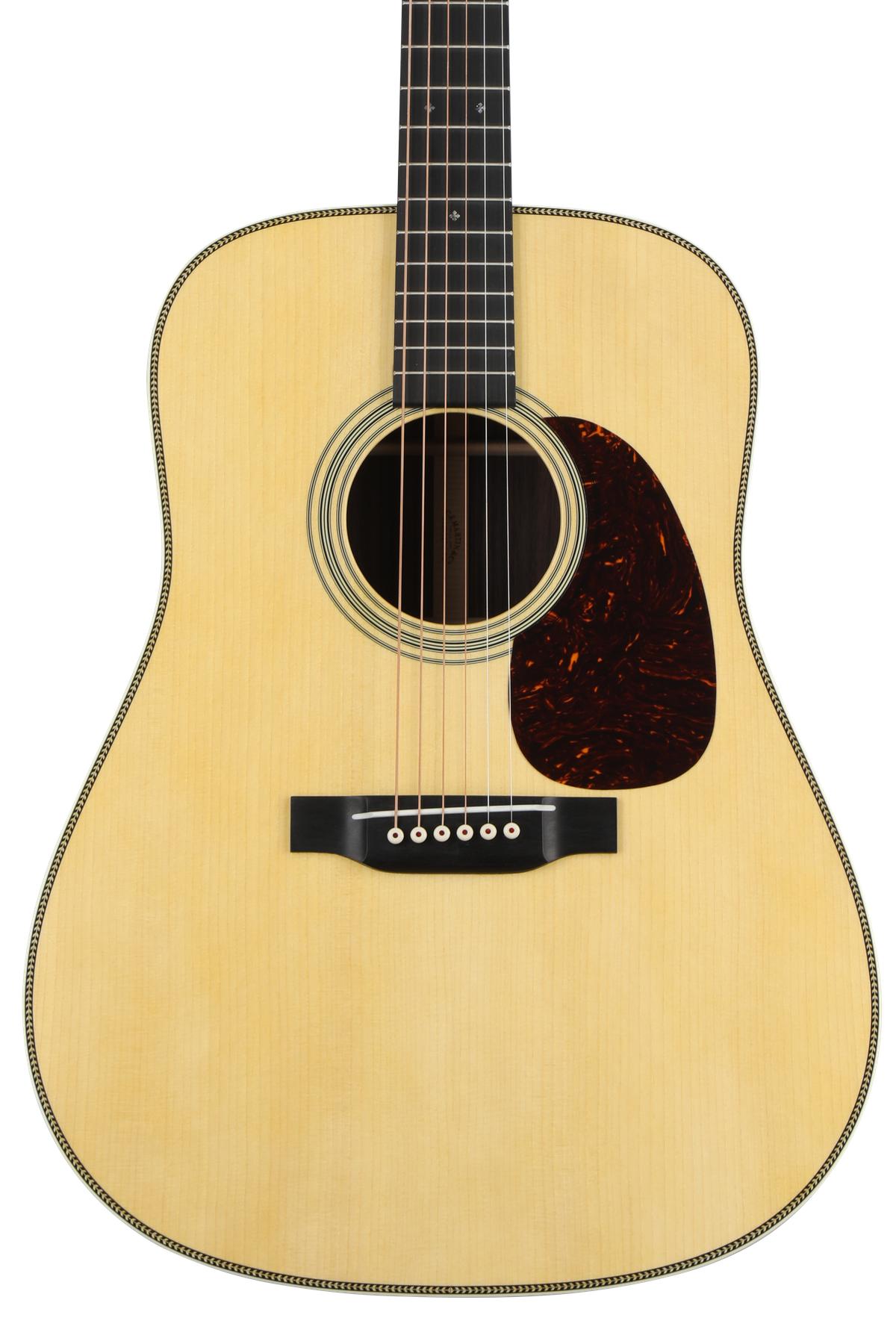 Since its release in 1931, this legendary piece of string instrument easily became a standard when it comes to dreadnought acoustic guitars. With its famous acoustic tone and punchy volume, the Martin D-28 outshines among a sea of acoustic guitars. Its classic design and excellent features are just one of the many things you'll love about the D-28.
One of the premium features of the Martin D-28 is its solid Sitka spruce top and East Indian rosewood back and sides, topped with a glossy finish, which is the reason behind its rich and resonant sound. Skilfully made to give its users what they deserve, you can see excellent craftsmanship from the D-28's neck joint to the binding around the body, to the fingerboard and neck construction. Perfect for any music genre, the D-28 delivers a powerful rhythm with a punchy volume.
When you flip its back, you'll notice that the D-28's fretboard is a suitably chunky piece of ebony that has sprouted twenty medium-sized frets that have been expertly finished without any sharp edges. While at the top of the neck is the familiar hallmark of the Martin line, a diamond-shaped volute, with the redoubtable Grovers tuners. The D-28's slim neck makes it easy to move from an open position to the 14th fret neck joint. It offers great playability whichever guitar player will find a necessity.
The D-28's older models use scallop bracing, while the newer versions have forward-shifted non-scalloped bracing, which makes it produce a punchier mid-range with a better balance. You can choose among the different versions of the Martin D-28 and still land a great-sounding guitar.
Also Great
Advantages Over Each Other
After long narratives describing the qualities and features of each guitar, you'll be asking yourself, "So what makes it better than the other?"
Martin D-18
Comfortable neck profile
Classic look
Excellent build quality
Relatively more affordable
Martin D-28
Unbeatable iconic history
Classic sound making it a standard
Powerful bass
How Does Each Guitar Sound?
To know the real difference between each guitar, hearing their distinct sound will greatly help.
Martin D-18
With Martin D-18's overall tone wood materials, it produces a clear, balanced, and sharp tonality. Mahogany is known to have a mid-range bump and balanced sound. Combined with its spruce top, the D-18 shows off a powerful mid-range which is then resonated by its big body, thereby producing a very beautiful tone. Other users also feel that the scalloped bracing of the D-18 greatly complemented its mahogany body.
The D-18 features a sharp sound with less overtones because of this, most users use it for flat-picking. The martin D-18 is also perfect in a band as it cuts through the mix better. Overall, the D-18 does not only produce a loud sound, but it's also filled with harmonic complexity.
Martin D-28
The Martin D-28 is widely-recognized mostly because of its classic acoustic sound. Because of its rosewood back and sides, the D-28 produces a rich and harmonically dense overall sound. With this construction, the D-28 produces the best sounding bass with a bit of scooped sounding and ringing trebles.
A lot of guitar enthusiasts rave about the D-28's rich tone with a lot of bass. The increased warmth of the Martin D-28 is often a better match for the human voice. Known for its strong bass that's well-balanced between all the strings, the D-18 offers a sound that's perfect for the performance of your life.
Martin D-28 VS D-28 – Which is the Better Guitar?
Without a doubt, both Martin guitars are excellent in giving great sonic qualities. While some may prefer the tried and tested classic Martin D-28, most experienced guitar players and professionals would choose the Martin D-18 any time of the day.
The Martin D-18 delivers a sharp sound that's both powerful and balanced. Users love it because of its excellent tone wood combination and the fact that it sounds great even with other instruments in the mix. Plus, it's the cheaper option.
Editor's Pick
Also Great
On the other hand, the Martin D-28 would also make a great choice. If you prefer a fuller and warmer bass, go grab one now.