Editor's Pick
The Jackson JS22 Dinky
Jackson Guitars started as a company in 1970, a little later than the Fender and Gibson.
However, even as a latecomer, Jackson proves their worth. In 1980, it quickly became a high-quality manufacturer, particularly popular among metal guitarists.
In the 1990s, the company began to go down to explore the budget guitar industry. Among the super affordable line of guitars they manufactured was their JS series.
And today, we'll explore the more popular medium-high-end-professional metal player's friend – the JS22 Dinky.
Jackson Looks and Feel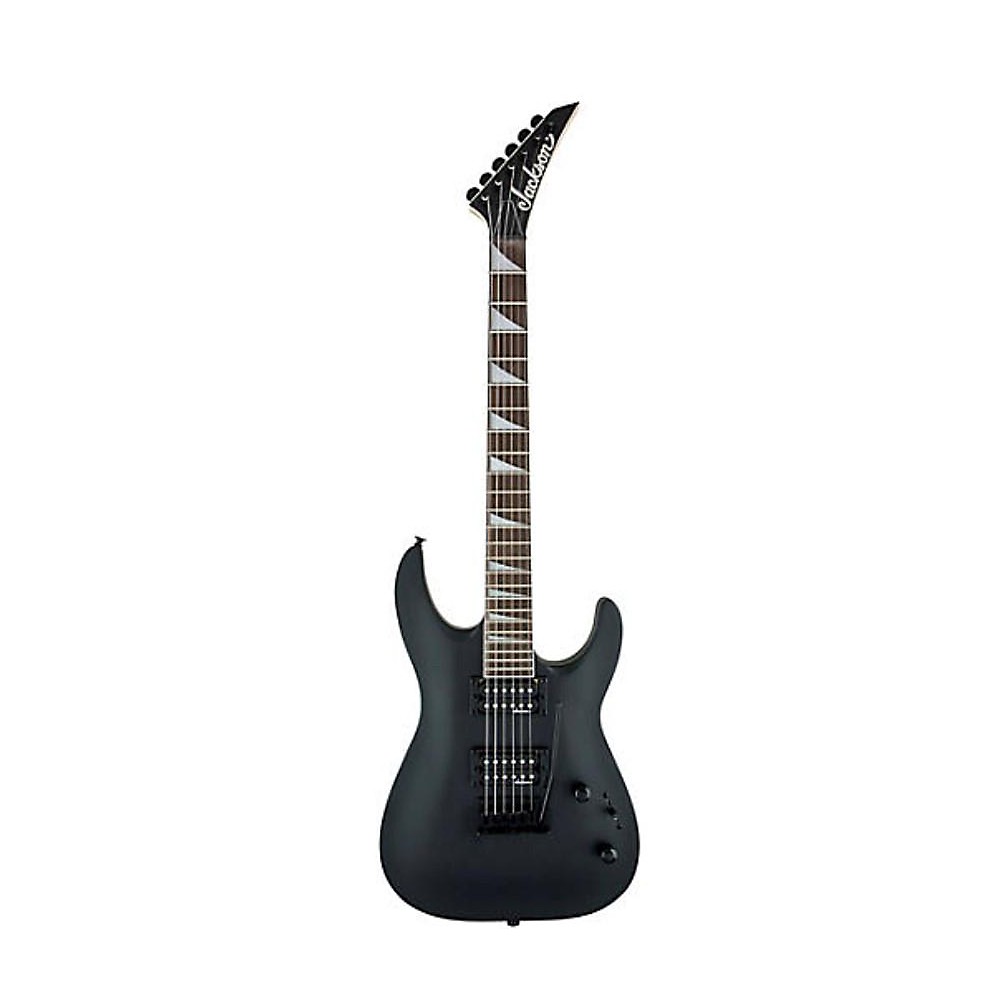 Jackson guitars are known for their Strat-like-with-few-mods body shape. Unfortunately, the JS22 Dinky still upholds that policy.
This guitar features a basswood body with a nice maple neck. Though the basswood is not great material, it's a perfect tonewood to this guitar.
It has a polyurethane finish giving it a superb fit and finish. The 25.5-inch scale length of the guitar, as seen in most Fenders, gives a rounded tone with a lot more clarity and low-frequency response.
This is pretty useful with the Jackson humbucking pickups for a powerful shredding tone.
Super Fast Action and Performance
It comes with a rosewood fretboard that has a 12-16 inches compound radius. This gives the players maximum comfort and playability.
The bound fretboard is divided into 24 jumbo frets with classic Jackson shark fin inlays and white binding.
The maple speed neck and fretboard serve you well for super-fast action. This makes it easier for you to slide up and down the fretboard and do string bending without hassle.
In addition, it also helps you transition from rhythm to lead playing pretty easily.
The shape and the weight make you feel comfortable, even when playing for several hours.
Jackson High-Output Pickups
The company uses its very own high-output humbuckers with ceramic magnets in the bridge and neck positions.
These pups are great for budget instruments to produce better sound than any other guitars in the same price range.
One downside though, the pickup system is not versatile enough. It's mainly designed for metal players.
However, if you want to explore the beauty of metal, you can have this as an addition to your collection.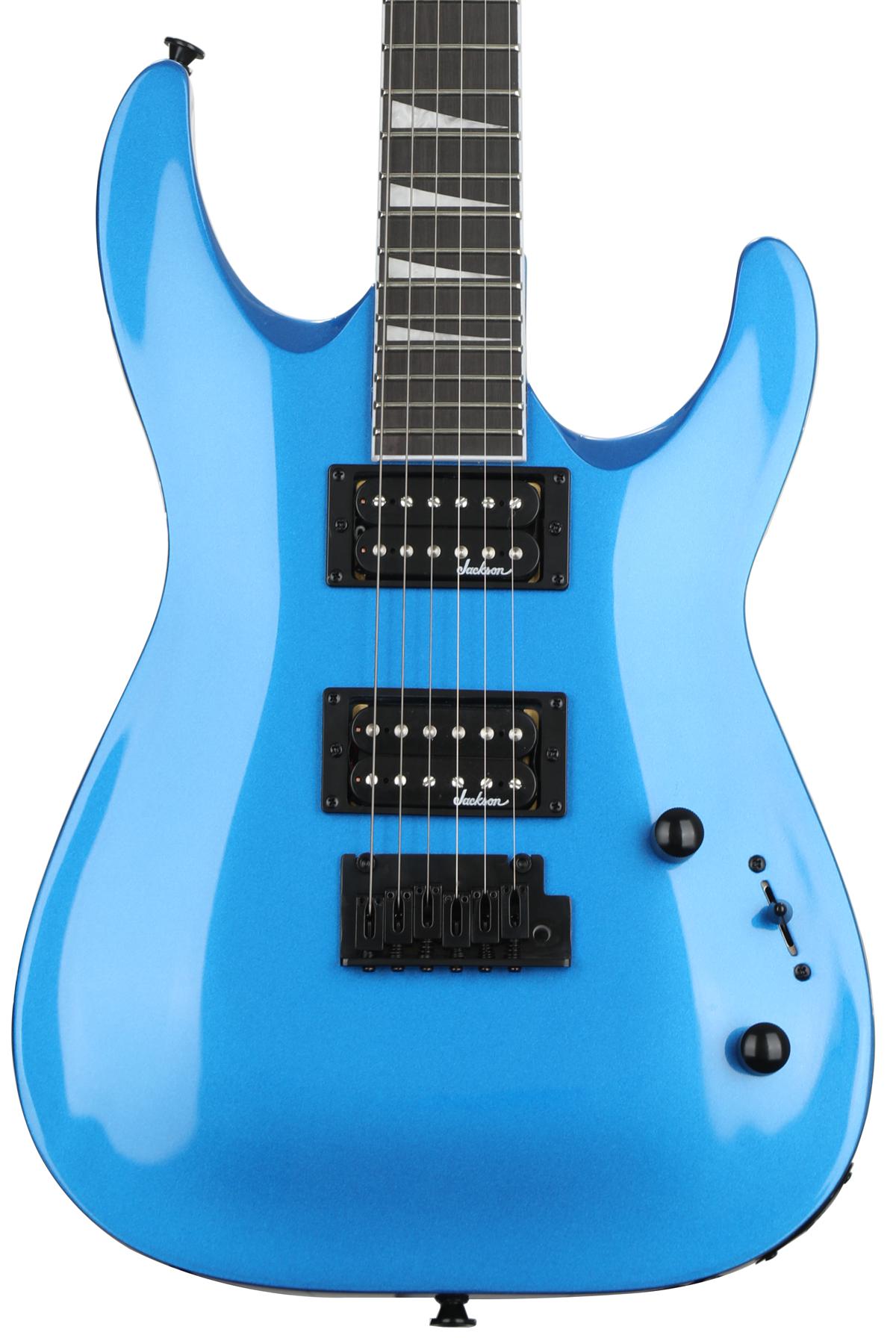 Sounds like an Expensive Guitar
You can't hear anything cheap about this guitar, especially not the sounds. It's got that deep and rich tone that everyone loves.
The basswood, though a cheap tonewood, gives strong mid-range tones.
The bolt-on neck gives a more dynamic response and adds a little twang. Though it still has in store a lot of tone qualities innate of cheaper guitars, it has more quality and definition.
Overall, it gives you a more balanced rock-solid metal sound.
Minimal, but Useful Hardware
Just like any Squier and Ibanez budget guitars, JS22 Dinky utilizes a tremolo bridge as well.
Though it looks weak, it holds the tune pretty well. However, overusing the tremolo bridge can also cause de-tuning.
The pickups are wired to a volume knob and tone knob, along with the three-way pickup selector switch.
Though the setup is simple, the knobs seem to be reliable, easily adjustable, and smooth.
Lastly, the die-cast tuners from Jackson are also dependable to keep the intonation stable. In addition, the tremolo bridge also does its role.
Jackson JS22 Rules!
From the design, craftsmanship, to the playability and sound, it's a Jackson. And, speaking of the price, the JS22 Dinky is the cheapest way to have an ultimate shredding machine.
Also, it's a perfect companion for those who are still learning the craft of metal rock and shredding machines.
Pros
Action is smooth and low
Top-notched hardware
Guitar holds tune well
Great value for money
Cons
Limited versatility
Tremolo looks cheap and flimsy
Drawbacks
For metal and hard rock lovers, there's no reason why ain't buying this one. It's specifically designed to cater to your needs – can survive heavy distortion, string bending, fast play, etc.
But, if you love to play different music styles, ESP LTD EC-1000 could be the one for you.
Let's make this clear, EC-1000 is more expensive than JS22 Dinky, but it's also a metal shredder.
We are talking about spending several hundreds of dollars more if you really want a great ax.
So, then, make sure you won't regret spending more money to get an advanced guitar.
Anyway, it's just my humble idea. And, if this opinion might not be helpful to you, it'll be good to simply disregard it.
Verdict
Editor's Pick
Let's talk about the sound, as it all boils down to this point. The humbucking pickups are great in producing quality and interesting tones, especially on the rock and metal spectrum.
So, is this a great buy?
While it takes time for beginners to get the hang of it, non-metal players might easily get bored with this thing.
But for those who are really passionate about metal and hard rock, this is something you should check out.
Whether you are a beginner or a professional metal player, there is something the JS22 Dinky can give you.
Nonetheless, the most important thing you should know is, if you love playing metal, in the first place. If this could be your game, then, play it well with JS22 Dinky.
However, if you're more likely to be attracted to the other extremes – blues, country, classic rock – you might want to find another one.