Hollowbody guitars are among the most versatile guitars since you can still get decent sound even without plugging into an amp. They are also great at playing jazz, blues, punk or rock. So, if you're the type of musician who plays various genres, Ibanez AF75 could be the one for you.
It features closed-cover humbuckers, Grover-like tuners, f-holes, floating bridge, among others. It's very efficient in producing open and airy sound, which is comparable to a Les Paul or a PRS. As an avid player of AF75, I am compelled to share my thoughts about its greatness and its weaknesses.
Editor's Pick
Pros
Has better performance compared to most expensive guitars
Quiet versatile guitar that accommodates jazz, blues, and classic tones
Overall build is excellent and seems to last longer
With floating bridge to easily adjust the intonation according to your liking
Cons
Not good for playing on stage because of its feedback at higher volumes
Fretboard is flatter; challenging for players accustomed to rounder neck
Action needs adjustment depending on your preferences
Guitar needs professional setup out of the box
Design & Construction
An all-maple fully bound guitar, Ibanez AF75 is a sturdy hollowbody guitar. The body, the side, and the back are all made of maple with a high gloss finish. With single-cutaway body construction, the guitar is compact and you won't feel that it's fragile even with its hollow body.
You're going to love various color options, including Transparent Red Sunburst, Brown, Vintage Sunburst and Olive Metallic. Although Brown is more vintage-looking and Olive Metallic displays a rocker character, I love how perfect the Transparent Red Sunburst is.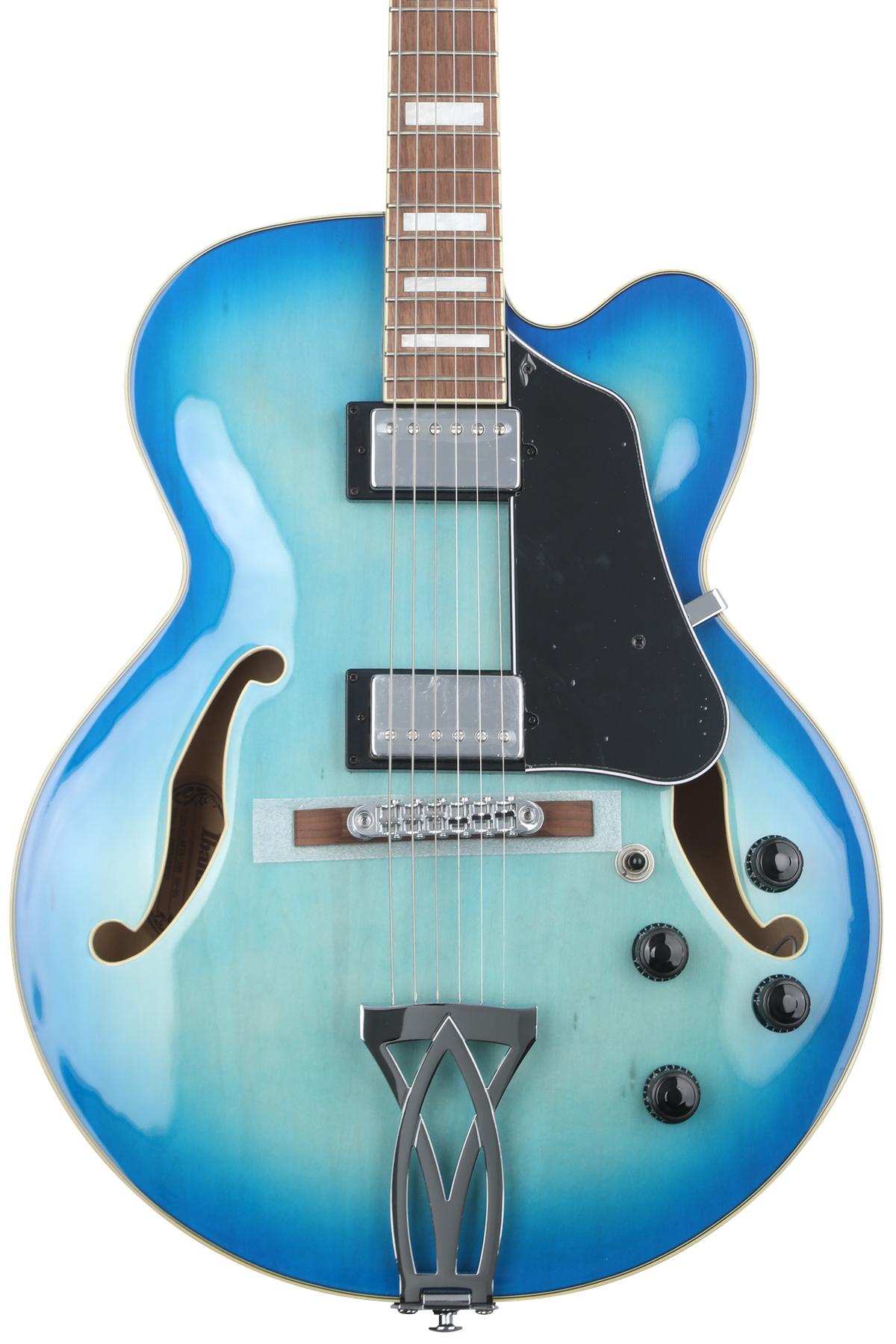 Unlike most hollowbody guitars that feared for their fragility, you'll really feel that AF75 is sturdy and supports you even for rigorous playing. Lightweight with only 11lbs weight, it can support you as you play. Additionally, it has white binding on the neck, body, f-hole, and headstock.
The neck is made of Mahogany set with nice tapering, so you can easily slide up and down the fretboard. The bound Rosewood fretboard is well-dressed and fitted with 22 large-sized frets without sharp edges. With the standard 24.75-inch scale length, it complements the overall lighter weight of the guitar.
With the synthetic bone nut and Tune-o-Matic bridge with Trapezoid tailpiece, the strings are securely set in place. Aesthetics-wise, I find the trapeze to be a bit exaggerated. But, the tailpiece and the floating bridge combination offers an interesting sound. However, it's a real challenging setting up the bridge, especially if you don't have much experience with the floating bridge before.
Though it doesn't have the Grover Rotomatics, the Ibanez tuners are as reliable as the Grover. Though hollowbody guitars need tuning more often, thanks to its tuners onboard, you can play much longer before tuning. They are smooth and very accurate.
I love the original chrome hardware that comes along with the guitar. It has two volume and two tone controls with a three-way toggle switch for pickup selection. Both the knobs and the selector switch are fairly easy to reach to make quick changes on the fly.
One advantage of this kind of guitar is that you can play this without connecting to an amp — perfect for practice at home and right before your performance. Though the guitar is designed for rock genre, the pickups onboard isn't that powerful enough to accommodate hard rock and metal. But, for this price range, those are the best you can have and be ready to live with them unless you're planning on upgrading.
Read: 10 Best Electric Guitars for Beginners
Playability & Performance
The Artcore neck shape has this short feel and you can play quickly on the neck without any difficulties. It's thin and comfortable. As mentioned, the tapering on the neck is perfect, so players can move up and down easily.
Overall, the guitar is lightweight, but you won't feel that it's fragile. For long hours of playing, I forget that I'm playing a hollowbody guitar. It seems very compact with enough support for playing fast and long. It doesn't feel heavier on the wrist and shoulders, even for long hours of non-stop playing.
However, out of the box, it has very low action and you might need to upgrade the strings. Although it's good to play the guitar with low action, the G-string usually touches the frets and causes some buzzing and noise.
There are two wheels underside the bridge that you can adjust. Yet, if you don't feel confident to adjust it yourself, it's best to consult a guitar tech to do the setup for you.
The strings, on the other hand, you can change the .10's to .11's flat wound strings, as I did. But, this isn't a straightforward process because it has a floating bridge. One wrong move and the intonation will be out. So, it's still wise to consult a professional luthier.
Once everything is set, the strings stay in tune so well because of the reliable tuners from Ibanez. This is one of the advantages of the Ibanez AF75 from the rest of the hollowbody guitars. So, after a rigorous setup of the guitar, you can play it well — like you're having a premium guitar.
Sound
With the right setup of the bridge, the strings and the action, you'll get nice-sounding guitar even if you don't plug it into an amp. The trapezoid tailpiece and the floating bridge combo provide open and airy sound that's light to the ears. So, you can achieve jazz and blues tones, like those in the 50s, 60s, and 70s.
While the guitar is perfect for rock, I found out that the pickups are not that reliable, especially when attempting to produce hard rock or metal. If your preferences are geared towards heavy metal, either you'll update the pickups or find another guitar that fits the purpose.
Also, I'd like to reiterate that this guitar might not be good for stage performance or when you need to crack up the volume. It tends to produce some feedback.
Sound-wise, it's an outstanding guitar. Aside from the open and airy sound, you'll get clear, fresh and crisp sound without the edgy feeling of the Strat.
Value for Money
Ibanez AF75 is among the most affordable hollowbody guitars with some exciting features. If you're a professional or have played a few electric guitars before, it'll be easy for you to do a few tweaks to make the guitar playable. But, if you're a newbie, you need to go to your local store and have it set up.
I found other guitars at the same price that's more playable and has everything on spot out of the box. The Ibanez AF73, for example, is offered at the same price, but doesn't require much setup. Though this guitar isn't totally a waste of time and money, I think this guitar doesn't give much value to my money.
Verdict
Editor's Pick
There are a lot of good things in this guitar, as well as the 'not so good' aspects. It's a quite versatile guitar that accommodates different genre, including jazz, rock, and blues. The neck and fretboard are excellent to keep you playing for longer hours.
There are also things you need to look into including the action, strings, the intonation, and the pickups. Additionally, you may also need a professional luthier to set it up for you to get the sound and performance it promises. It's a capable guitar that needs extra attention before you can maximize its fullest potential.