The Squier by Fender Bullet Strat Beginner Electric Guitar
SALE at 57% OFF
Squier by Fender Bullet Strat Beginner Electric Guitar - Brown Sunburst - Rosewood Fingerboard
Chord with comfort and bend strings with ease from this 'C' shaped satin finished neck, 21 medium jumbo frets and modern 9.5 fingerboard radius
Explore Jazz to Punk Rock sounds from the 3 single coils pickups, two tone controls, master volume and the 5 way pick up selector switch
Express yourself by creating sharp and flat pitch variations via the chrome Synchronized Tremolo indicative of the Stratocaster
Enjoy maximum playability with various string gauges via the adjustable truss rod and the adjustable saddles of the chrome Synchronized Tremolo
Enjoy peace of mind that the gloss polyurethane gloss finish will protect this beautiful body for many years
When one thinks of entry-level guitars, Squier is the first thing that comes to mind and for a reason.
With quality bodies at excellent values, you can't go wrong with their Bullet Stratocaster.
It's the quintessential guitar for beginners, known for its tone quality and great for most ranges.
Now, let's look into the best qualities this guitar has and if it's the right one for you.
Excellent Body and Neck
This guitar was created after Fender realized that there was a need for a budget-friendly Stratocaster for the beginner.
That is when the Bullet Strat came to be, with the body having the same shape as the Stratocaster but different tonewood.
It is made of basswood and with a C-shape neck design. While it isn't the most refined guitar, it meets the requirements as a strong and attractive model.
A nice aspect to point out with the Squier Bullet Strat is that it has a complete look similar to its professional older sibling.
That way, it still looks great when on stage. Beginner guitarists most likely can't tell the difference between its use of tonewood.
Vairants to Choose From
Durable Hardware
This affordable guitar comes with a synced tremolo bridge, which may seem like something that shouldn't be done for an affordable guitar.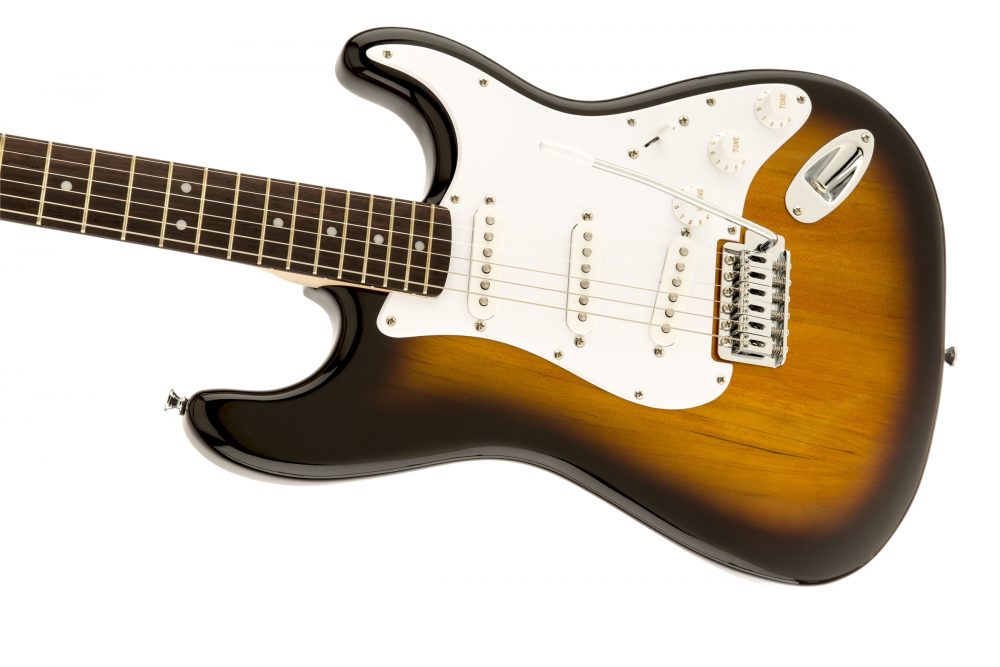 While you may think that the bridges are complex (as it is quite a sensitive bridge), you'll find that it will be easy to tune once you get the hang of it.
The Squier comes with a die-cast set tuner inspired by Fender. It will take some time to tune, but it holds well and is strong enough to stay that way.
The hardware is in chrome and performs excellently, also looking the part as a presentable guitar for beginners. That is why I give the hardware a plus one for its price.
Great Tone Quality
The tone quality of the Squier Bullet Strat is commendable.
It has quick and comfortable playability, and while it isn't the cleanest tone or has the most range, it works well.
For its price range, you have the best well-rounded sonic experiences. It's rare to find a guitar with a similar price AND tone quality like the Squier.
However, its pickups may not be the best.
The single coils are sensitive, and you can hear a slight buzz while you play, which may irritate some players.
It has a pickup select switch and three knobs, which work decently and have no issues.
Overall, for its sound and electronics, it still performs well.
Good Value for Money
Like what I mentioned before, the Squier Bullet Strat gives you a good bargain for its appearance and playability.
While it has its limitations regarding tuning and slight issues with sounds, you can't beat its price with other guitars, may they be branded or without the name.
In short, it comes with a good value without having to break the bank. You get the great playing experience with extras that can help you begin your journey to playing music.
Furthermore, you can use the model to modify or upgrade, which improves its playability.
Also, the guitar comes at such an affordable price that professionals invest in it to smash in public for a banging show.
It still has good tone quality to be played in gigs and cheap enough to destroy to impress fans.
Ideal for Beginners
Beginners can rejoice, as this guitar is not only affordable but user-friendly for even the most amateur beginner.
It has a lightweight body that makes it easy to carry and play for long gigs, as well as the excellent playability that will have any player learn the ropes quickly.
If you are looking for a guitar to begin learning or to play jam sessions with friends or small gigs, then this is an excellent guitar to start with.
PROS
It's a fantastic starter electric guitar
Affordable price with excellent value
Good tone quality and stays in tune
Lightweight body and comfortable to play with for a long time
No issues with neck bowing under tension using heavy strings

CONS
Switches are a bit stiff and feel cheap
Some complaints of continuous buzzing
The neck of the guitar has an imperfect finish
The Verdict
The Squier Bullet Stratocaster is built with one purpose: as a beginner's guitar. With a positive impact regarding hardware and design, it looks just as great as it plays, even when playing in public!
So, is the Squier by Fender Bullet Electric Guitar well worth the price for you?
If you are a beginner and looking for a reliable guitar to learn and play short gigs with, then the Squier should be in mind.
You can't beat it for its price and value, as it comes with excellent sound quality and design for what you pay for.
While it does have its limitations regarding material and tuning, you are assured a quality guitar to help you climb your way to the music industry.