There are a lot of budget guitars and it's kind of tempting to jump right in without testing the waters.
Fortunately, on that side of the buying spectrum, a Japanese guitar brand can be trusted.
And, it offers the mighty ESP LTD EC-256 with beautiful looks, pleasant sound quality and excellent playability.
Editor's Pick
The ESP LTD EC-256 Electric Guitar
No, it may not be the first time you read the brand. But, let me guess, most of you don't know or have forgotten what it is and where its humble beginning was.
The brand was called Electric Sound Products (ESP) in 1975 with a store in Tokyo, Japan.
Now, it's widely known as ESP Company, Limited. For more than 40 years now, this brand has reached to more than 100 countries selling their guitars, bass and guitar cases.
With decades of experience and success, they are a trusted brand in the music industry, particularly for quality guitars.
Although ESP LTD EC-256 is not among the top-of-the-line products, you can assure that quality is already in every grain and string of this guitar.
So, let's take a closer look at this affordable guitar and see if this is a great investment.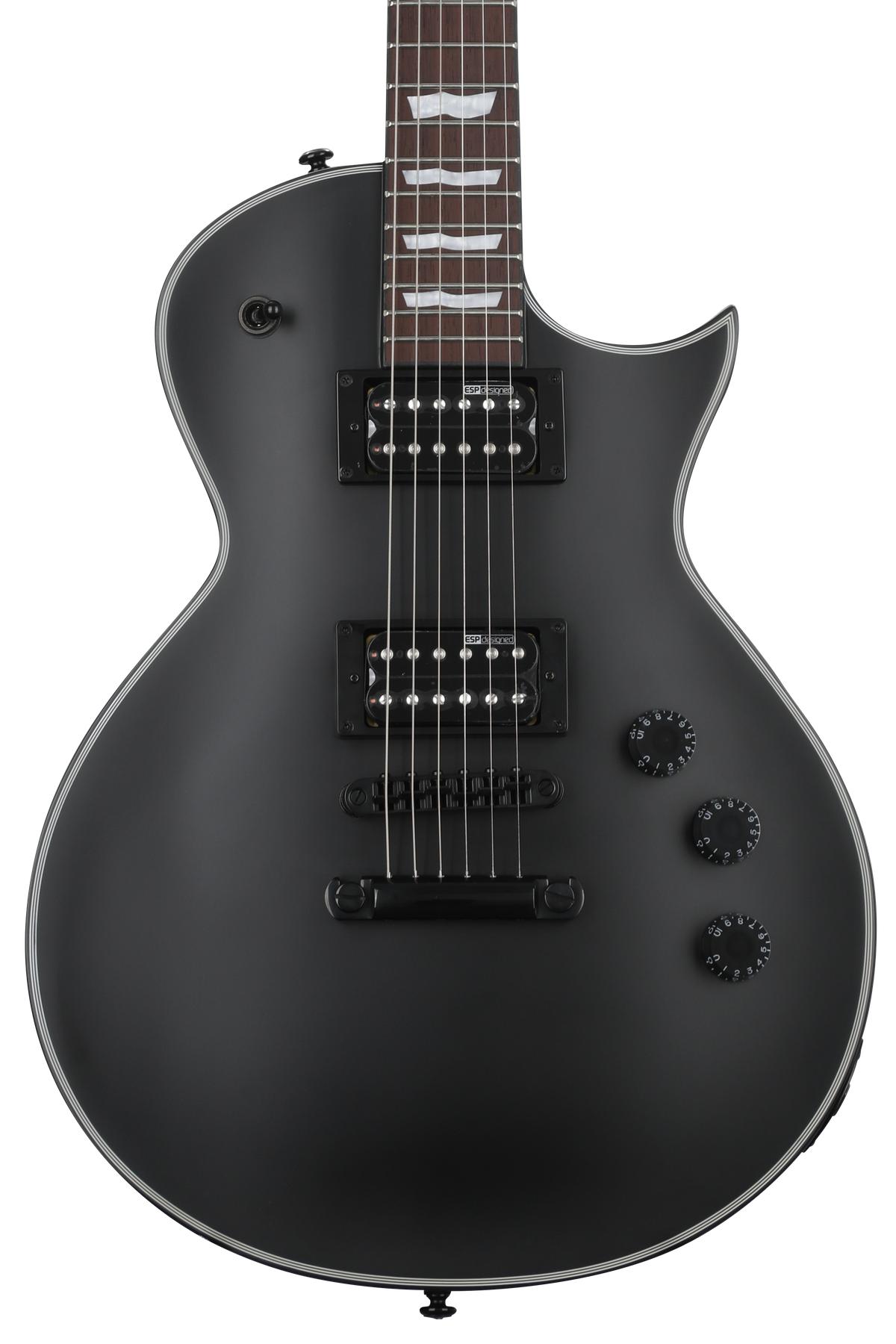 Elegant Body and Neck
The EC-256 comes with mahogany body and neck, together with the rosewood fingerboard. It has a flamed maple top, which makes it more like a Les Paul.
Not only that, it looks like an LP because of the single-cut mahogany body and the maple top, it's definitely a copy of the LP.
The neck construction comes with a 24.75" scale length divided into 22 extra jumbo frets. The U-shaped design of the neck and the scale length give players comfort and speed while playing with it.
Good Electronics
This thing got two powerful humbuckers, one for the neck and one for the bridge.
These are connected to the three-way pickup selector switch, a master tone knob and one volume control for each pickup.
Now, the master tone control gives the coil-split mode, that offers a single-coil pickup, in addition to the humbuckers.
This gives more versatility and tuning stability of strings. The die-cast tuners and the Tune-o-Matic bridge also contribute to the strings' stability.
Even with ordinary electronics, the overall humbucking system gives more tonal variation. The coil-split mode is another great feature that gives this guitar more versatility.
Also Read: Best Gibson Les Paul Style Copy Guitars
Reliable Hardware
The tuners and the pickups are not of quality, but they are doing just fine for their jobs. You can't expect advance tuners, nor a very versatile pickup since this is a low-cost guitar. But,
ESP is still putting reliable things in the EC-526.
The EC-256 is more comfortable when bending as its action is set a little higher. This minimizes the friction between your fingers and the fretboard.
Sounds Good as it Looks
With an amazing fretwork, the higher action and the hot pickups surely, it belongs to the shredding guitar family. The action gives bright and well-balanced tone, keeping it in tune for long.
In addition to its profile, the humbucker at the neck actually helps you achieve a more bluesy tone. So, if you are tired of all the distortion and string bends, you can try light blues or rock.
A Cheaper Worthy Alternative
This thing is way cheaper than its expensive sibling, ESP LTD EC-1000. Although there is no way to compare these two, this little ax is a good start for beginners before investing in real shredding machines like its older brother.
After all, these two were just born with the same mother, so you are sure of its quality.
Gorgeous Little Shredder Guitar
It looks fantastic, sexy and can play well. It can play a little darker tone and lighter blues, as well. So, it's a great pick for beginners and who are new to all the metal and shredding thing.
Pros
Look-wise, its fantastic
Very smooth neck and fretboard
Easy adjustment of the action
Bang for the buck guitar
Cons
Muffled sound of the pickups
Heavier than other electric guitars
Drawbacks, but Not Deal Breakers
Now that all the cards have been laid down, this guitar is not that beautiful than it looks. I mean, not that I don't like its sexy and flawless design, it's just that, I've seen everything and still not convinced.
I thought this guitar has hidden an Ace, but I'm disappointed. It's just a normal electric guitar that can play a little metal sound – that's all.
If I'm to choose between this and its older brother, maybe I'm more in-tuned to the latter.
It's just my personal thoughts, though. It's not really something worth considering unless you're thinking the same as I do.
Verdict
Editor's Pick
The body and design speak of how great this thing could be. It's packed with all the essential for beginners. It maybe is an entry-level guitar, but this one won't disappoint you.
A Great Electric Guitar For The Money
For it's price, it's already a good electric guitar. The features alone is a sure guarantee that the ESP LTD EC-256 is a must-buy for any guitarist.
Do you agree with our review? Let me know your thoughts and leave your comment below.