Released in 1986, Epiphone Sheraton II Pro is an upgrade of the original Epiphone Sheraton that came to the market in 1959.
This new version honors the thin-line semi-hollowbody guitars which Epiphone was very famous for. Sheraton II Pro still looks like the original version with the same power and controls, but has a few new features.
Instead of the Epiphone "New York" (single coil) pickups, the Sheraton II Pro comes with ProBucker humbucker pickups.
And, instead of the Frequensator tailpiece, it now has a fixed stop bar. Still, a lot of exciting features will be discussed in detail below.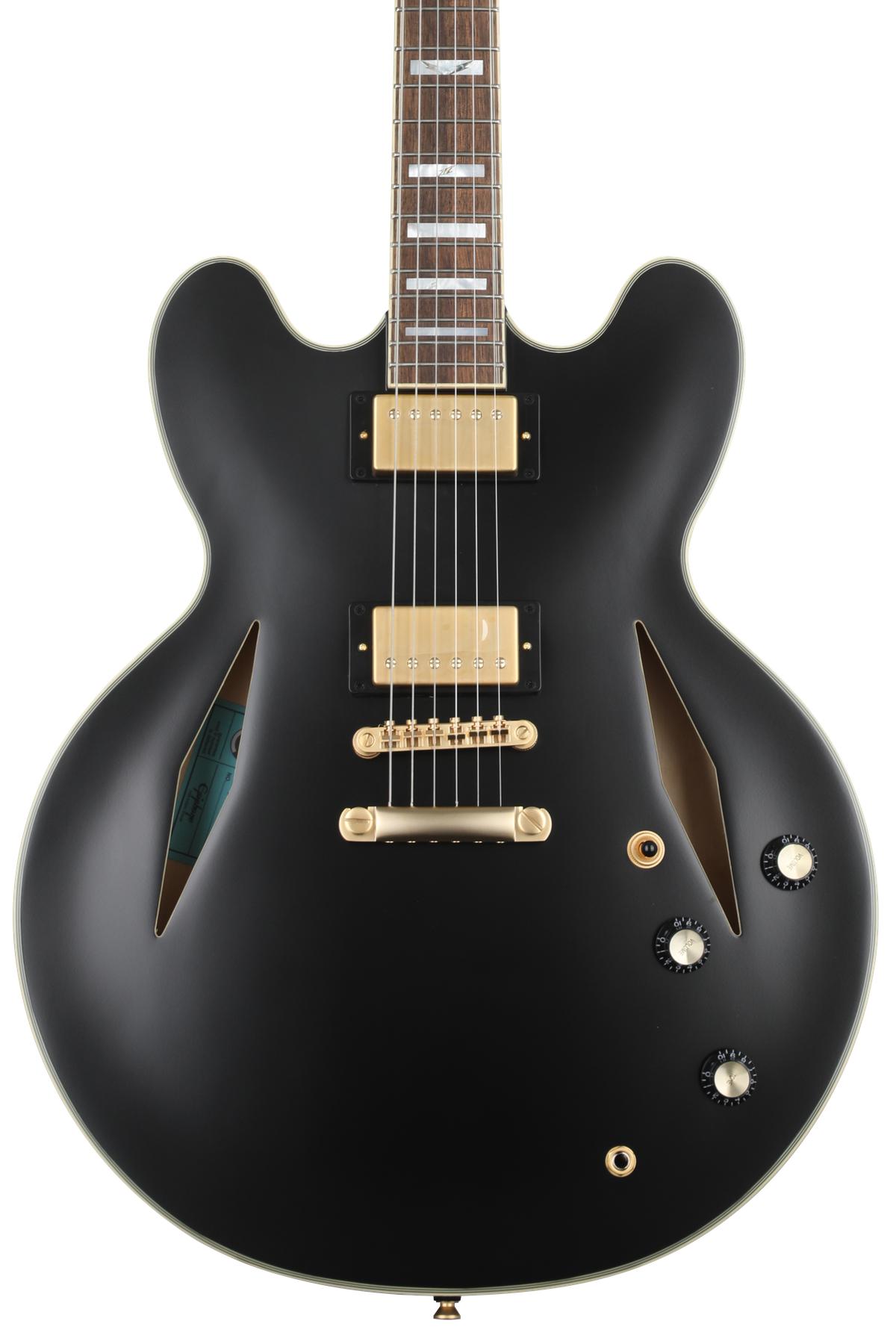 Pros
Setup and action are spot-on right out of the box
Has perfect intonation and longer sustain
Coil-tapping option gives you more different tones — jazz and blues, etc.
Cons
Frets need polishing and leveling
You don't have more color options
Fretboard isn't that smooth and may take time to get used to
Design & Construction
Sheraton II Pro shares a lot of features from the original Epiphone Sheraton. It's made of laminated maple top, back and sides with elegant ivory and black binding. It comes with a bound "tortoise" style pickguard with a signature metal "E," which stands for Epiphone.
Made with a double-cutaway body, it's the most influential thin-line semi-hollowbody archtop guitar Epiphone has ever made. It's offered with a vintage Wine Red finish to highlights the gold hardware onboard.
Still having the four top hat knobs with metal inserts, you got two volume controls with coil-splitting and two tone controls. It weighs around 8.7lbs, just perfect for everyone's needs.
The neck still has the '60s Slim Taper neck profile, which I prefer and is made of 5-pc Hard Maple/Walnut laminate glued in. The fretboard is made of rosewood with block and triangle inlays made of beautiful Pearloid and abalone materials. With a fretboard radius of 12-inch and a scale length of 24.75-inch, your hand fits well with the neck.
Although rosewood is among the most common fretboard material, this might not be appealing to some players since it is not smooth enough. Even I, who have been playing for decades, still find playing Sheraton II Pro to take more time to get used to.
This electric archtop guitar comes with a vintage headstock, Graphtech® NuBone XL nut, Grover Rotomatics, and the Epiphone LockTone™ Stop Bar. Straight from the manufacturer, you'll get reliable D'Addario® 10-46 strings, separated equally on the 1.68-inch nut width. Tuning the guitar is quick and easy and everything works perfectly out of the box.
I'm very excited to talk about the highly acclaimed ProBucker humbuckers this guitar got. It's not just the humbuckers that seal the deal, but it's the coil-tapping that brings your performance into a whole new level.
ProBucker 2 is in the neck, while the ProBucker 3 is in the bridge position. Each of this pickup has coil-tapping through their individual volume control. This allows the humbucker to function as a single-coil pickup to provide endless sound variations. Since each pickup has its very own volume and tone control, you can play this guitar with versatility.
Playability & Performance
This guitar has one of the most comfortable neck shape, the SlimTaper neck profile. Therefore, every player — beginner or professional — can play the guitar with ease. With its construction, it provides stability and support, so you can have a better performance without problems.
Out of the box, it already has a lower action. However, if you are accustomed to a Les Paul, you may lower the action even more, but not as low as those. Still, you can play well, even on fast action without fret buzzes.
As mentioned, before getting real with this guitar, you might want to take an extra step to polish the fret edges as some of them are a bit sharp. Once you do that, moving up and down the fretboard will be pretty easy.
You know that D'Addario® strings are great, but if you want to be sure, you can easily upgrade it to the strings you prefer. The consistent spacing and balance of the strings is ensured because of the reliable Graph Tech NuBone XL nut. Strings stay in tune so well, thanks to the Grover Rotomatics with proven reputation together with the Epiphone LockTone™ Tune-o-Matic bridge and the LockTone™ Stop Bar combo.
Aside from the neck and the string action, I would like to mention the weight of the guitar as it also affects your comfort. This lightweight guitar gives you the freedom to do complex technique without feeling cumbersome. The craftsmanship is also quite excellent, especially on the neck joint, so, aggressive players will also enjoy their performance.
Sound
Playing this guitar brings me back to the early years of Epiphone's thin-line hollowbody guitars. With the right settings of the pickup, volume, and tone, you'll achieve record quality sounds like those in the '60s. It has a distinct semi-hollowbody tone, distinguished by "bell-like" sound with long sustain — great for solos and leads.
Not because you have a great guitar, doesn't always mean you can produce great sound. It takes time and effort to better understand how you adjust the pickups, volume and tone controls to achieve better performance. You can produce bright and aggressive tone, warm and smooth tones, too.
The tonal versatility of this guitar can be attributed to the ProBucker humbucking pickups onboard. With the same components as the hand-wound PAF humbuckers and BurstBuckers in some Gibson guitars, they deliver what they promise. You still enjoy the efficiency of the Alnico II magnets to get a great-sounding pickup.
I will reiterate this, ProBucker humbucking pickups with coil-tapping via the volume controls are just a perfect combo. Both the neck and the bridge pickups are coil-tapped to give you more single-coil sound options. With the right use of this feature, you'll be able to achieve vintage sounds that only Gibson humbuckers can achieve.
Value for Money
I am very pleased to have a vintage-sounding, versatile guitar without breaking the bank. Crafted with excellence and flawless finish, you'll think it's a premium guitar. Indeed, it's premium in performance and sound quality, but not with the price.
The strings, tuning heads and the tailpiece are perfect to keep the right tune of the guitar even after playing for several hours. The nut, though not made of bone, still has the efficiency and longevity to keep the strings well-spaced and stable. Again, the pickups onboard are something that makes this guitar a great deal.
Verdict
An electric guitar with a budget-friendly price tag, Epiphone Sheraton II Pro is a worthy guitar. Not only with the cost, but it's packed with exciting features you can find in high-end guitars only. It also delivers a performance like those expensive Gibson or Les Paul.
However, you may find the fretboard a little challenging to get used to, plus, a little extra effort for polishing the fret edges. These are not major deal-breakers. What matters most is its playability and low action. Plus, you'll get great pickups with a coil-tapping mechanism to access more tonal options you'll really enjoy.