OUR #1 RATED BEST CLARINET FOR BEGINNERS
Clarinet products the beautiful sounds, which is the reason why it's an amazing instrument to learn to play! If you're looking for the best clarinets for beginners, then check out this helpful purchasing guide. I review the top five clarinets and offer advice on how to select one suitable for you.
How to Choose the Best Clarinets for Beginners
Choosing a clarinet doesn't need to be so hard, even if you're a beginner! Check out these important factors to consider when doing so:
Body Materials
Clarinets are made of either plastic or wood. Those made of plastic are best made for students, which are lightweight and easy to handle. Advanced students usually use clarinets made of grenadilla, African blackwood.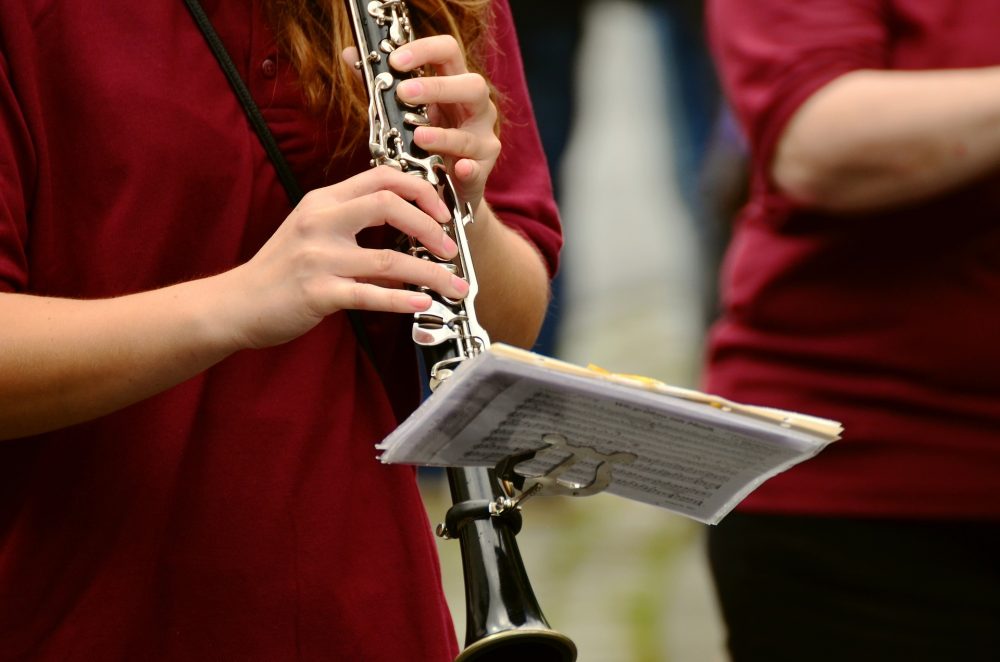 Type of Clarinet
There are different models of clarinets, depending on the playing situation you're in. Soprano clarinets are most common, with a sub-family having different tunes. The Bb clarinet is best used for students and beginners, used for many kinds of music.
Other Accessories
There are other accessories that can make or break the way you learn to play the clarinet, from reeds to change up your tunes, as well as thumb rests and cleaning accessories.
Another important thing to take note of is choosing a clarinet mouthpiece. Here's an informative video showing you all about selecting a good clarinet mouthpiece:
5 Best Clarinets for Beginners  – 2019 Starter's Guide
What makes the Jean Paul USA CL-300 Student Clarinet the best is its excellent quality. It has a thinner vamp cut designed to make it easier to play for beginners, as well as all the accessories needed to learn how to play. It even has the strong carrying case to make it easy to bring your clarinet around.
As for the clarinet itself, I admire its professional appearance and its good tone and key action. With a few upgrades, you'll be able to continue learning as you progress up to intermediate levels!
Pros
Has a good tone and key action for a beginner clarinet
It comes with a strong case for ease of transport
Excellent customer service from the company

Cons
You need to upgrade the mouthpiece
Keys start to bend a bit after time
SALE at 31% OFF
Mendini is well known for their quality instruments, and the B Flat Clarinet is no exception! It comes at such an affordable price and is made for students, including a beginner's book, case, stand, and even cleaning accessories to get you started! While the gloves aren't the most useful, it's a thoughtful addition beginner will like to use at the start.
As for the clarinet itself, you'll appreciate its strong body made of high-grade ebonite and nickel-plated keys. It's what helps give a good tone that stays consistent the entire time you use it. With its low price and adequate sound, it's worth the investment.
Pros
Great shipping speed and customer service
Comes with quality accessories
Attractive look with the decent tone when played

Cons
Not the most durable compared to other clarinets
Must be inspected immediately to ensure no issues
Hisonic Signature Series 2610 Bb Orchestra Clarinet with Case
Prestini pads that are Made in the USA
Nickel-silver keys, Bright Tone, Clarinet is made of Ebonite
Includes: Cork grease and clarinet swab
Includes: Protective plush lined Case, mouthpiece with reed protector
Bb Soprano - This is the standard clarinet used for marching band, orchestra and jazz band
The Hisonic Signature Series 2610 Orchestra Clarinet might be a bit more expensive compared to other beginner clarinets, but it's the premium quality that makes it worth the investment. Upon receiving the package, you'll be surprised by its excellent quality. The casing is strong and includes much-needed accessories for playing, with the strong clarinet body and the mouthpiece with reed protector.
The clarinet has the nickel-silver keys which are comfortable to play with, producing the bright tone many will enjoy. After a few months of using it, the sound and feel stay the same, making it great for both practices and small performances.
Pros
Amazing value and lasts for a long time
Produces the bright tone great for learning
Comfortable feel of the keys for ease of playing

Cons
The reed isn't made of the quality materials
Comes at an expensive price
SALE at 18% OFF
Mendini by Cecilio B Flat Clarinet with 2 Barrels, Case, Stand, Book, 10 Reeds, Mouthpiece and Warranty-Black Ebonite MCT-JE2+SD+PB
High grade Bb clarinet with black ebonite body and durable nickel plated keys
Inline trill keys
Includes: 2 barrels, hard-shell case, mouthpiece with ligature and cap, a box of 10 reeds (Size 2.5"), cork grease, cleaning cloth, and a pair of gloves
Bonus: foldable clarinet stand (stored inside the bell of the clarient), & clarinet pocketbook
1 Year Warranty Against Manufacturer's Defects
The Mendini by Cecilio Clarinet is another great instrument created by Mendini, suitable for students and beginners. The high-grade quality and durable keys are what make it worth the investment, especially since it comes with the complete package for students to begin learning. You can even choose between many colors, depending on what you like!
The clarinet offers the nice sound, which stays consistent no matter how long you play it for. All in all, a simple investment that does the job.
Pros
High-grade material built to last
Consistent and good sound production
Has a rich mellow tone for its price

Cons
Requires a lot of grease upon receiving
The ligature is hard to secure and sometimes slips out
SALE at 10% OFF
Lazarro 150-BK-L B-Flat Bb Clarinet Black, Silver Keys with Case, 11 Reeds, Care Kit and Many Extras
Are You looking for your new Clarinet, to fulfill all your musical needs - We have the perfect instrument for You - "Lazarro Clarinet".
Our "Lazarro" clarinets are perfect for any occasions: lessons, concerts, bands and orchestras. We follow USA Standards for our Clarinets, that is why they are teacher and school approved.
We are a USA Brand that you can trust 100%. Our clarinets are not just stylish, but also very durable, have great sound quality and are always hand checked by our professional team in New York.
"Lazarro" clarinets are manufactured by International Standards, regardless of the colors and keys, and feature the same sound quality, mechanisms and durability.
Our Package includes: Lazarro Clarinet, Second Barrel, Mouthpiece with Reed, Cap and Ligature, Fabric Case, Soft Cleaning Cloth, Reeds Holder, White Gloves, Screwdriver and Cork Grease
The Lazarro Clarinet comes with the many extras and colors to choose from, which is what makes it worth buying. It isn't only affordable but made of decent materials which do the job in producing the adequate tone and sounds that can be used for both school performances and lessons.
You'll be surprised that with its price, it comes with the complete package and does the efficient job in helping you learn the ropes. Sure, it doesn't sound as rich and mellow, but for its price, you get more than what you pay for!
Pros
Many colors to choose from
Great for kids
Very affordable price with great value and complete package
Great for teenagers and beginners with its sound quality

Cons
Easily breaks if left uncared for
There is a problem with the reeds
Wrapping It Up
After much research and tests, the Jean Paul USA CL-300 Student Clarinet is best. Made for students and beginners, this handy and lightweight instrument produces the fine sounds and has the excellent quality made from the famous company, Jean Paul. And with its starter bundle, you'll be able to learn how to play right away!
I hope that this article on the best clarinets for beginners gave you an idea of what to invest in. So don't wait any longer and check out these brands now.
If you have any questions or want to share your tips and reviews on these clarinets, then comment below. Your thoughts will be much appreciated.