Editor's Pick
Yamaha Stage Custom Birch Standard Drum Kit
Many of the drummers long to own drum or drum sets made of birch or maple shells, which are usually associated with a higher price tag. Fortunately, budget buyers can now play birch drums right in their homes or studio, at a price they can afford. Yamaha Stage Custom drums are made of 100% birch shells that give you the punch and versatility of high-end drum sets.
CHECK PRICE ON SWEETWATER
CHECK PRICE ON GUITAR CENTER
We may earn commission from purchases made from our links, at no additional cost to you.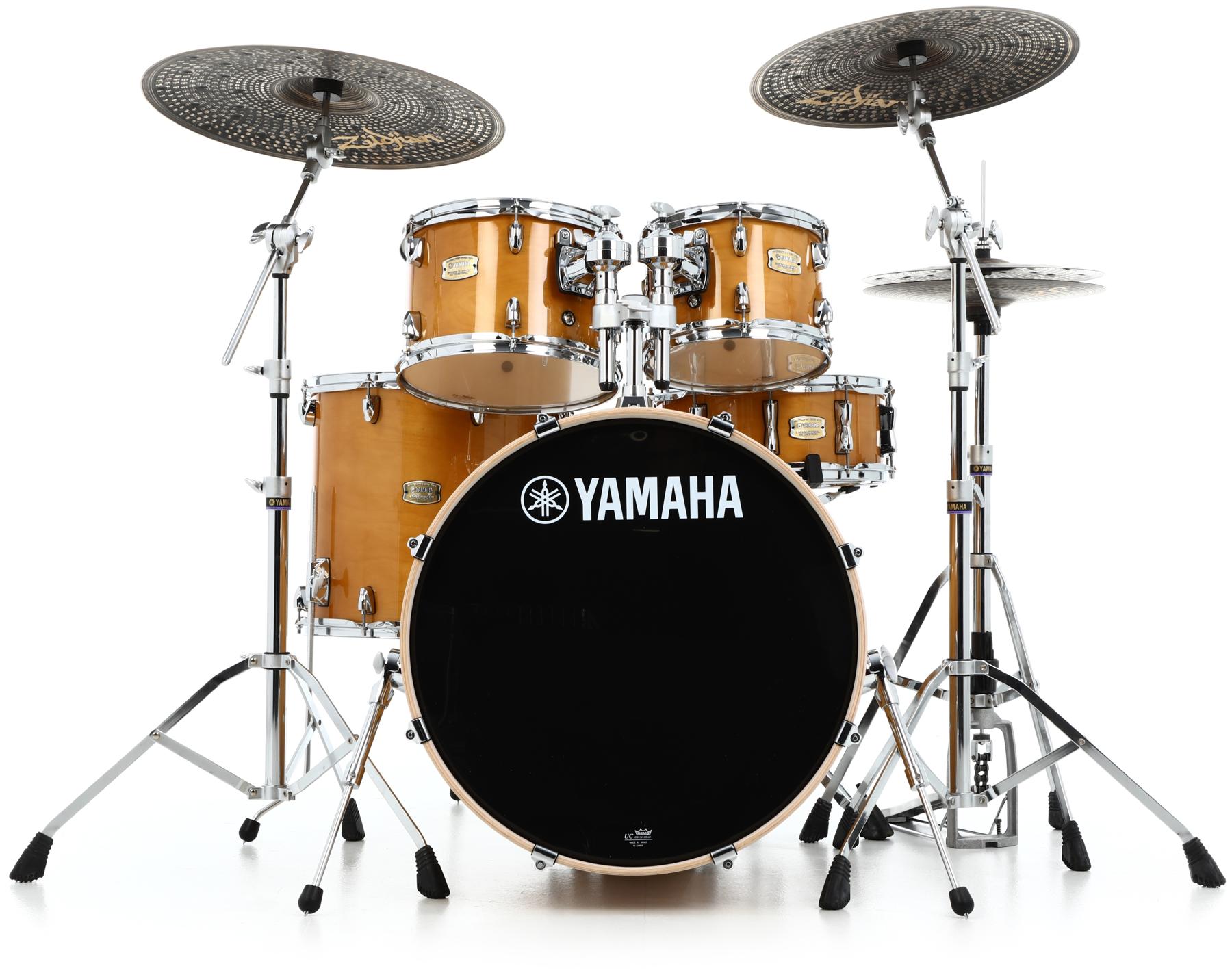 From pianos to guitars, and now drums, Yamaha is indeed versatile and has decades of expertise. For more than 30 years, one Yamaha drum pack series had served many drummers to develop their skills. That is the Yamaha Stage Custom Drum Series.
The Yamaha Stage Custom drum shell pack comes in three different sets. It has a 3-piece kit with 18" kick, 5-piece kit with 20" kick and a 5-piece kit with 22" kick. The latter set will be thoroughly reviewed in this article.
Sit back and relax as I'll reveal the features of the package one by one. You'll know its pros and cons. And, thereby, giving you the idea whether to buy this drum set as your main set or just to add to your collections.
Solid Construction Quality
The shell is the greatest factor for the great sound of the drums. And, in this drum set, Yamaha is putting together drums made of up 100% birch shells. Birch is being used in high-end drum line and is good in giving warm and punchy tone with maximum resonance.
With the staggered diagonal seam, Yamaha is able to produce these 6-ply 6.0mm drums. Its Air Seal System makes all the shells have equal thickness and perfect roundness. This system is responsible to give the superior quality and durability of this drum pack.
Yamaha Stage Custom drums are lacquer finished, which give their beautiful high-gloss looks. It's available in five different colors including Cranberry Red, Natural Wood, Raven Black, Honey Amber, and Pure White. This classy collection brings back the feel and the tone of the good old days, a few decades ago.
Drums Give Excellent Play
Out of the box, the bass drum plays perfectly. It's built to give great punch and with its natural sustain gives you the sound that you are looking for in a kick. Toms are great as well in giving quick and fat notes.
In addition, the matching snare drum is very versatile. It can deliver bright tones and birch-like performance of the high-end drum lines. Overall, each drum in this can play excellently even without any upgrade.
Hardware Bonuses
The great sound of this drum set is being supported by the full set 780 series hardware. With Yamaha's Enhanced Sustain System increases the resonance of the drum set. So, you will be able to enjoy crisp attacks and great open sound from each drum.
Since people are expecting so much from this drum set, Yamaha focused on making each drum durable and great to play. So, it comes with die-cast claw hooks, ball mounts, and clamps, which are all buffered with raising to minimize the noise. Lastly, the bass drum comes with drum legs and stoppers for the ease of setup and tear down after each gig.
What's Inside the Box?
If you are expecting this Yamaha Stage Custom to have every single instrument in a full-sized drum set has at its price, then, you'll be disappointed. But, Yamaha really knows what it's doing by providing quality birch drums. These will not only help you master your skills, you'll become a stage master with your drumming skills, too.
So, before judging the drum set, check out what it includes:
22 x 17 Bass Drum
10 x 7 Rack Tom
12 x 8 Rack Tom
16 x 15 Floor Tom
14 x 5.5 Matching Snare Drum
Unfortunately, you won't be seeing cymbals, kick pedal, or even a drum throne in the package. But, it's still worthy of every penny you'll invest in this drum set.
Great Value for Money
This was no surprise, but Yamaha is so generous enough in putting together great instruments and offering the set at a bargain price. Although it may not be as "complete" drum set like TAMA Imperialstar drum kit, it sure has its own character when it comes to the sound quality.
Compared to poplar shells, birch drums are better, especially in giving boosted high frequencies and versatility in different tuning variations.
A Drum Set for Serious Drummers
As mentioned, this is a great drum, probably the most reliable drum set in its price range. This is recommended for serious drummers who want to bring their performance to the next level. It's durable and versatile, so you can surely express yourself whether you play funk, pop or rock.
Pros
Beautiful and great sounding drum set
Yamaha quality is everywhere in this drum pack
Great value for your money
Cons
Heads need replacement for better sound quality
Didn't come with kick pedal and snare stand
The 12" tom drum is hard to tune
There's just one thing that might turn you off…
Yamaha never fails us in the quality and durability of its product. In this drum set, not only is this great, it sure can play and reasonably priced. However, one thing that might turn you off is the difficulty of tuning the tom drums.
You might need an expert or a professional to set it up for you, especially if you are a beginner. This is not a problem if you have a friend who can tune drums or you can set it up yourself. Other than that, everything is perfect to get you started.
So, just take my concern lightly. After all, you will be the one to use the drum set.
Verdict
Editor's Pick
This is a great package and worthy of your hard-earned money. Yamaha is indeed putting so much effort into creating a drum set that could last a lifetime. Not only that, it's even beginner-friendly, so anyone can have it, even those with zero drumming skills.
A worthy investment?
Of course, who wouldn't want to have a Yamaha drum set made of 100% birch shells? But, if you are not a serious player, please don't buy this one. This drum set is worthy to be played and not just showcased in your drum collections.