Playing the electric guitar is a great stress reliever –whether you are on a practice session for an upcoming performance, a hobbyist just playing casually, or if you are an aspiring professional guitarist, it's always better to have the best instrument to play on.
Gibson and Fender have been big names in the industry and getting to know their instruments will help you narrow down your choices.
In this comparison, we'll take a look at each brand's iconic guitars, the Gibson Les Paul and Fender Telecaster. Let's see which of the two is better, shall we?
| | |
| --- | --- |
| | |
| | |
| | |
| | |
| Pickups: Burstbucker 1 Humbucker + Burstbucker 2 Humbucker | Pickups:'52 Pure Vintage Single-coil |
| Body Type: Solidbody Mahogany | |
| Controls:2 x volume, 2 x tone, 3-way toggle pickup switch | Controls:1 x volume, 1 x tone, 3-way blade pickup switch |
| | |
Gibson Les Paul Standard 50s
Editor's Pick
If you are ready to rock with a carved maple top instrument, the Gibson Les Paul Standard 50s is the right one for you. It delivers a massive tone and it is easily playable for rock and alternative tunes. The right mix of modern setting with a vintage aesthetic is in the Gibson Les Paul Standard 50s.
Also Read: 10 Best Gibson Les Paul in 2023 (Reviews)
Fender Telecaster
Also Great
The heart and soul of Fender's line of electric guitars, bearing the essence of various music tastes, is their Telecaster. You will love how this electric guitar is very adaptable for blues, country, and rock and roll tunes. Artists have praised how this instrument shaped their career, and this could be your great head start as well.
Body
An electric guitar's body is among the things an artist meticulously assesses. The body boasts the aesthetic look and it affects the sound quality, making it among the top priorities a musician looks out for.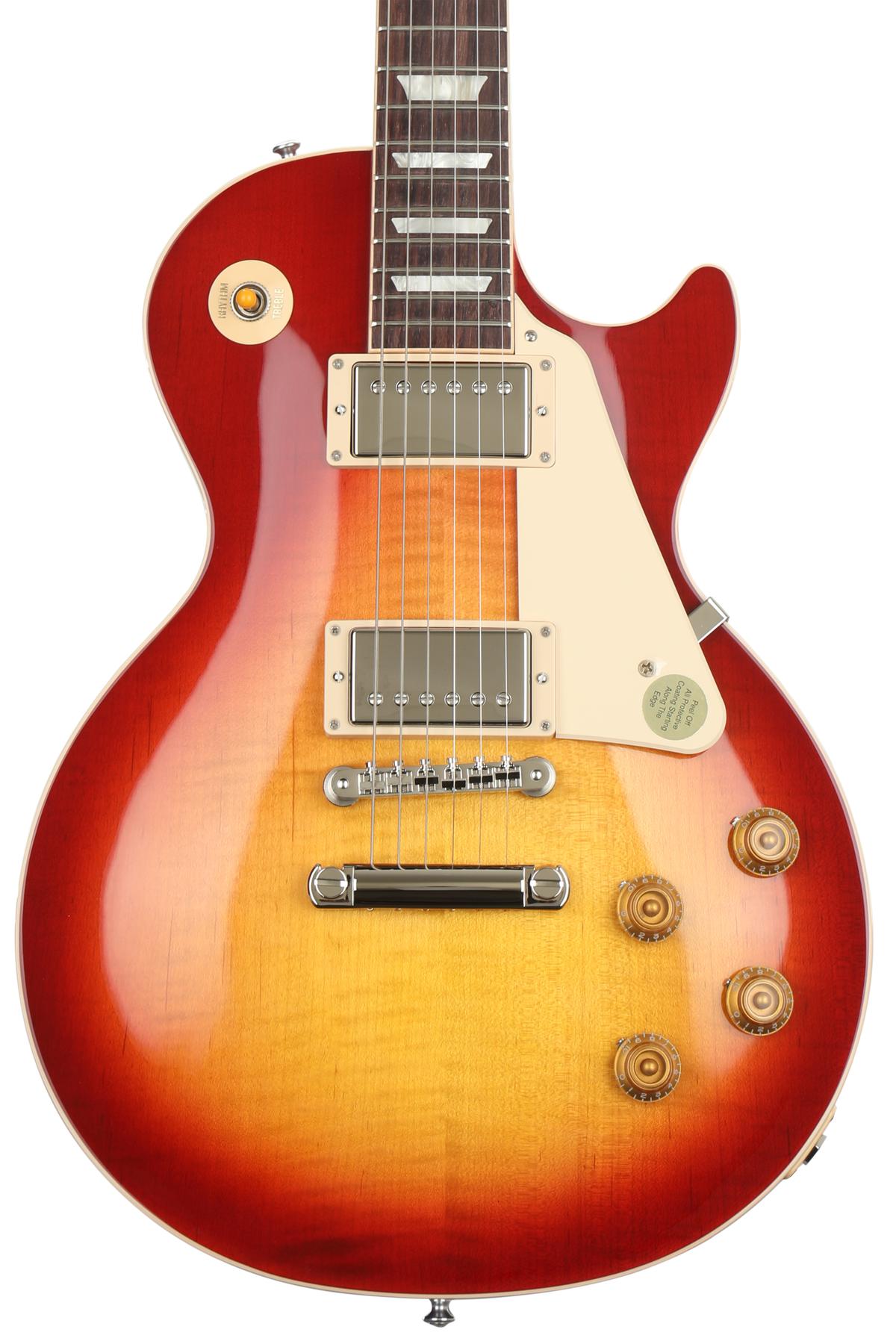 The Gibson Les Paul Standard 50s is a solid body made of mahogany with a gorgeous maple top. You can expect the body to be quite heavy compared to others because of its material, but you can also expect it to last long with its quality. It has a warm and mellow tone, and its heritage cherry sunburst color makes it stand out easily.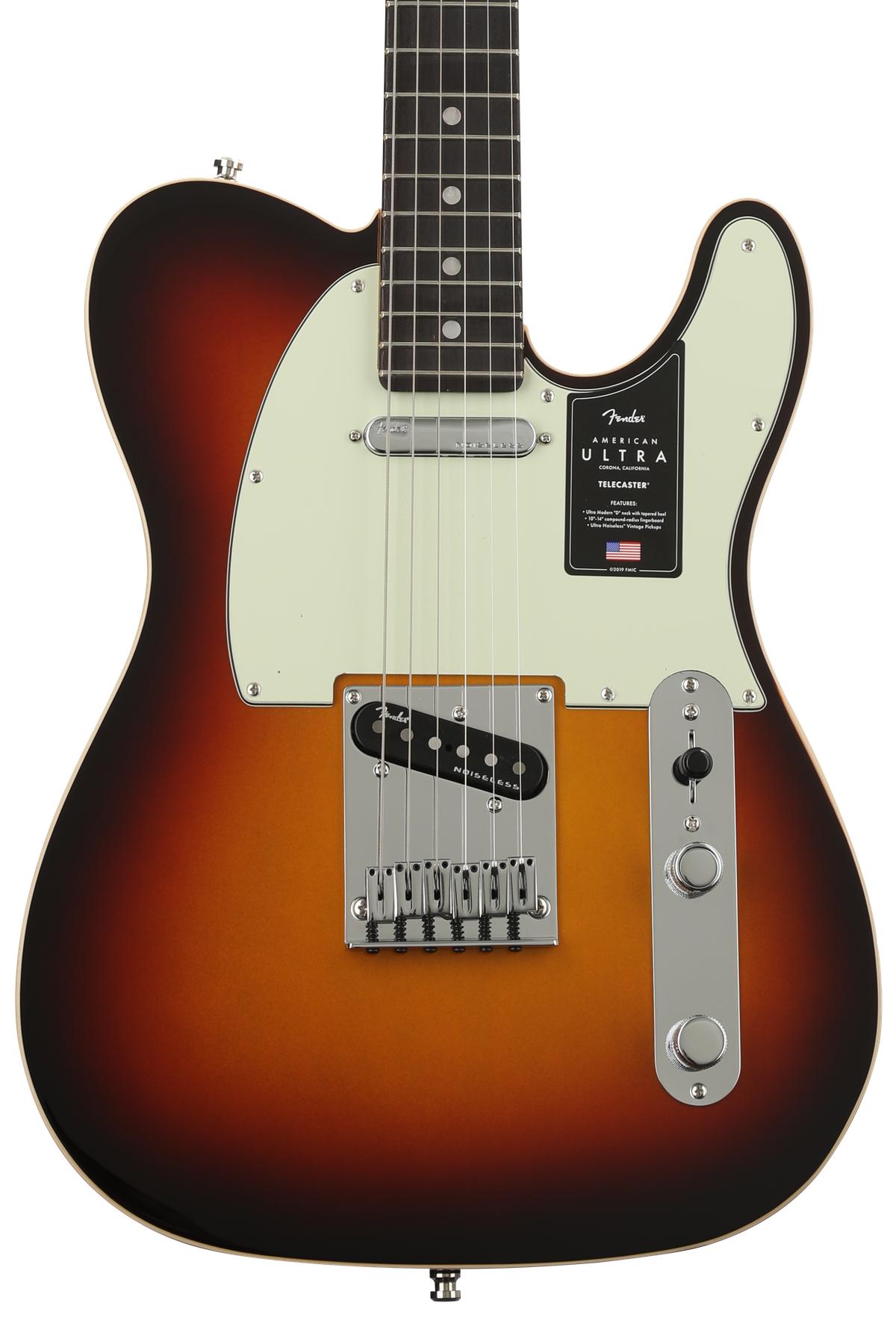 Fender's Telecaster is also a solid body with ash as its main body material. With its body, it produces a crisp and clear sound with a great sustain. It also has great resonance all over. It has a butterscotch blonde color, great for various live performances.
Neck
A guitarist's personality and playing style can easily be seen on the instrument's neck. Knowing what the neck is made of and how it affects the sound quality can affect your decision on which instrument to buy.
The Gibson Les Paul Standard 50s has a mahogany neck, the same for its body. The fingerboard is made of rosewood, making every tone warm. This softens out the sonic experience, so listeners won't be overwhelmed with whatever you are playing. It has acrylic trapezoids as the inlay, making it very unique for an electric guitar.
The Fender Telecaster also takes the body material to its neck with maple. It has a snappy and bright tone, and it eases out the bite for the player with a tight low end. It has the class black dot fingerboard inlay, very safe and classy for any occasion.
Hardware
Electric guitars must have a durable and creatively made hardware for an enjoyable sonic experience. This greatly affects how the guitar sounds when plugged, it sets out the mood for whatever tone you will play.
Both the Les Paul Standard 50s and the Telecaster have vintage themed hardware. They differ mostly on the bridge or tailpiece, which is something heavy if you are a meticulous artist.

Les Paul Standard 50s has an ABR-1 tune-O-matic with stopbar bridge, while the Telecaster has a 3-saddle vintage style brass barrel bridge.
Electronics
Playing with an electrical instrument will make you want the most updated and techy guitar available. This will mostly affect performances and it will make or break your sonic experience as an artist.
Gibson has a the edgy 2 x volume, 2 x tone, 3-way toggle pickup switch on its controls, making it more advanced than the one that Fender has used on its Telecaster which is the 1 x volume, 1 x tone, 3-way blade pickup switch.
Conclusion
The ultimate decision on which electric guitar is best lies on your taste and preference. The budget is also a factor, but the sonic experience will draw you more on which guitar brand and style will suit you best.
Editor's Pick
The Gibson Les Paul Standard 50s is best if you want more electrical control, a durable guitar body, with a warm tone.
Also Great
Fender's Telecaster is everything you need if you are into having a light and playable instrument with a vintage aesthetic and vibe.