Taylor is popular for producing its very own Grand Auditorium guitars.
That's why a lot of us might question which among the Taylor 814ce or Taylor 914ce is the better guitar.
Choosing which among the two is subjective, and it might depend on which type of sound you are looking for.
So, without any delay, let's get into the bits and pieces of each guitar and what makes each one a unique piece of instrument.
| | |
| --- | --- |
| | |
| | |
| | |
| | |
| | |
| Back and Sides: Indian Rosewood | Back and Sides: Indian Rosewood |
| Fingerboard: West African Ebony | Fingerboard: West African Ebony |
| | |
| | |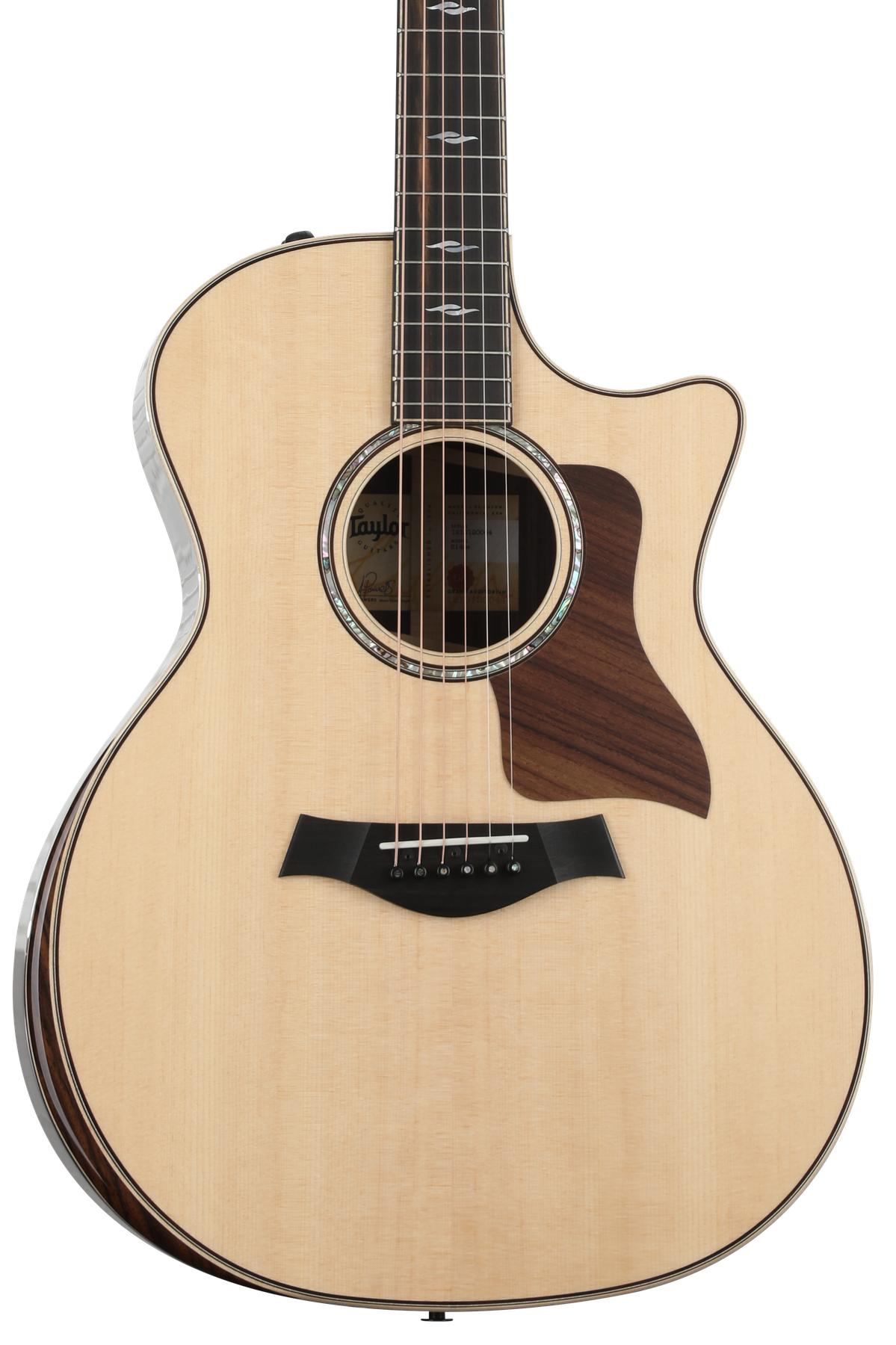 With its versatility and innovation, the Taylor 814ce does not joke around with its features. Its powerful sound and excellent qualities come from its great materials and outstanding construction. Featuring its latest design, the 814ce displays innovative upgrades like V-Class bracing, utilizing protein glues and ultra-thin finish in some parts, and many others. With these enhancements, the Taylor 814ce brings your music experience to the next level.
Featuring its very own design, Grand Auditorium guitars give an amazing acoustic sound, making it widely-known. With this design, the Taylor 814ce makes a versatile model producing a right amount of volume when used in fingerpicking, and a powerful sound when used for strumming and flatpicking. With its balance, warmth, and great articulation, the 814ce makes an all-purpose guitar. It's perfect as a lead in a band, or companion in a solo performance. The 814ce is a top choice when it comes to versatility.
With a Sitka spruce top and Brazilian rosewood back and sides, the 814ce makes a sound that has a rich musical tone with crisp articulation. This excellent tone wood combination also creates a warm and resonant low end with a strong volume, which a lot of guitarists will love. Included in its features is Taylor's ES2 which is a revolutionary pickup design that makes for an improved amplification.
Other notable features of the Taylor 814ce include the custom-calibrated wood thickness and bracing for each body shape, eye-catching rosewood pickguard, single ring abalone rosette edged with rosewood, and a pearl fingerboard inlay. This is proof that the 814ce does not just excel on sound quality, but also does not fall short on its physical attractiveness.
Also Great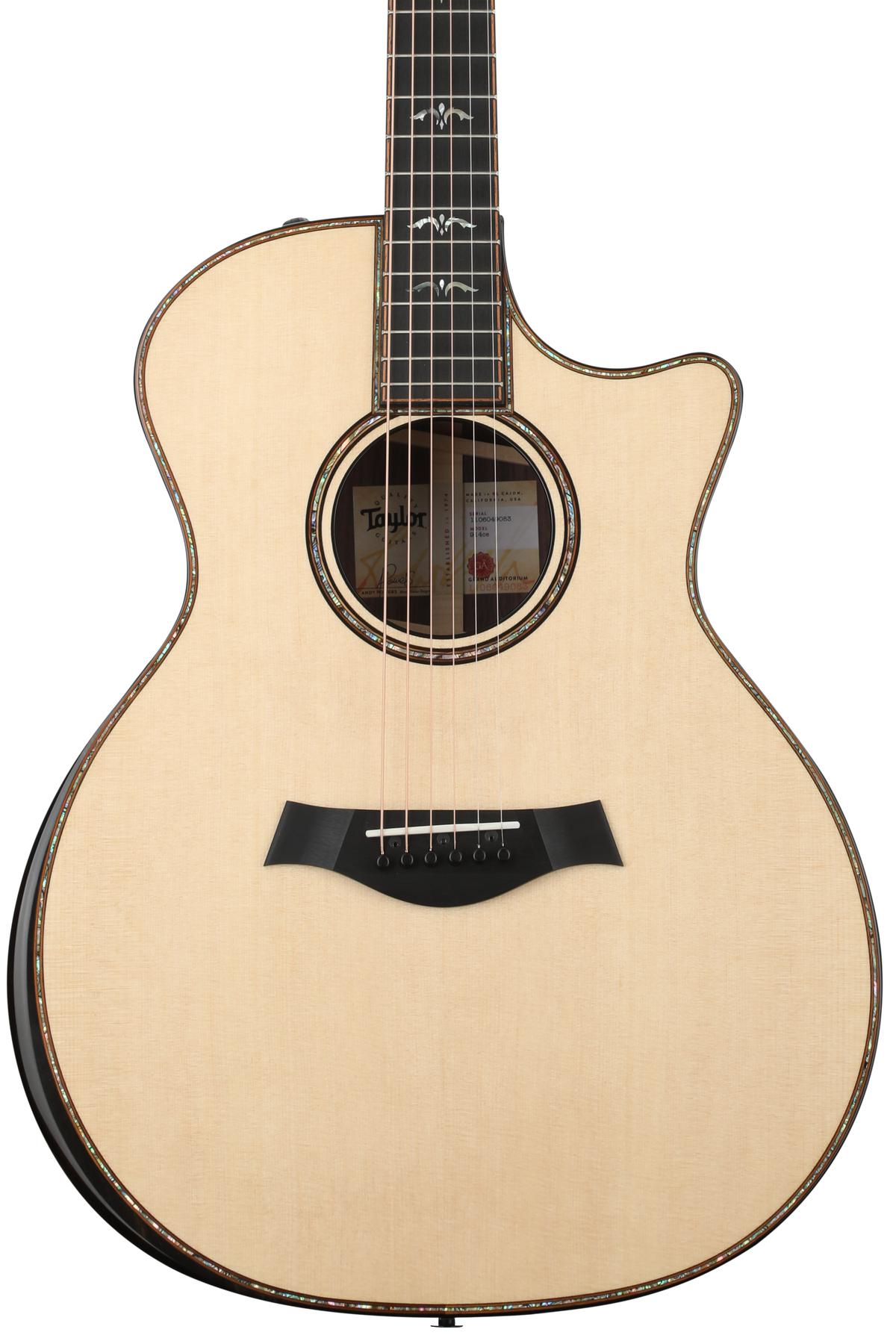 Featuring pretty details and amazing acoustic sound, the Taylor 914ce is just a proof that Taylor guitars give us a wide range of revolutionary guitars. Boasting a Grand Auditorium body style and V-Class bracing, the 914ce is up to date with the modern trend. Creating only the best tonal quality which has a strong volume that's well-balanced and evenly spread across the tonal spectrum, the 914ce gives an increased sustain and improved natural intonation.
Belonging to a long list of classic rosewood guitars, the Taylor 914ce boasts some crisp highs and robust lows. Coordinating well-balanced overtones, the 914ce features an innovative V-Class bracing that gives more volume and sustain by providing stiffness parallel to the strings and flexibility on both sides of the guitar for improved air movement. This specific design also gives better intonation and longer sustain.
With a narrower waist, the 914ce features a sleeker look, which does not only serve aesthetic because it also makes notes sharper. With a Sitka spruce top and an Indian rosewood body, the 914ce owns a classic tone wood combination. Ideal for a wide range of playing styles, the 914ce gives a rich tone with sparkling treble notes that ring out with complete clarity. It's also perfect for any kind of performance arrangement—whether solo or in a band.
Just like its other brothers, the 914ce also has a built-in Taylor Expression System 2 electronics which gives an improved clarity and accuracy. It also features master volume control, tone controls for high and low tones, and a discreet phase switch. Other features of the Taylor 914ce are its west African ebony binding, beveled ebony armrest, mahogany neck, and Ascension fingerboard inlay. Complete with a Venetian cutaway, the 914ce provides good playability that would greatly benefit every guitarist.
Editor's Pick
Advantages Over Each Other
Taylor 814ce
Suitable for any playing style
Lightweight
Very easy to handle and play
Powerful and rich tone
Taylor 914ce
Fancy and attractive design
Sweet acoustic sound
How Does Each Guitar Sound?
Taylor 814ce
With the Taylor 814ce's perfect tone wood combination, it produces a clear sound that has a rich tone profile. Because of its top wood, the vibration of string energy across the body gives a huge impact on its sound. It creates the right proportions which gives its sound great clarity. Its awesome back and sides on the other hand, make for a bell-like ringing tone especially with the trebles, giving it a warm and resonant low end.
Complete with rich and well-appointed overtones, the Taylor 814ce boasts a powerful volume with utter responsiveness and complexity. This instrument is just as suitable to strumming chords as it is to playing jazz voicings in standard tuning or fingerpicking in alternate tunings.
Taylor 914ce
Known to have a sweet acoustic sound, the Taylor 914ce produces a wide array of melodious tones. With its tone wood combination, this rosewood guitar gives off a natural reverb with a remarkable timbral response.
Taylor 914ce is made suitable both for fingerstyle and strummers, you don't have to worry about its playability and sound. It also sounds just as sweet when played through an amplifier, thanks to its built-in ES 2 preamp controls. This way, you'll have no trouble controlling its volume, treble, and bass.
Conclusion
Taylor has been producing such incredible musical instruments, and fortunately for us, they won't stop any time soon. One of their top-performing guitars is from different collections, which are the 814ce and 914ce. While both guitars are excellent in delivering an amazing acoustic sound, guitar enthusiasts will always prefer one more than the other, even if it's over only one advantage.
Also Great
To make the long story short, a lot of users prefer the Taylor 814ce because of its powerful and rich tone. With its warmth and well-appointed overtones, the 814ce brings a well-loved acoustic sound that features great clarity. It also works just as perfect when used in different playing styles or genres.
Editor's Pick
However, if you're a fan of sweet acoustics, you might be better off with the Taylor 914ce. Known for its distinct mellow tone, the 914ce will sound just as good when plugged in.