Editor Pick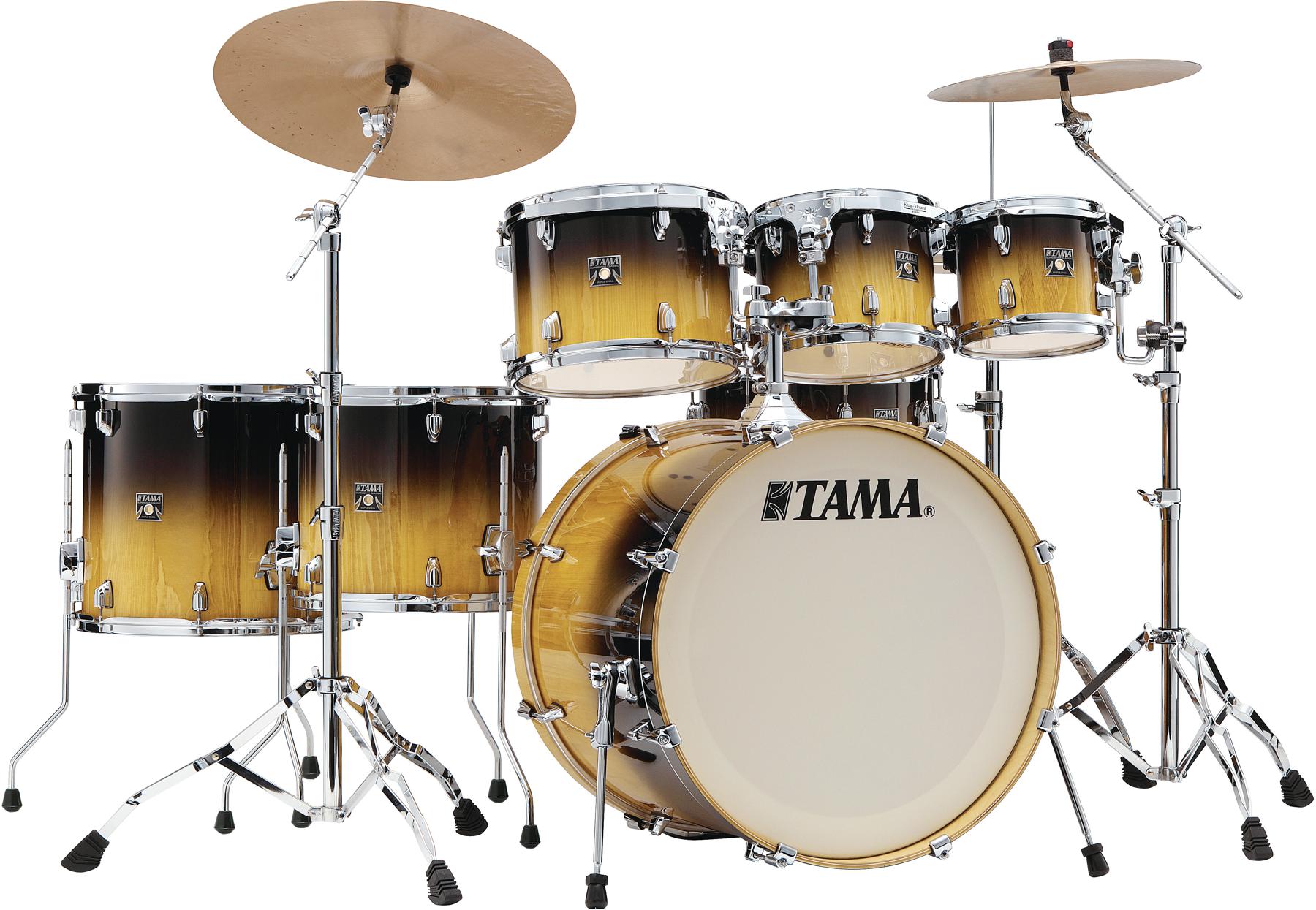 Superstar is a great drum set that has lived up its name for almost four decades. Though TAMA discontinued the late-1970s Superstar birch shell drums and revived it in 2015. And, instead of birch, TAMA is currently offering the line-up with maple shells.
There are a lot of differences between maple shells and the original birch drums. However, for beginning drummers, the shell material may not be a big deal. But, one thing for sure, maple shells may not be as rich as the birch, they are way better than poplar and other cheaper tonewood.
For this review, I am looking into the 7-piece TAMA Superstar Classic Shell Pack. Most drums that I've reviewed are 5-piece set, as shown below. Now, it's time to learn the benefits of having more instruments in the kit.
Great Maple Construction
Instead of the popular birch shells, the 2015 version of the Superstar Classic features maple shells. This means you can achieve more classic tones with warmth, brightness and some powerful punch. The bass drum comes with 8-ply 7 mm 100% maple shells, while the snare and tom-toms come with 6-ply 5 mm 100% maple shells.
It comes in various color options. These include Mahogany Burst, Midnight Gold Sparkle, Cherry Wine, and Pearlescent White, etc.
Outstanding Sensitivity and Sound Quality
Since it's made of maple wood, it's expected to produce a maple sound with a clean and clear tone. However, what you will get is the warm and rich woody tone. Higher tuning gives fuller and sweeter punch, as well as clean low tones.
If you run your fingers to the shells, you'll not feel the gloss, instead, it's still woody. This, of course, contributes to the warmth and character of the sound it produced. The smaller die-cast bass drum claws allow more resonance and less tone distortion, the manufacturer said.
The bass drum is amazing. It's one of the greatest instruments in this set. It's one of the best bass drums that can give the most impressive and powerful punch.
Solid Hardware
With TAMA's very own Star-Mount suspension system, drummers can achieve better sustain while playing. It features a rotating bracket that allows flexibility of less than 90-degrees. The rack tom mount uses TAMA's very own Omni-ball design for quicker response and more accurate positioning.
What's Inside the Box?
This 7-piece Superstar Classic drum kit is packed with amazing instruments right out of the box. With simple tweaks, perhaps, a quick tuning and testing of the drum you can start drumming right away. Among the exciting instruments in this package are the following:
22 x 18 Bass Drum
8 x 7, 10 x 8 and 12 x 9 Rock Toms
14 x 12 and 16 x 14 Floor Toms
14 x 6.5 Matching Snare
This legendary kit is one of the most impressive and sonically aggressive drum sets from TAMA.
Additional Notable Features
This drum pack comes with 45° bearing edges of the original four-century-old Superstar. It comes with low-mass, low-profile lugs, which reduce the overall weight, thereby, increase the sustain. The tuning range is quite impressive for these drums, so, you can play from jazz to hard rock.
Pros
Produce great classic tones with a little punch
Both the snare and toms offer crispier and brighter tone
Drums are touch sensitive, providing great dynamic control
Nuts come with a bit of grease
Cons
Snare heads might need replacing for better tuning and sound
Tension rods might be problematic and needs replacing
Just a word of advice, though…
The maple drums are actually very impressive, but, the original birch drums are better. In this drum set, you are surely blessed with good quality snare and, of course, the bass drum. However, to really achieve the snare sound that you need, changing the snare head is necessary.
But, if the manufacturer is geared towards quality, then snare heads should have been replaced already. These may affect your performance and you might run into trouble on a show for having unreliable headstocks. By having a great hardware and support, everything will surely be working well, and of course, you'll not have problems even when playing for extended hours.
This is just my humble advice. However, it's still very important to really know what your needs are. This is to help you assess whether TAMA Superstar Classic is the one you need.
Verdict
Editor Pick
From low, medium to high tuning, the toms, matching snare, and drums are very responsive. They are able to maintain the quality of sound the drum set produced. Hence, this can be a great recording drum set.
Is it worthy of your investment?
It's reliable and playable. This is ideal to be used in the studio or house, primarily for practice purposes. However, if you are always gigging or performing, this might be too basic and you need something more and an advanced drum set.
Know when you're going to use the drum set before buying one. But, if you really want a maple, perhaps, you can look for a more expensive one. For beginners, this one is more than enough.
Indeed, A Great Drum Set
The price might be someone's barometer whether to buy this drum set or not. However, with the TAMA Superstar Classic drum set, musicians are not buying it primarily for its price tag, but for the instruments this drum set has. Though some might have issues with the headstocks, this is still a great drum set for its price.