If you are looking for a cheaper guitar that you can easily bring wherever you go, then, go for a Squier Tele. It's well-built, got a super fast action with outstanding electronics and set-up. Plus, if you want something to give sharper Twang, the Squier Standard Telecaster is the best for you.
Editor's Pick
The Squier Standard Telecaster
The Squier Standard Telecaster is a solid guitar with good construction, perfect for whatever skill level you have.
This Tele is versatile and its vintage-look and vibe make you want to play like the old days.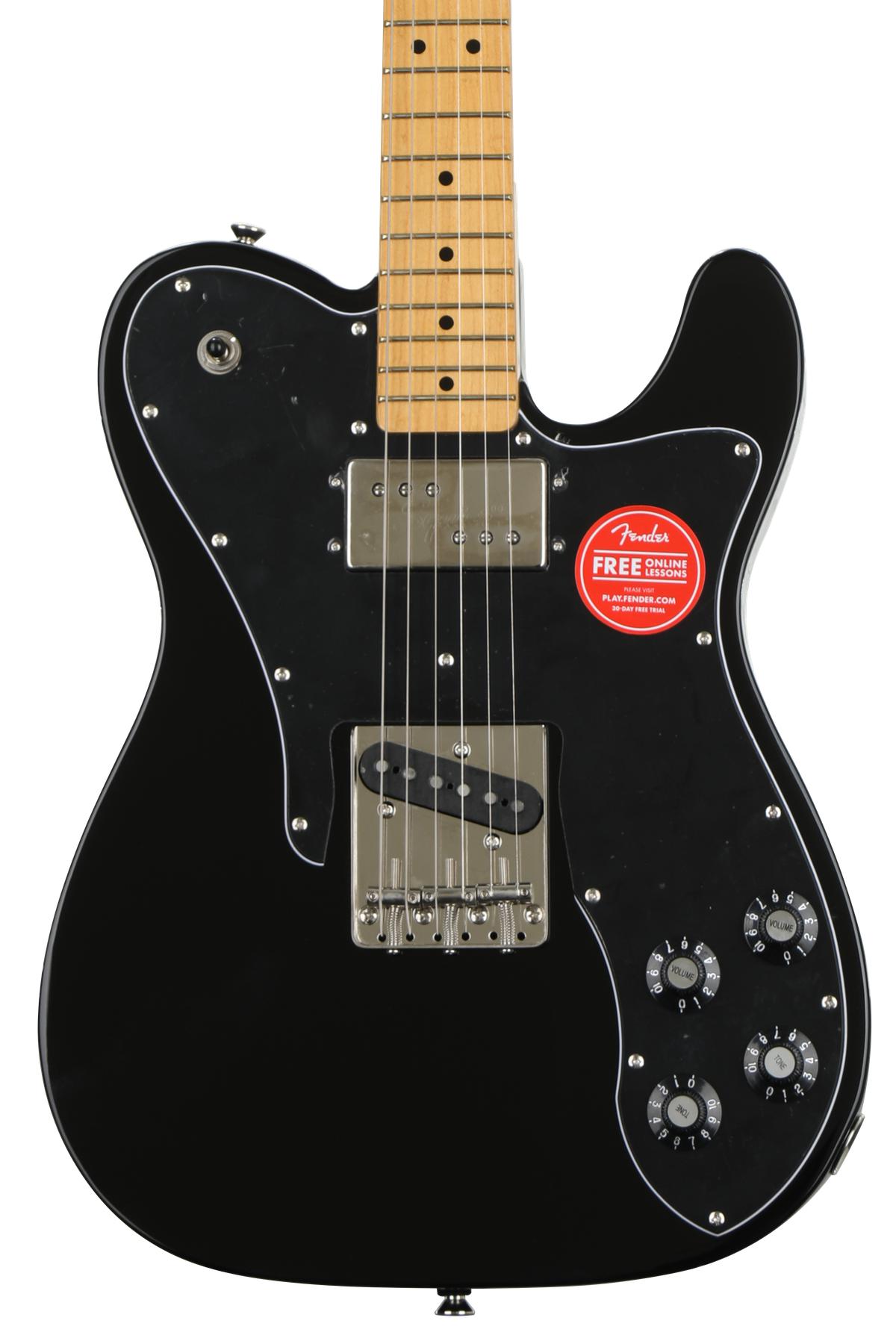 The design, the sound, and the build of the Standard Tele bring you the 1960 original Tele.
However, it has a lot of amazing upgrades and modifications.
So, to check these beautiful add-ons and improvements, just go through each of the features below.
Pros
Got that Tele twang
Good tuning machines
Powerful bridge pickup
Cons
Fret edges not smoothly sanded
Treble pickup stopped working
Excellent Body and Finish
Made with Agathis body, a cheaper alternative to Alder, and a maple neck. This comes with gloss polyurethane finish and it feels great.
Although, if you look closer, you can still see the wood grain, it's not an average design for a Tele.
The neck of this Tele is amazing. That C-shaped neck profile modelled from the Teles of the 60s provide fast action. This is one of the notable advantages of this guitar.
The rosewood fretboard has a 9.5-inch radius and 22 medium jumbo frets with perloid dot inlays.
It still has the polyurethane finish and you may opt to have a maple fretboard instead of the rosewood.
It has a synthetic bone nut, which is pretty reliable. And, it has a standard truss rod, too.
Simple Hardware and Electronics
It comes with two single-coil pickups, one for the bridge and one for the neck. The single-coil pickup at the neck comes with Alnico magnet.
Simple Hardware and ElectronicsThe bridge pickup gives the classic Tele twang of this guitar, while the neck pickup gives that clear and sweet Tele sound.These pups are connected to a volume and a tone control knob.
It features the three-way pickup selector switch that lets you choose to use either one or both of the pickups.
It has those standard six-saddle strings with block saddles and die-cast tuning machines at the guitar headstock.
All the hardware comes with chrome coating.
Incredible Fast Play like the 60s Tele
The neck is as good as the expensive Fender Mexican Telecaster.  You can play fast action without any problem.
Although you might get a Tele with sharper fret edges, you can easily get rid of it through sanding.
Gives Tele Twang, Plus More!
Of course, as a Telecaster, it should give the best twang sound. Thanks to the bridge pickup that gives sharper Tele sound.
On the other hand, the neck pickup also gives sweeter tone.
Using both pickups via the three-way toggle helps you achieve the classic Tele sound of the late 60s.
The warm and clear tone produced by the guitar can be attributed to its design and quality of the material used. Hence, you can play rock and country, too.
However, if you need to accommodate more distortion and note bending for hard rock and metal, this thing might not be the one for you.
Great for Beginners
Aside from the simple features and basic electronics, this guitar is ideal for beginners. It's a good companion for practice and jamming sessions.
It's also good for concerts and studio recordings.
Although it may be a good on-the-go guitar, it is still perfect for smaller venues.
Beginner's Best Partner
Not just a practice partner, Standard Tele could be a great beginners' best partner. It's easy to use, very easy to play and of course, very versatile.
You can bring it anywhere and play it outright without the need to set it all up again.
It's a very reliable guitar that won't let you down and you wouldn't want to put down, as well.
Drawbacks, but not Deal Breakers
It may have great construction, playability, and good electronics, but it doesn't give more. No wonder it is called a Standard Tele.
Hence, if you are looking for more, perhaps, its better if you go directly with the Fender American Special Telecaster, or this Fender American Standard Telecaster.
It's a little pricey though, but so what if you can get more out of it?
Depending on your preferences and needs, this Standard Tele by Squier might be a great pick for you.
But, if you'll reconsider, a more expensive, more customizable and more versatile option might be worth buying in the market.
Verdict
Editor's Pick
With its quality, build, sound, and versatility, you can't go wrong with Standard Tele. In addition, the bargain price blows your mind away.
It's a perfect instrument for those who just began learning electric guitars.
So, is this a good guitar for beginners?
Depending on your preferences and music style. For beginners who really want to have a guitar they can call their own, this can be owned easily.
Considering the price, everyone can just grab this guitar.
However, if you are really serious and needs more than the basic electronics of a guitar, then, you can look for other guitars in this price range.
But, if you really want this Tele, it's up for upgrade too.
Instead of buying expensive guitars, you can go for upgrading the pickups, for example, to achieve a reliable and personalized guitar.
Do you agree with this review? Let me know by leaving your comments below!