Editor's Pick
The Schecter Omen 6 Electric Guitar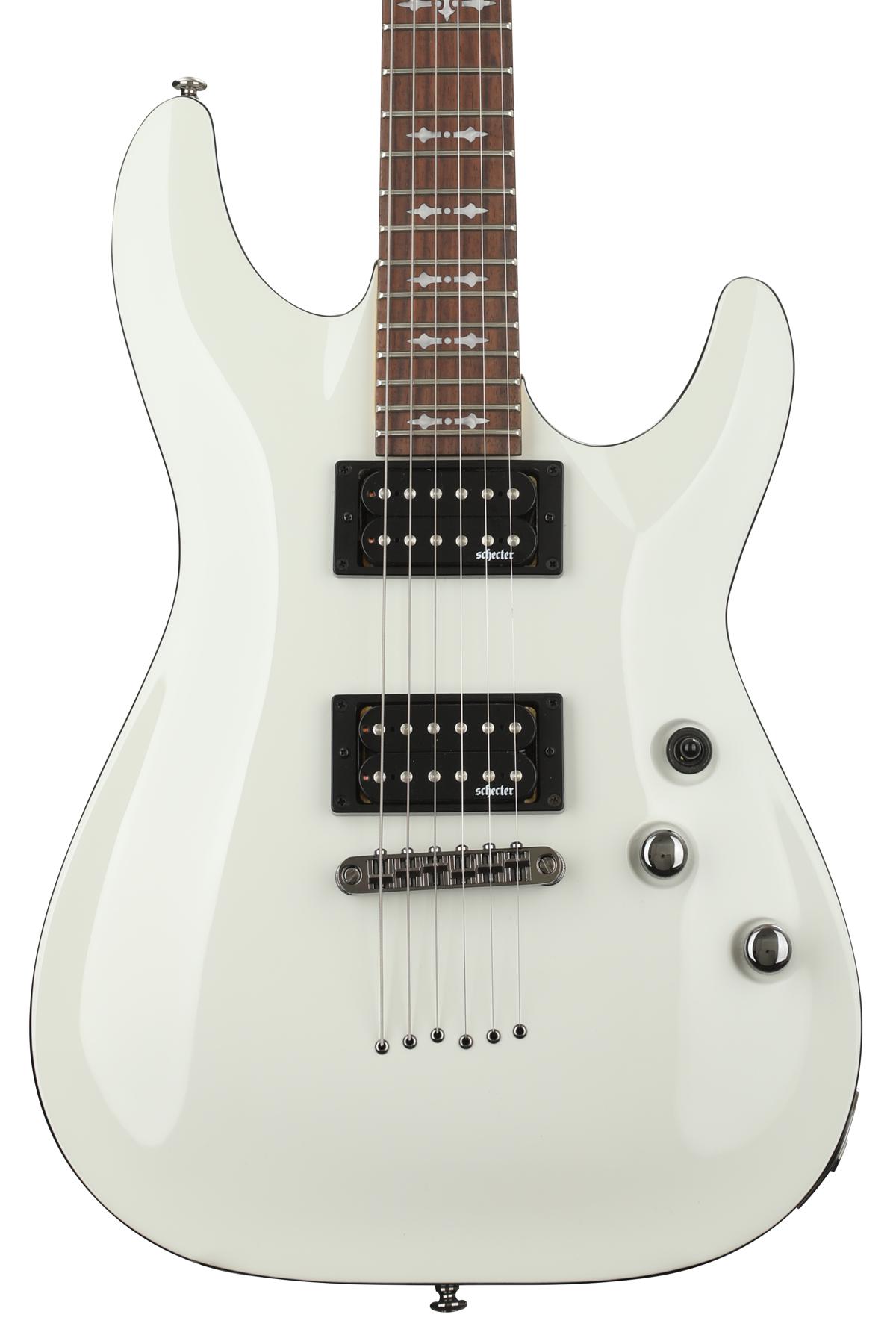 Schecter might not be a resounding brand compared to Fender and Gibson, but it is a big name in the metal world.
It has been there since the 1976, initially producing replacement parts for the Gibson and Fender. However, in 1979, it began to produce its very own electric guitars based on Fender designs.
Today, Schecter continues to produce electric guitars, bass guitars, and other instruments.
The Omen 6 is one of the best products they have. So, check out its features below before grabbing one in stores or online.
Pros
Great sustain compared to other guitars
Fantastic low-cost guitar
No dead frets
Cons
Cons Heavier than other guitars
Some fret edges are still rough
Great Construction and Fit
The body is made of basswood with bolt-on maple neck. It comes with the signature C-shaped thin neck like some of the Schecter guitars.
And, it's built from a solid maple piece which is great for speed and accuracy.
The fretboard comes rosewood finish that features 24 extra jumbo frets and perloid gothic inlays. It has 14-inch radius with 25.5 scale length, which helps players do fast action.
The scale length is 1 or 2 inches longer than "standard" electric guitar, for easier access to higher frets.
While there are some rough fret edges, a quick sanding will definitely do the trick.
When you look at the overall build of the guitar, it's simply gorgeous. The contours are immaculate and the finish is spotless.
Perfect for Heavy Metal and Rock
Schecter use basswood not for cost-cutting measures. This is made so to emphasize the main purpose of the Omen 6. It's more likely designed for heavy metals and hard rock players.
The basswood material is thick and resonant, which is ideal for heavy metal and hard rock.
On the other hand, the maple top produced a bright tonewood, and, the bolt-on neck gives snappier sounds. These two make a perfect complement to produce a high-quality metal sounds.
This is a well-balanced guitar and dynamics too. Although it's designed to produce heavy gain distortion, it can also play other music styles. You can shift from distorted to clean tones pretty easily.
Good Pickups and Electronics
It features the Schecter Diamond Plus pickups, wired to two volume controls, one tone knob, and a three-way pickup selector switch.
A well set-up Floyd Rose bridge is there that contributes to greater sustain and clarity of tones.
Omen 6 is one of the few Schecter guitars that comes with good strings. And, should you need a string replacement, it can be made a breeze.
It has locking tuners on the headstock that perfectly compliments that Tune-o-Matic bridge.
These two indicate that this guitar is designed for a great deal of distortion – picking chords, bending notes and other unique styles of playing heavy metal.
Ease to Play
Aside from playing hard rock so easily, the rosewood fretboard also is a great thing. It feels so solid and sliding up and down makes it very easy.
The frets are thicker, so you can sense where your fingers are and you can really feel the groove and the curve of the guitar.
Thanks to the rigidity of the hardware, intonation stays intact even with rigorous playing and note bending.
The string-through design also does its job for strings to have lesser to no friction at the bridge. This probably has better intonation than Stratocasters.
Best Value for Money
Compared to other guitars with the same shredding capacity, the Schecter Omen 6 is by far the cheapest.
It's a great guitar, packed with great electronics and perfect build, producing high-quality sounds.
Rock Player's Tool
Although it may not be that versatile, for intermediate and serious players, a quick upgrade of this thing really seals the deal.
It has the perfect construction, build for heavy metals. So, if you find the need to upgrade the hardware, it'll surely come in handy.
For beginners, this is a great tool for learning. Once, you've found your music style and you think you need more, just like I said, an upgrade is always an option.
It's better to invest in cheaper guitars that can be easily upgraded than to buy expensive guitars, but also need to upgrade later.
Drawbacks, but not Deal Breakers
One thing that holds me back from buying this guitar is the brand.
Although Schecter has been existing for decades now, it seems their guitars are not widely used. Metal and hard rock are not my thing, though.
Judging from the features it offers, I'd rather get an ESP LTD EC-1000.
Though it's priced higher than Omen 6, it's used by notable people, like Rolling Stones' guitarist Ronnie Wood.
But, if you really trust Schecter, then Omen 6 is a great pick for you.
It's just my personal opinion though. So, you might want to take it with a grain of salt.
Verdict
Editor's Pick
Perhaps, it's not the price that holds you back, but the brand. If you are a newbie, Schecter is surely very new to you.
However, if you really are into metal and hard rock, you'll find that AEON, a death metal band from Sweden, used some of Schecter guitars on their concerts.
Maybe you already got a little confident by now.
It's worth a try. After all, it's not very expensive. This is a perfect working musician's tool, specifically metal and hard rock artists.