This is the cheapest among the electronic drum sets in the Roland TD series. However, the Roland TD-1K is great when it comes to space savings, customizability, and playability. It's the one kit you need for your practices and it's even very budget-efficient.
Editor Pick
Roland TD-1K Drums Kit
We always know that continued practice makes you perfect and a great drum set sets you apart from the rest. An entry-level electronic drum set like Roland TD-1K is the only thing you need to reach perfection in your drumming skills. It is portable, very realistic, responsive and affordable to anyone, especially for budget buyers.
CHECK PRICE SWEETWATER
CHECK PRICE ON GUITAR CENTER
We may earn commission from purchases made from our links, at no additional cost to you.
Lightweight and Compact Setup
One of the most portable and lightweight electronic drum kits, Roland TD-1K is very handy. It only weighs around 25 lbs. and can be squeezed into a 4 x 4 area.
Everything is mounted on a very sturdy tubular aluminum rack. You can adjust the height of the rack to the position you are most comfortable with. The sound module is located at the center, for easy access and reachability.
Now, the pads are all gum rubber, which is very responsive and realistic, and it is velocity-sensitive. By that sensitivity, you are able to play the pads with more dynamics and expressions. Hence, the feeling seems like you are playing a real acoustic drum set.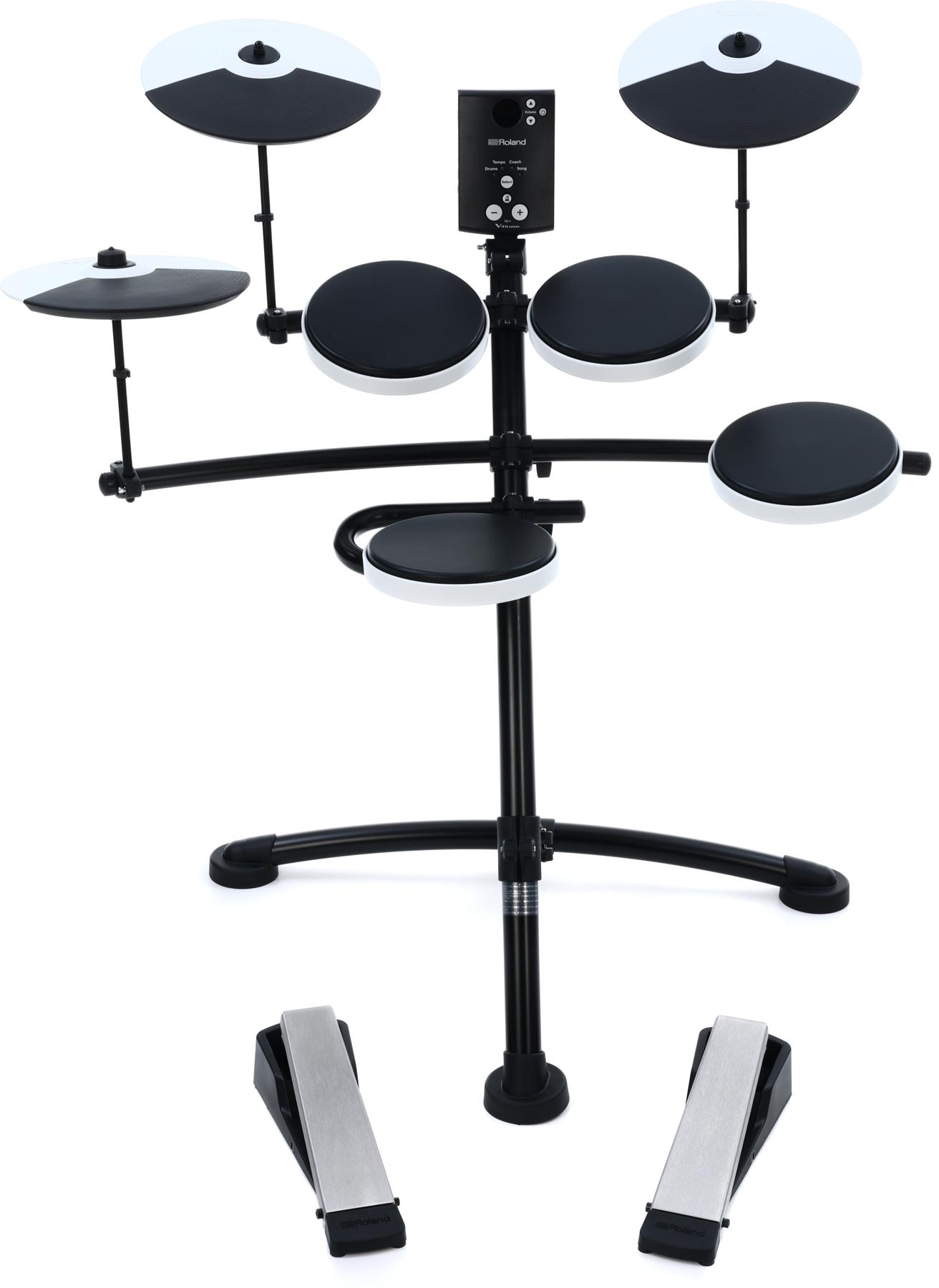 Reliable Kit Configuration
TD-1K almost packed like the TD-1KV, but, it sure is unique in its own way. Let's check what Ronald offers on its cheapest drum set in the V-drums collection.
Snare drum pad
Three tom pads
Crash cymbal
Ride cymbal
Hi-hat cymbal
Percussion sound module
Like the Roland TD-1KV, you also got a kick pedal and a hi-hat pedal included in this drum set. The sound module is the brain of the drum set and the one that makes the whole package very exciting to play with.
Sound Quality and the Sound Module
The drum pads and the cymbals are quite reliable in giving a real feel and sound of an acoustic drum set. The cymbals, particularly the ride and crash, are all dual-zoned, meaning you can crash, choke and even play bells with them. The hi-hat is pedal is beater-less, so you get a great sound without those unnecessary noises.
The simple configuration of the drum set is also complemented with a very intuitive sound module. It has only around 15 preset drum kits that offer rock, pop, jazz, and other options. You can also make the most of the metronome and the built-in coach functionality of TD-1K.
Practice and Learn by Yourself
If you are a beginner and very serious in developing your skills, yet don't have the budget to attend classes or even high a tutor, Roland TD-1K might help you. It has coach mode features on-board to help you practice and develop your skill on your own and at your own pace.
The coach mode is a training tool that has practice and training lessons you can work on. You can play along with your favorite tracks and get scored every time you use the feature. The scored exercises will keep you motivated and will help you develop and achieve perfect timing and accuracy.
Versatile Connectivity and Other Features
If you want to play loudly during the day, or silently during the night, you can do so with TD-1K. Its connectivity options allow you to just play all the time without making some fuss in your neighborhood.
TD-1K features a USB-MIDI interface that lets you connect to any DAW or a computer. It has also a 1/8" stereo I/O where you can connect your headphones for silent practice sessions.
To be able to maximize these connectivity options, you are allowed to record your songs and use the computer as a controller. This allows you to use a music software on your computer to manipulate your music.
You can utilize the Roland's V-Drum Friend Jam series apps, which help you get access to more exciting tracks. This is good for practice and you even get the chance to play against great drummers around the world.
Pros
Provides the natural feel and response
Very lightweight, portable and space-efficient
Sounds are great for an entry-level drum kit
Drum coach mode is very useful for beginners
Pads and cymbals are solid and seem to last longer
Cons
Beginners might not learn double kick since it won't allow you to do it
Might be better to have more preset kits on board, especially for practice
Drawbacks
With all the good things that have been said about the drum set, it's kind of hard to pinpoint where in the world is this electronic drum set lacks in any way. But, there's one more thing that TD-1K should do, and that is, to increase the built-in songs and sounds that beginners can benefit.
The more onboard effects and sounds TD-1K has, the more excited players will be, especially beginners who easily get bored with one song. But, there are also beginners who are really dedicated, who can make the most out of the few that's available. So, just take my opinion lightly.
Again and Again, A Great Practice Tool
It's been said countless times already in this article, TD-1K is a great practice tool. It has the natural feel of a real acoustic drum set, and almost achieves the classic sounds of the real shells. It'll aid your performance to make it even better when you perform live or record in studios.
Verdict
Editor Pick
I might say, it's a great practice tool for honing your drumming skills. It's a great partner to help you produce music of your own, especially with its connectivity options.
It's almost a great deal, except that a lot of electronic drum sets out there which offer so much more on-board features come at a lower price. But, it's also undeniable, that it's a Roland we're talking about. So, quality-wise, you'll get more than what you've paid for.