The electronic drums from Roland are usually of great quality that'll push you to try harder and achieve a higher level of prowess. With the Roland TD-17KV electronic drum set, not only will you able to play closer to the sound of an acoustic set, you'll also enjoy tons of its built-in functionalities.
The Roland TD-17KV comes in two sets, which differ in the bundle. One comes with free drumsticks, while the other with a drum throne. In this review, the former is being focused on. However, this also holds true for the latter bundle, as they only differ in that one aspect.
Editors
Roland TD-17KV-S Electronic Drum Set
When you are a serious drummer, you know your acoustic drum set is not enough if you want to be ahead of the competition. Hence, you need to have another set, probably an electronic kit. And, speaking of the complete, reliable, trusted, yet affordable electronic drum set, the Roland TD-17KV is number one on the list.
CHECK PRICE ON SWEETWATER
CHECK PRICE ON GUITAR CENTER
We may earn commission from purchases made from our links, at no additional cost to you.
Realistic Feel
Pads are smaller compared to acoustic drums. However, the size won't be much of a bothersome since players will be using drumsticks, thereby hitting the center of these drums accurately. Now, even though this setup comes with smaller pads, they are no less powerful.
The snare pads are tension-adjustable so that you can really get the perfect rebound, like that in acoustic drum set. The kick drum, on the other hand, is another tool that really feels acoustic. Since the kick pad comes with rubber cover and cushion, it absorbs the noise and retains the signature "thud" of a bass drum.
It's ideal for playing at home, for practice or recording. However, you can also bring it anywhere you want to gig. Actually, the whole set up only weighs around 20 pounds, which makes it lightweight.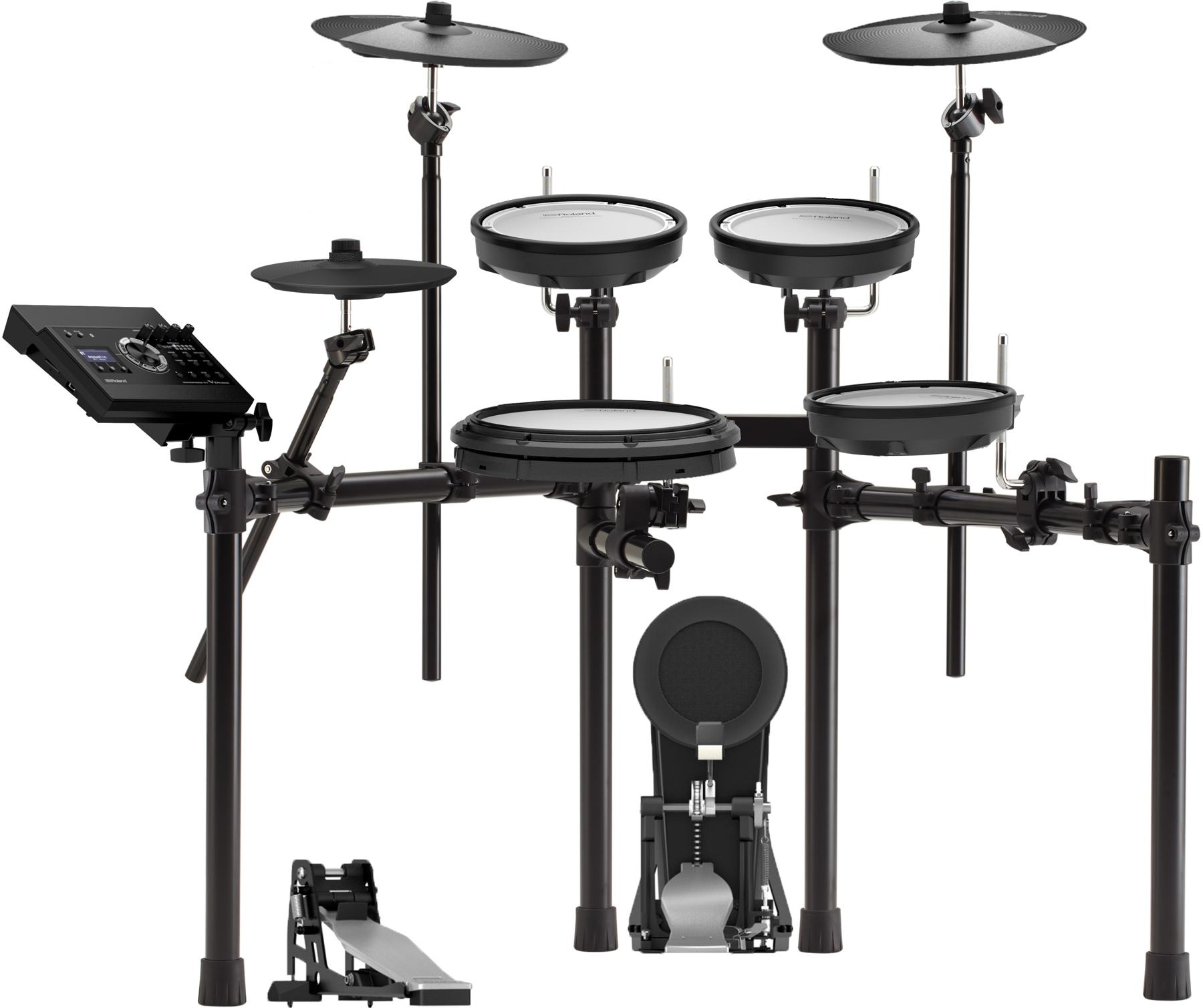 Comes with a Bonus Bundle
What's inside the box is interesting. It comes with the primary instruments you need, along with the hardware, at the same time, a bonus bundle. The drum set comes with:
12" Dual Trigger Mesh Snare Pad
Three 8" Dual Trigger Mesh Toms
10" Kick Trigger Pad
Two 12″ CY-8 Dual Trigger Pads
10″ CY-5 Dual Trigger Hi-hat Cymbal
Drum Module
Drum Key
MDS-4V Stand
FD-9 Hi-hat Control Pedal
Setup Guide
Aside from these, you also get a bonus bundle three (3) sets of drumsticks, 3.5 mm audio cable and Austin Bazaar polishing cloth. The extra pairs of drumsticks for is for back up. The audio cable is used to connect to your phone and the cloth is to wipe down the instruments after a long day of a tiring performance.
Perfect Sound Quality
Roland works so hard in providing the best, not just in giving affordable drum sets, but also the highest quality of the sound it produced. Thankfully, playing the TD-17KV electronic drum set gives you that feeling of playing acoustic drums.
Roland has successfully mimicked the physical movement, hand and foot control and the stick coordination to achieve a perfect acoustic sound in its electronic setup.
This drum set also comes with Roland's Prismatic Sound Modeling technology of its TD-50 flagship drum set.
Increase Creativity with the Drum Module
If you are very serious about drumming, you are surely planning to craft your own music. But, how will you be able to do that if you drum set won't allow you? Roland TD-17KV is actually very versatile in allowing drummers to craft their own music and style.
The sound module of this drum comes with around 50 quality preset drum kits and also another 50 user kits. You can be more expressive with the 310 different instruments. You can also maximize the onboard effects like the ambiance, tuning, snare buzz, muffling, multi-effects and more.
Great Drum Set with Mind-Blowing Features
The connectivity of this fella is superb, in addition to the SD card slot that you can use to store your songs, access and play along with them. This can also help you strengthen your craft, especially with the integration of music software. The drum module seals the deal, by giving you enough options for customization.
Versatile Connectivity
Electric drums are actually great when it comes to connectivity. Roland TD-17KV actually has a lot of input and output ports. First and foremost, it has (1) 1/8" input, (2) ¼" output jacks, plus another ¼" jack for headphones.
It has a Type B USB for stereo input and output. It has an SD slot (of up to 32GB). And, this great setup even comes with Bluetooth connectivity; connecting to your phone come very handy with the cable given as a bonus.
Pros
Really nice and realistic mesh pads
Great sounding acoustic kits
User interface in creating user kits is amazing
Cons
Might be quite expensive, given that you can buy a cheaper full-sized drum set
Limited programming and built-in sounds
Just a word of advice, though…
One good thing about the TD-17KV is its weight. It's extremely lightweight, which can be easily carried around without any problem. However, for beginners, this might not be a wise choice as it's quite expensive.
It may have quite a lot of exciting features, but if you are on a budget, you may opt to have the cheaper Alesis Forge Drum Kit. Roland TD-17KV is a great buy, but you really need to assess your needs, whether you need this or just any cheaper ones. This is just my opinion, so, just take it lightly.
Verdict
Editors Pick
An electronic drum set that has everything at a price not so high gives the best bang for the buck. Packed with everything you need to start drumming right away that even beginners don't have problems playing on it. Though with limited built-in samples, this is a great buy for those who hunger for excellence, but not quite for budget-buyers.
Electronic drum sets are way better in price and portability compared to real sets. Aside from that, Roland TD-17KV is durable, reliable, and you can bring it wherever you go because it's lightweight. With these advantages alone, though not as abundant as other electronic drum sets in terms of onboard samples, it allows users to maximize the few built-in features it offers.