Editor
Roland TD-1DMK Electronic Drum Set
Serious drummers are always looking forward to owning a Roland drum set. The Roland TD-11K electronic drum set is a great grab for professional drummers as it delivers top-notch sound quality, has a reliable sound module, and exciting features. It's not very expensive like the top-of-the-line drum set, but it has more than you need to play drums like a pro.
CHECK PRICE ON SWEETWATER
CHECK PRICE ON GUITAR CENTER
We may earn commission from purchases made from our links, at no additional cost to you.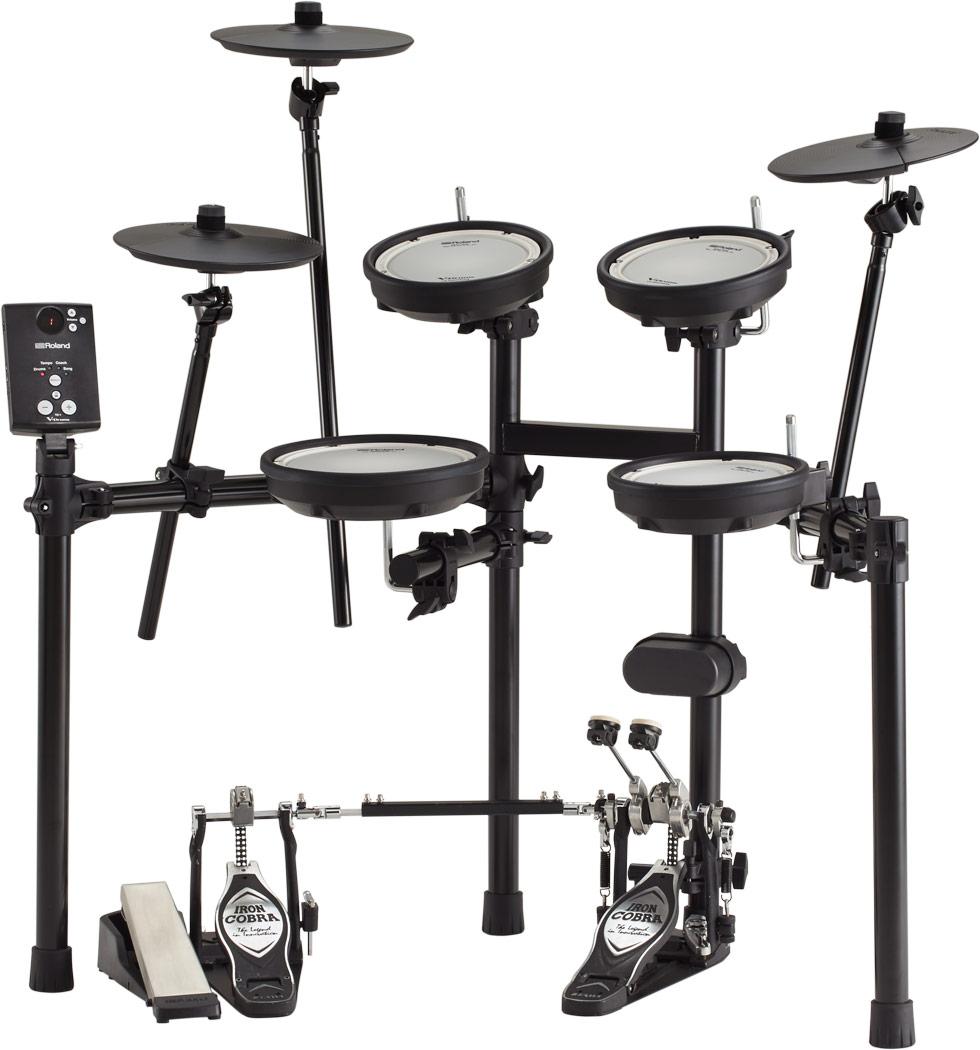 If you are looking for a new electronic drum set that has a great sound engine, at the same time, capable of giving you so much at a reasonable price, Roland TD-11K is for you. It is perfect for any skill level and is not very pricey for budget-buyers. If you are interested, why don't you take a few minutes of your time to read my comprehensive review of this.
Strong Build and Craftsmanship
You can feel the high-quality craftsmanship of the drums. You can rely on the super-accurate mesh V-Pad snare and durable rubber pads for all the three toms on board. Not just that, you can also enjoy the realistic and natural response from the new design and clothed-designed head of the bass drum.
The setup comes with a space-efficient drum stand that is very compact and supports the whole system even for long jamming and practice sessions. And, to increase the stability of the whole set up, it comes with a metal horizontal joint bar. This configuration is neat, at the same time very stable and everything is secure in place.
Unfortunately, it is best for this set up to be secured in one place, as it is not that portable. Everything in the set sums to a total weight of 47 lbs, which is obviously not lightweight compared to Roland TD-4KP.
Stable Configuration of Elements
This compact Roland TD-11K electronic drum set comes with quality instruments and stands, which include the following:
V-Pad snare
Three tom drum pads
Two V-cymbals (multi-zoned crash and ride with choke function)
Kick pad (Kick pedal not included)
Hi-hat (with choke function) and controller
Drum stand
Drum Sound Module
On top of the reliable instruments is the SuperNATURAL sound engine onboard. It makes the whole drumming experience more enjoyable. In addition, you can enjoy the features that are originally only being offered to high-end electronic drum kits.
Get More Creative with the Sound Module
The sound module of the TD-11K comes with a diverse sound library. This gives you access to a wide variety of music styles and genres you can enjoy playing along with. You can use them for practice to improve your skills and also the make easy tweaks on your live performances.
It comes with around 50 preset drum kits and around 14 built-in songs to start playing along with it. In total, you'll get excited to experiment with the 190 sounds that you can easily play along with.
The large LCD display is very useful in navigating the settings. It's icon-driven and has a very beginner-friendly display and configuration. In addition, it comes with easily adjustable controls for easy access and navigation.
More Useful Features On Board
One exciting feature of the V-drums is the coaching function. This helps players of all levels to build their skills by playing along onboard songs and be graded accordingly.
You can enjoy adjusting features like the muffling and virtual tuning. Then, you have the Quick Rec option that allows you to record your music with just one button.
Natural Sounding Electronic Drum Set
The snare, bass drum, and the cymbals are made to mimic the natural sound and response of an acoustic drum set. And, indeed SuperNATURAL sound engine makes TD-11K more natural sounding. Aside from that, it's packed with more features on-board, making it a great pick for serious players.
Great Connectivity Options
If you are using software to make music, integration with the Roland TD-11K is made easy with the two USB ports. In this way, you can connect it to the computer or any DAW. It'll also be very easy for you to transport your files and backup your music.
Pros
Delivers top-notched and realistic sound quality and feel
Set up is very stable and reliable
Comes with more exciting features to keep you drumming
LCD display is user-friendly
Cons
Might be very heavy for some players
Pricey compared to other drum sets with almost the same features
Might be a nice grab, except…
I think not a single Roland electronic drum set is not worthy of every single penny you invest in them. As a leading brand in the electronic drum set, Roland has been surely meticulous enough to include just all the good things to TD-11K. However, budget buyers may find it a little expensive, given that it doesn't differ much from its portable brother, TD-4KP.
So, for me, I think the more affordable TD-4KP is better than this one. You might not care about my personal opinion, especially if your needs and preferences all points to the TD-11K. But, it still depends on your needs.
Verdict
Editor Pick
A sturdy and complete electronic drum pack, perfect for all drummers – beginners and professionals, alike. It has everything you need, and surely, each of the instrument is made with quality and durability.
But, is it really recommendable?
For beginners and professionals who are looking for a great alternative for home use, the TD-11K is more than enough for you. Even beginning players can eventually go pro because of the professional features of this drum kit. However, if you are looking for a single set that can be used at home and out there during your gigs, this might not be a wiser choice.