Editor's Pick
Pearl Decade DMP905P/C228 Drum Shell Pack
Having a drum set that brings out the best performance and sound quality is an asset. strongPearl Decade Maple/strong is one of the best options in the market. It is packed with durable drums, reliable hardware, accessories and everything you need to start playing right out of the box.
CHECK PRICE ON SWEETWATER
CHECK PRICE ON GUITAR CENTER
We may earn commission from purchases made from our links, at no additional cost to you.
The Pearl Decade Drums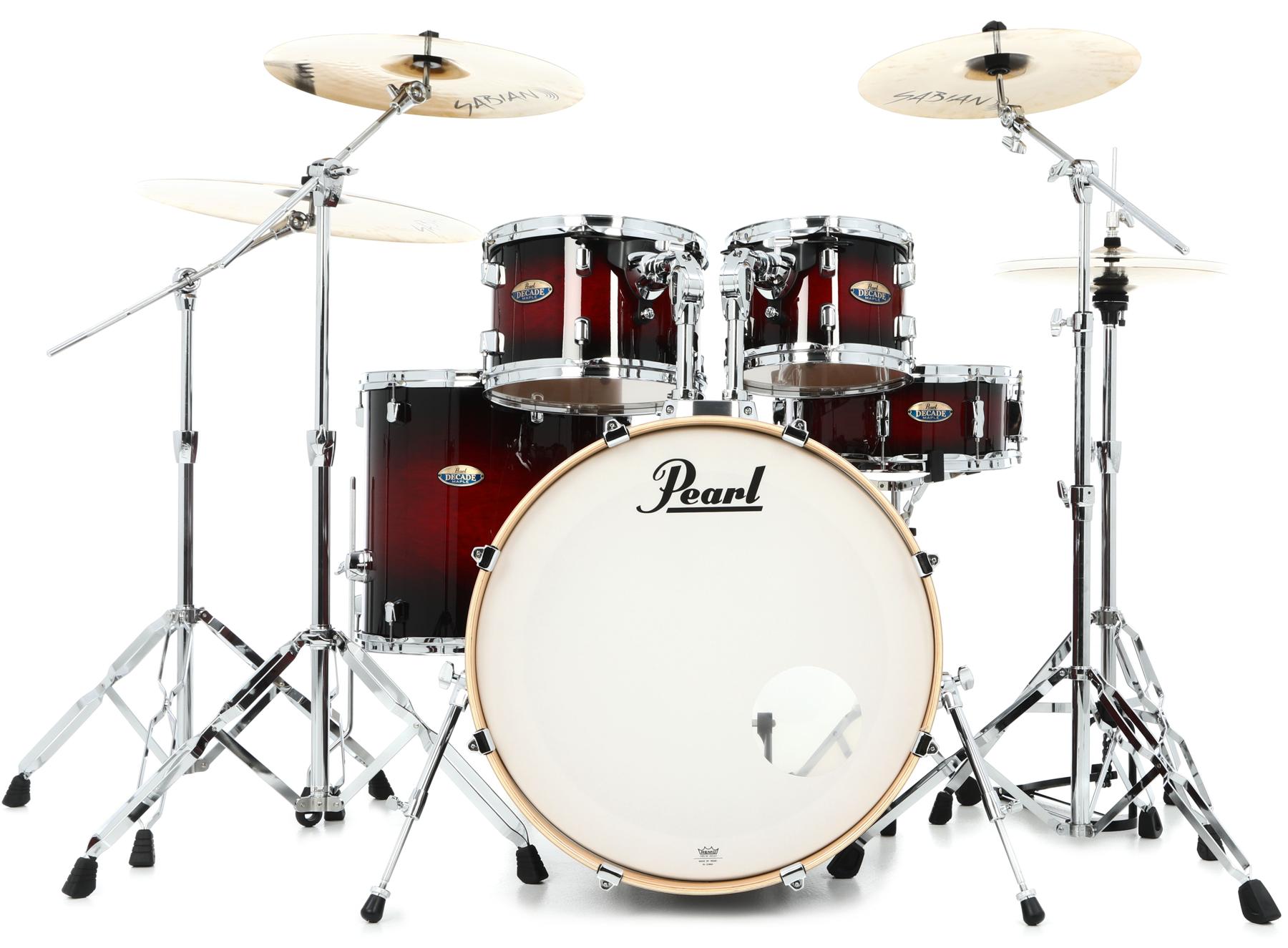 Who would have thought that there is a complete and amazing, yet very affordable drum set offered by Pearl? The Pearl Decade Maple Drum Pack is affordable, yet, very valuable drum pack. It's a result of years of planning and making, so you are sure it's perfect and the only one you need.
From the design, the material to the hardware and fittings, this drum pack is worthy of every penny you have. To be convinced not just by words, but by figures, I'm giving you this comprehensive review of the drum pack. Below are some of the powerful assets of the real drum pack from Pearl.
Timeless Look and Design
Drums are made with 6-ply 5.44mm 100% maple shells, so you can achieve the rich and deep tones of maple wood. These are highly glossy with a matte lacquer finish to give you an elegant looking complete set of drums. Each of the drums is perfectly smooth and seamless.
It's very classy. You can choose from the five color options, including Deep Red Burst, Satin Black Burst, Solid Yellow, and White Satin Pearl. Each of this color variation makes you stand out on stage.
Overall, it has constructed meticulously to bring out balance, great sound quality, and of course, a wide range of tonality.
Professional Hardware
Pearl Decade Maple pack comes with a reliable snare stand, hi-hat stand, and two cymbals stands. It has the longboard bass drum pedal, which is also very easy to operate.
The rack toms feature the Opti-loc suspension technology of the company. This technology allows maximum resonance of the instruments, while minimizing bounces and wobbles.
The toms got uni-lock gearless arms that give more versatility with the positioning range. The upper tube of each arm is quite long, but it is still very comfortable to play with.
Outstanding Sound Quality
Maple drums are known to have a better quality of sounds if not, the best. The Pearl Decade Maple drum kit offer great dynamics in low, medium and high tone ranges. So, you'll surely enjoy the sounds produced no matter what genre you'll play.
The bass drum is the star in this drum set. It's carefully set up to produce super solid sounds with slapping attack.
Even when you tune low or high, you won't have any problem with the bass drum. It gives you exactly the powerful and rich sound that you need since the toms are mounted onto the bass drum.
Special mention to the matching snare drum that provides crisp and lively sounds. This slim and sturdy instrument allows you to fully execute your prowess in jazz music. However, do not tune the snares below medium, as you might not get the sound it should produce.
Since Pearl incorporates its proprietary Superior Shell Technology, the drums are very responsive. Therefore, having great resonance even at thundering low tones.
What's Inside the Box?
This is a standard 5-piece configuration. So expect your box to have the following instruments:
22 x 18 Bass Drum
10 x 7 Tom
12 x 8 Tom
16 x 16 Floor Tom
14 x 5.5 Snare Drum
Like most products from Pearl, Pearl Decade Maple Kit also comes with a Lifetime Warranty. So, even if you'll overuse your drums, Pearl is always right behind you to satisfy your needs. Not all manufacturers do that, so Pearl is really a one-of-a-kind.
Great Value for the Money
There are many drum sets in this price range or even much more expensive that provide mediocre drums. The Pearl Decade Maple pack is so far the best among them. Maple drum kits are usually very expensive, yet Pearl was able to tone-down its price without toning down its quality.
Pros
Outstanding drums, beautifully made
Produce excellent sound
Maple drum kit worthy of every penny
Great and reliable hardware
Cons
Drum heads need upgrading, but still work
Snare drums are not good when tuned below medium
Almost perfect but, there's just one small thing…
Everything is perfect – from the construction, the vintage design to the great sound each drum produces. However, there might be some issues with the snare drums. For beginners, it might not be an issue, given the very affordable price.
For professional drummers with great ears, snare drums might not be good when set to low tuning. However, snare drums are a generous add-on to drum sets. So, professionals can still be able to play well even with poor snares.
You can also make some upgrades for the snares and the headstocks. But, if you play better with the original instrument in the package, why bother to upgrade? This is just my personal note. Let me know your thoughts by leaving your comments below.
Verdict
Editor's Pick
You can never go wrong with a trusted brand. Even if you buy a low-cost drum set from Pearl, you'll always get top-notch quality, durability and playability. There should be nothing that holds you back to buy this drum set.
It's undoubtedly one of the best drum sets that give you more than its price tag. It's complete with reliable drums, snare, toms, and cymbals that can push your performance to the next level.
A Real "Complete" Drum Set
To help drummers advance their performance and master their skills, Pearl came up with the Decade Maple drum set. The ten full years in the making have made this drum set a very useful and reliable one. Since it's being offered with a lifetime warranty, Decade Maple is the only drum set you can grow old with.