Quick Review: The Kawai CE220 digital piano offers the realistic and satisfying plain experience either beginner or advanced players would appreciate. The secret to the CE220 is its wooden keys that imitate the wooden acoustic piano, which provides leverage as your fingers play. And with its many sounds and effects onboard, you won't run out of inspiration as you play!
The Kawai CE220 Digital Piano
The Kawai CE220 is a digital piano that is a part of quality machines available today.
Because of Kawai's excellent manufacturing and experience with creating fantastic pianos, you can see why many are impressed with the features this piano has to offer, from its exquisite style down to its realistic feel.
Long Wooden Keys
One of the obvious ways to see if a digital piano is made of the quality materials to imitate that of an acoustic piano is through its long wooden keys. What makes the Kawai CE220 unique is that the manufacturers chose to incorporate long wooden acoustic piano keys, which results in the amazing realism in both expression and touch.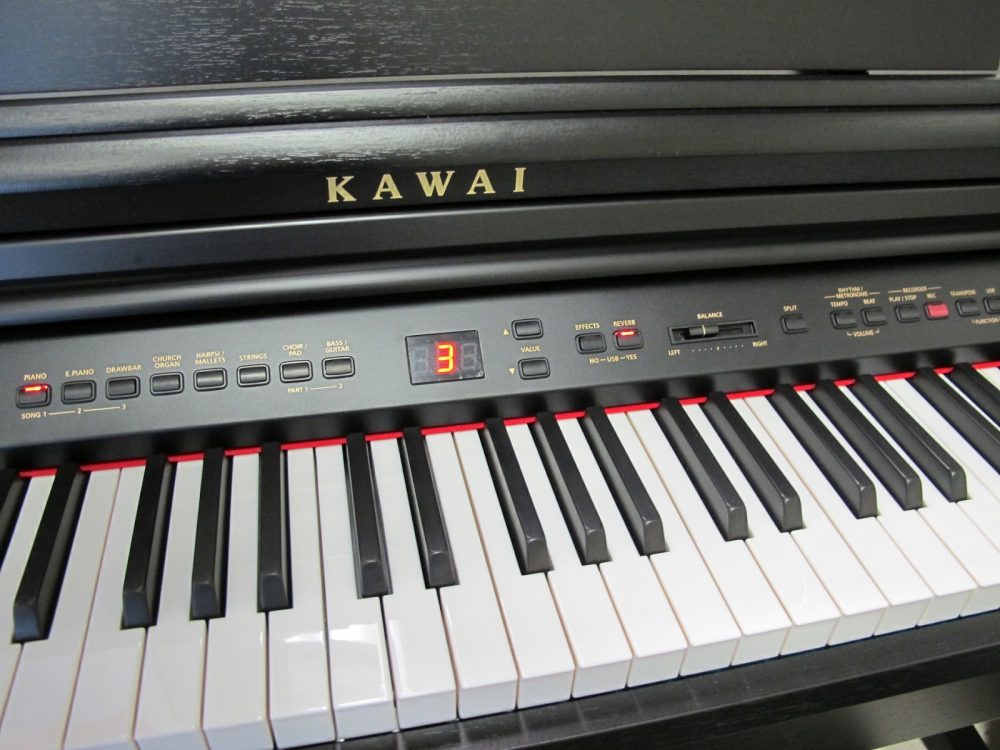 When you press on the keys, it has the real feel to it that you can only find in the CE220. Also, it has the weighted hammer action that makes it feel even more of the real thing as if you were playing an acoustic grand piano.
Has the Best Sound
When you play with the Kawai CE220, the first thing you'll hears the meticulously sampled sound that comes from the Kawai Concert Grand, which is the piano known for its lush and sonic brilliance.
While listening to this sound is already a treat, there is more to the CE220 than what you think. There are a total of 22 quality sounds to choose from, all of which are quality and a treat to the ears.
You can choose between electric pianos, vibes, the harpsichord, and even more sounds to match your performance needs and preferences.
Practical Features for Everyone
Another impressive thing about the Kawai CE220 is that it comes with a ton of features that are useful for people of all levels, may they be a beginner or advanced pianists.
You can find the split mode, which allows you to play different sounds for each hand. They also have a fader which has you alter the mixes of the two sounds used. Not only that, but there is also a four hands mode, which would provide two independent 44-key pianos with a sustain pedal each, which is optimum when performing duets.
Stylish and Sleek Appearance
When you first see the Kawai CE220, you'll probably be impressed with its look and finish.
The piano is made of the premium satin black finish which makes it look classy in any home or on stage. However, it may not be the most portable and you can't move it around as often as you may want, especially if you'll use it for gigs. It weighs a whopping 126 pounds!
Another good thing about the CE220 is that it has the simple interface that anyone will be able to understand at first use. With its three-pedal system, wooden keys, and the satin finish, it's an elegant addition to any home.
Amazing Engineering
Kawai is one of the most reputable piano manufacturers in the world, known to install the quality engineering to ensure satisfaction to all their customers. They prove to do this with their 88-key AWA PROII wooden-key graded hammer action, which was uniquely designed to give off the natural feel.
This is one advanced system one can compare with other reputable companies like Yamaha and Casio. Besides that, it has 192 notes of polyphony, which isn't something one would usually see on digital pianos!
Pros
You have the ability to adjust many functions with its matchless control level
You can tailor the piano to your individual needs for all instruments
Has a there-pedal feature which would allow expressive and authentic playing experiences
Has an elegant design and strong structure and is durable, built to last

Cons
Comes with a split function but it doesn't work very well
Shape won't support much traveling, as the piano isn't easy to move unless disassembled
Some functions and controls aren't beginner-friendly
Drawbacks
While the Kawai CE220 has the stylish and elegant look, as well as impressive features built to last, it does have a few drawbacks.
For one, beginners won't be able to enjoy much of the many controls and functions it has to offer. You won't be able to control the many dynamic ranges as well as expected until you begin to work your way up.
Also, while it's known to be compact, it may not be as travel-friendly as you think because of its heavy shape and weight. However, you can still travel with it if you disassemble and bring it in small-sized compartments.
Other Digital Pianos You Should Consider
My Verdict
The Kawai CE220 is a stylish piano that not only looks appealing but is loaded with all the advanced features one needs. With the latest technology at an exciting price, you won't be disappointed.
However, it may not be for those who are usually traveling a lot for performances because of its bulky shape and weight. Also, it may not be for beginners because of its many features that might confuse. If you are an intermediate or advanced musician looking for the host of features, then this is a fantastic choice.