Walking into any music store looking for guitars, you'll see tons of guitars of various shapes, sizes, and finishes. However, there are a few acoustic guitars that do stand out — the more eye-catching Fender California Series, especially the one that we're going to review today – the Fender Redondo Player. This lineup captures the true meaning of the acoustic guitar and allows you to express yourself in energetic colors.
Not only are they very interesting when it comes to aesthetics, but with the hardware and the materials used. For you to get to know this guitar more, I am going to discuss some features that I also love about this instrument.
Editor's Pick
Pros
Has great feel and tone
Quality craftsmanship beyond compare
Such a great guitar for its price
Fun to play with rich sound
Cons
Need to setup the action before you can play it well
Doesn't have a lefty version for left-handed
None other worth mentioning
Design & Construction
The Fender Redondo Player features a fully-painted solid Sitka Spruce top with a gloss polyurethane finish. A single-cutaway guitar with slope-shouldered body type, Redondo Player has the largest body in the California Series that is perfect for ensemble playing. It has Koa binding and rosette giving the guitar an elegant two-toned aesthetic, which makes it a great instrument on stage.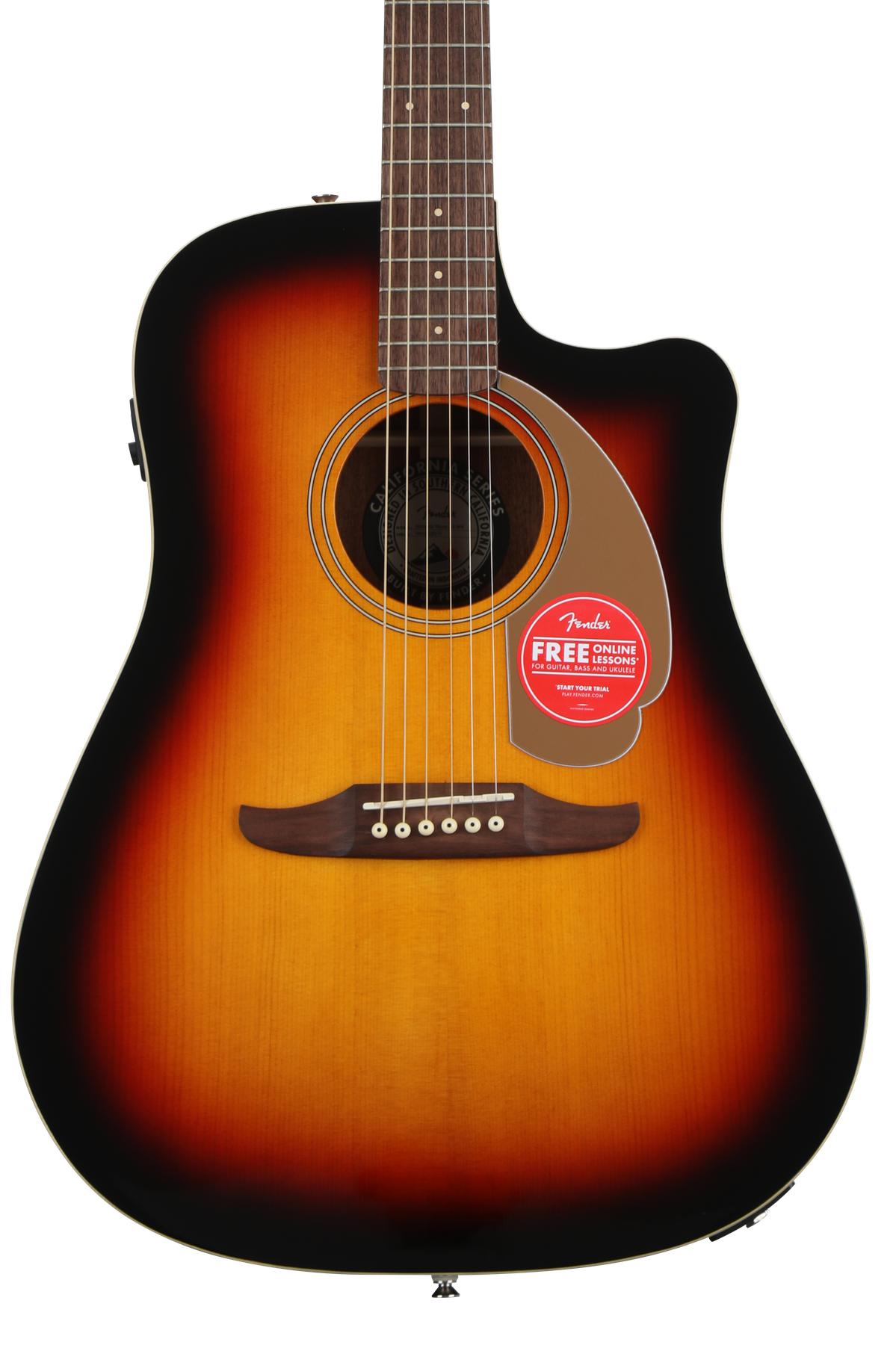 This guitar has solid mahogany back and sides with matching painted 6-in-line headstock. For this review, I will be featuring the Fender Redondo Player with Belmont Blue finish. But, if you want, there are a lot of striking color options to choose from. There's the Belmont Blue, Electric Jade and Jetty Black, which has the same matching headstock, chrome hardware, and vintage pickguards.
The mahogany neck has a thin "C" profile with a nut width of 1.69in and a scale length of 25.6in, like the Fender Newporter Player. It's lightweight and very comfortable to move up and down through the 20 frets of the Pau Ferro fretboard without any problem. At the 14th fret is a dovetail joint, which is known for its resistance from being pulled apart.
The fretboard has a 15.75-inch radius with satin finish and traditional dot inlays. It has a matching 6-in-line headstock with sealed nickel tuning machines. The matching headstock is loved by many because Fender not only painted the body with vibrant colors, but all over it. Though it's an acoustic guitar, they possess the vibe and vibrant of electric guitars.
Fender Redondo Player has an onboard pickup/preamp system that's designed by Fender and Fishman. In my years of playing guitar, I can attest that electronics and hardware from Fishman are among the best in the guitar market. You can achieve pure, rich and resonant tone, even when you plug it into your sound system or PA.
It has an under-saddle piezo pickup at the bridge, 3-band preamp EQ, phase feedback filter and an onboard tuner. The nut and saddle are made with Graph Tech NuBone that offers great sustain, which I personally like. The preamp system gives you control over the bass, treble, volume control and tuner. Therefore, even though this guitar doesn't have many accessories and onboard controls, it delivers greatness out of its simple design and craftsmanship.
Also Read: 10 Best Fender Acoustic Guitars
Playability
What I love about playing different guitars is, they give me different vibes and offers me new inspirations. This is how I feel especially the very first time I strummed the Fender Redondo Player. It's perfect for my built and provides comfort, supports fast play and ensures guitarists will be happy and satisfied.
As mentioned, the neck is thin, can easily be gripped and even though it has a large body, small players with small hands won't have a hard time surfing up and down the fretboard.
If you want a much higher action, this guitar is perfect out of the box. However, if you prefer the ease and fast play, you need to have a much lower action. In this case, you need to go to a local music store and have a guitar tech do it for you. It's normal to check the action of the guitar, so you can do whatever you want with this guitar.
Personally, I like this guitar even more after I've lowered the action. With the good neck profile, nice fretboard and just the perfect body size, I just got a perfect practice guitar at home.
With reliable tuning pegs and guitar strings, the guitar will stay in tune even after hours of continuous play. It has a preamp with a tuner for you to easily adjust the strings should there be a need to make adjustments on the fly.
Sound
The design, material and the bracing are perfectly crafted to offer a responsive guitar with very articulate tone. As I mentioned, the size and shape of the Redondo Player are great for the ensemble. At this price range, you can't expect to get a reliable guitar that can produce great tonality.
Particularly, the bracing provides a lively and dynamic tone. The built-in pickup/preamp system gives you bass, treble and volume controls, so you can easily manage the sound output that you like. Plus, it has a tuner for ease when setting up the guitar.
Fender Redondo Player, like those in the California Series., provides an unbelievable acoustic sound. Not only that, it looks vibrant, but it also plays well and helps you enhance your guitar skills.
Whether you want a chest-thumping sound through an amp or a soft acoustic guitar sound, Redondo will provide you that versatility. From the moment you pick it up, you'll have a hard time putting it down. In fact, I play this guitar more often than my expensive guitars at home.
Value for Money
Fender Redondo Player is among the most well-sought affordable guitars in the market. It's simple, very playable and provides you with a reliable guitar you never get tired of playing. Out of the box, everything is setup, unless if you want a much lower action for playing with ease.
Aside from its playability, this guitar is also outstanding aesthetics-wise. You can choose from four different colors. But, if you don't want a strikingly attractive one, the best option is the Belmont Blue finish. I know that there are professional players out there who don't want a very attractive guitar.
Overall, it's worth your money. Even if you're buying it with your hard-earned money, you know it's the best buy you have this year. Unless if you'll just let it sit at the corner of your room.
Verdict
Editor's Pick
Great playability, amazing design, and nice tonal quality — these three are offered by the Fender Redondo Player. It's a great guitar for everyone, young and old, beginners and professionals. It has reliable hardware with useful electronics onboard.
Although the action may need to be properly checked and setup, adding a few dollars to pay the guitar luthier is just a little sacrifice given the fact that you already have a great guitar itself. Unfortunately, if you are a left-handed person, there's no guitar version to fit your needs.
Else, Fender Redondo Player a great guitar offered at a more reasonable price.