Fender has been one of the biggest names in the music industry that produces high-end guitars with top notch quality.
They provide musicians with a supersonic experience, making them want to play the instrument more each day.
In this comparison, we'll take a look at the American and Mexican Stratocasters by Fender.
Ultimately, we hope to answer- which is better? Let's find out.
| | |
| --- | --- |
| | |
| | |
| | |
| | |
| Pickups: Ultra Noiseless Vintage Strat Single-coil | Pickups:Duo-Sonic Single-coil & Humbucker |
| | |
| Controls:1 x master volume, 2 x tone | Controls:1 x master volume (push/push S-1 coil-split switch), 2 x tone, 5-way blade pickup switch |
| | |
Fender American Stratratocaster
Editor's Pick
American Performer Stratocaster Series has something unique to offer to guitarists. It delivers a massive tone while keeping the artist comfortable. It serves up an increased output with some sizzle on the solos for a great freestyle and playability.
Fender Mexican Stratratocaster
Budget Pick
The Mexican Strat takes a great twist with the traditional guitar with some futuristic features. It also has a versatile musicality that will surely cover contemporary, rock and some classic music.
Body
Guitarists often take the body of the instrument seriously because it attracts the audience a lot and it affects the sound quality greatly.
It is great to know that all Fender guitars are made with the best quality that will last a long time.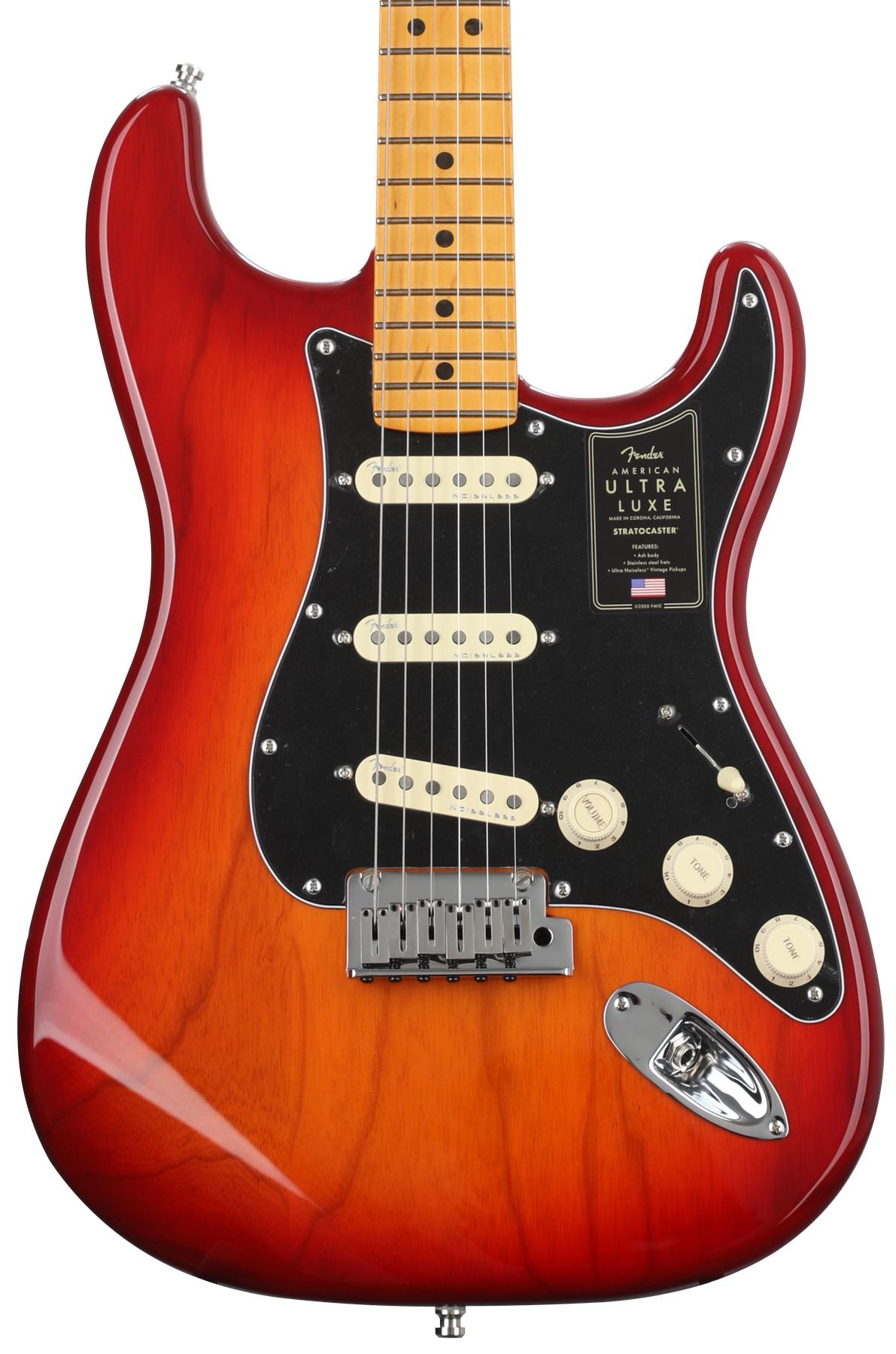 Since both are from the Stratocaster line, the Mexican and American Strat guitar bodies do not differ that much. They have the same solidbody with the Stratocaster shape.
Both are also made of alder, so you can expect both guitars to deliver a fuller sound compared to others. Alders are balanced, so these guitars are set to have a great deal of low, mid, and high frequencies. For aesthetic purposes, they both look great in their 3-tone sunburst, giving off a vintage vibe with modern sounding features.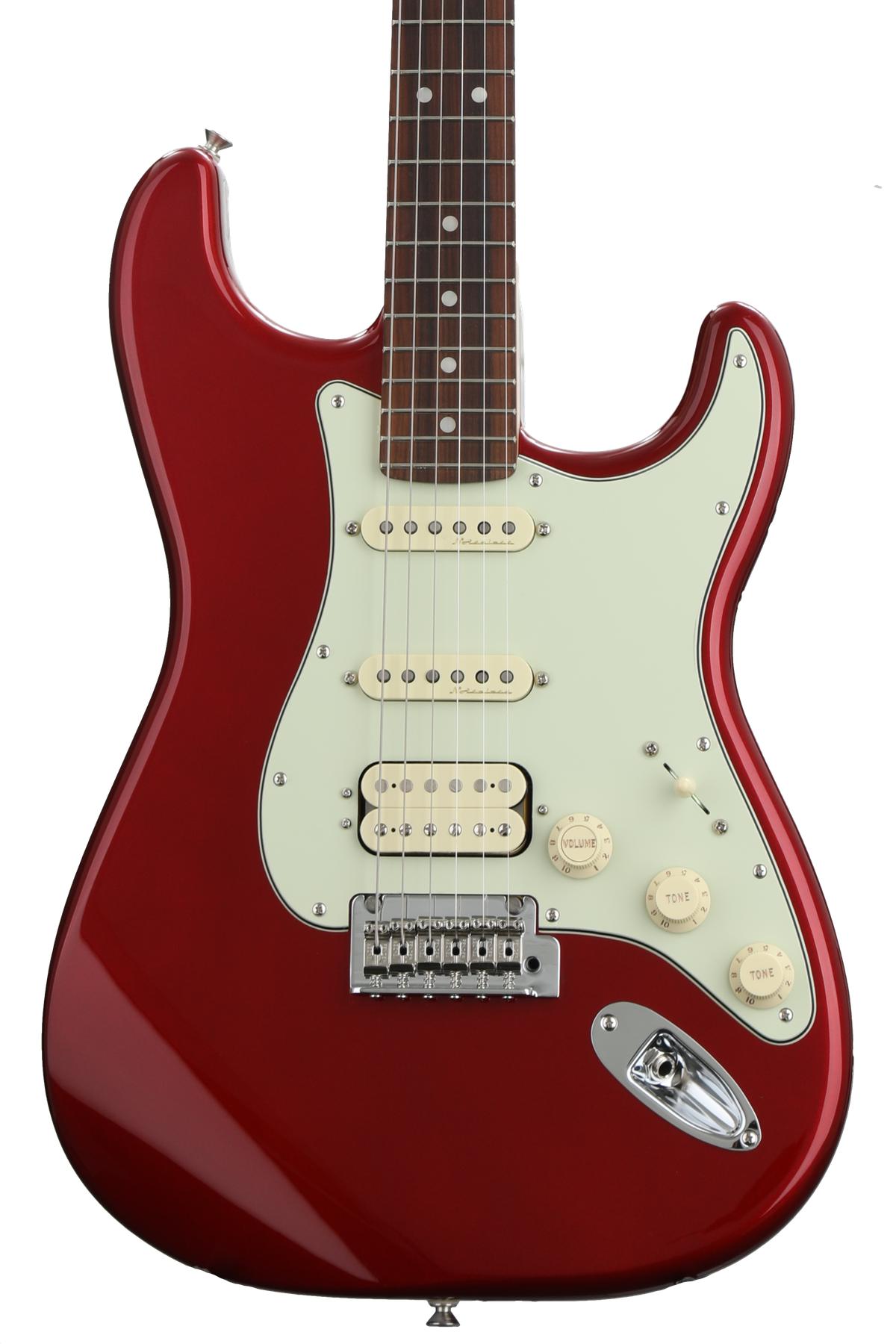 The only difference you need to note for each guitar is their finish. The Mexican Strat has a gloss polyester finish, making it stronger and less vulnerable to accidental scratches. The American Strat on the other hand has a gloss polyurethane finish, making it more flexible and easier to handle.
Neck
The neck of an electric guitar boasts off the musician's skills. Guitarists take pride in a gorgeous and durable neck for their chord changes and sizzling solos.
Fender's Strat series is something they show off to the world because it is hard to match by any other guitar brand. Both the Mexican and American Strat are made of maple with a modern C shape. Bright tones that come in a snappy quality are highlights of this neck material.
They mainly differ in the fingerboard where the Mexican Strat is made of Pau Ferro. This means that you can expect a denser tone, even if they are made of the same neck material. The American Strat is made of rosewood, matching the bright tone from its neck. It also looks darker than the Mexican Strat.
Hardware
Aside from the external features that will make the guitar an exceptional one, the hardware is something that musicians value a lot. The hardware refinement is sound quality, and it should be top priority when you are searching for your instrument of choice.
The Mexican Strat has a Floyd Rose Special bridge and renders a buttery-smooth guitar action. It can also take vibrato without even shifting some tune.
The American Strat plays with a modern classic vibe with its vintage-style tremolo bridge. This makes a great hardware for adding some vibrato to your performance. It runs in a classic gear tuner from Fender, which is stable enough for an all-night gig.
Electronics
If you want some chunk to your rhythm, the Mexican Strat offers this effortlessly from its Alnico II humbucker. It has single coils that provide you all the quack and sparkle in all your performances.
The American Strat on the other hand serves you with glassy cleans from its DoubleTap humbucker. Guitarists can also do easy chimes with this bridge pickup. Aside from that, the Yosemite single coil increases its output together with its flat-staggered pole pieces.
For the controls, they both have 1 for volume, 2 for tone, and a 5-way blade switch. The American Strat has an additional greasebucket circuit, which rolls off the highs easily.
Conclusion
| | |
| --- | --- |
| | |
| | |
| | |
| | |
| Pickups: Ultra Noiseless Vintage Strat Single-coil | Pickups:Duo-Sonic Single-coil & Humbucker |
| | |
| Controls:1 x master volume, 2 x tone | Controls:1 x master volume (push/push S-1 coil-split switch), 2 x tone, 5-way blade pickup switch |
| | |
You can always trust a dependable name in the music industry with Fender.
The best one that will suit you will heavily depend on your taste in music, as well as your intention on how you will play your guitar. The budget is also a great factor for you to come up with your choice.
Editor's Pick
The American Strat is very playable with a vintage feel. The additional control makes it more unique and it makes the guitarist feel more confident and comfortable in all the jamming sessions.
Budget Pick
You will also never go wrong with the mix of modernism and traditional quality from the Mexican Strat. It is playable, it lasts long, and it is very versatile for various music tastes.