Fender is a big name as one of the best manufacturers of the world's best guitars. The company caters to hobbyists, beginners, and even professional players for the best electric guitars.
If you are wondering how their guitars top each other, find more about Fender's Duo Sonic and Mustang here.
| | |
| --- | --- |
| | |
| | |
| | |
| | |
| Pickups:Mustang P-90 Single-coil | Pickups:Duo-Sonic Single-coil & Humbucker |
| | |
| Controls: 1 x master volume, 1 x master tone, 3-way toggle pickup switch | Controls: 1 x master volume, 1 x master tone (push/pull coil-split), 3-way toggle pickup switch |
| | |
Fender Mustang
Editor's Pick
Mustang is one of Fender's most famous guitars, with its popular off-set body design. It plays clean and crisp tones, and is very comfortable for newbies and seasoned players. It attracts musicians with its control set highlighting tone, volume, and its 3-way toggle.
Fender Duo Sonic
One of the classic guitars, the Fender, has made us the Duo Sonic. It has been a crowd favorite as it is very playable, producing a vibrant sound. Beginners and experts alike love how versatile the Duo Sonic is. If you love the glassy Fender tone, this guitar will suit your taste in music.
Body
Guitar players love a solid body as an instrument. As both are Fenders, they have a lot of similarities when it comes to the guitar body. Both the Duo Sonic and the Mustang have alder as the body's material. Both guitars also have gloss polyester as the body finish, making it very elegant and easy to clean.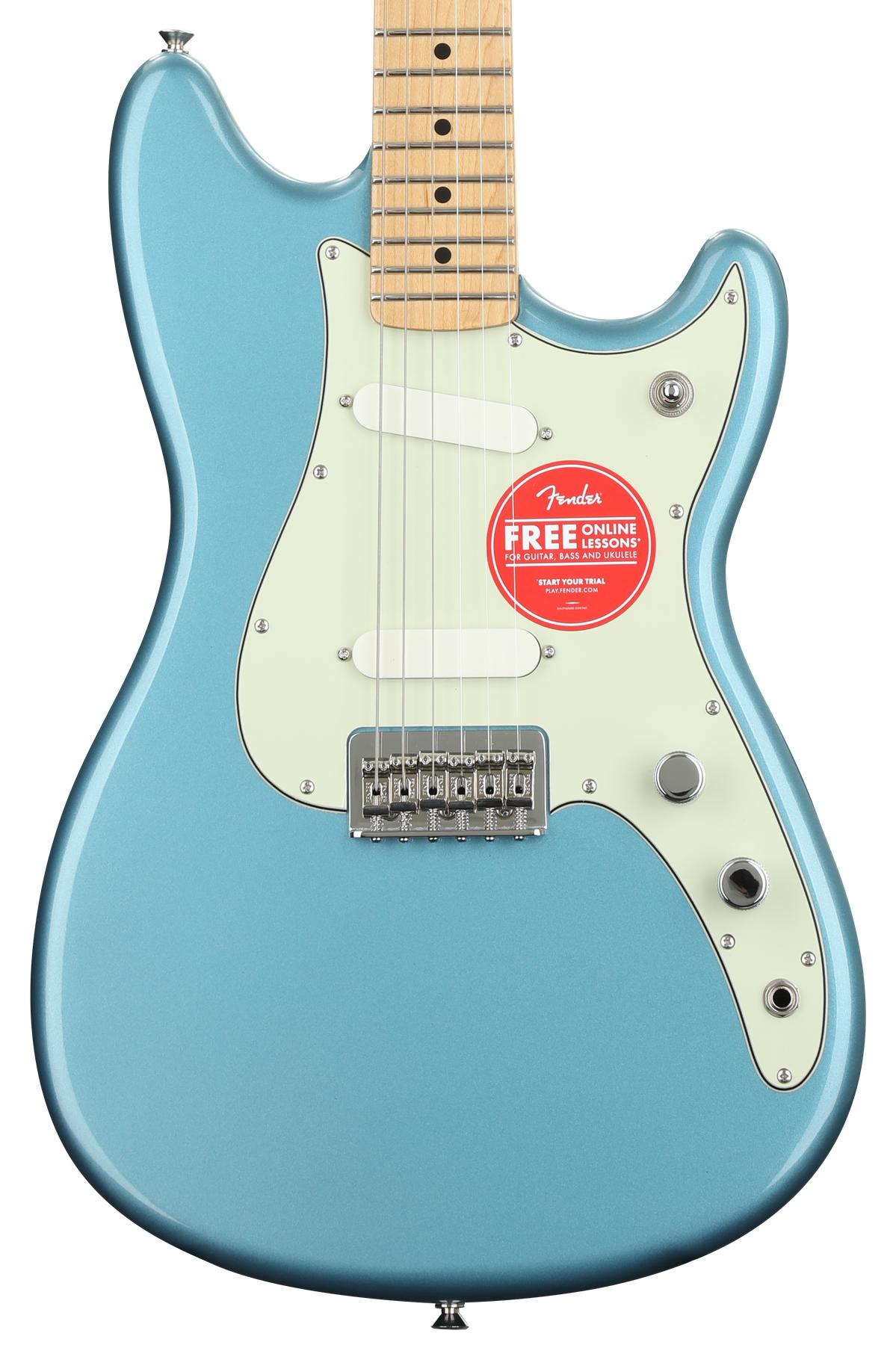 Alder used in both the Duo Sonic and the Mustang gives off a resonant and balanced tone. Most Fender instruments use this material because it is dense, but still lightweight. You can expect both the Duo Sonic and the Mustang to have a sharp attack with an excellent sustain with this material.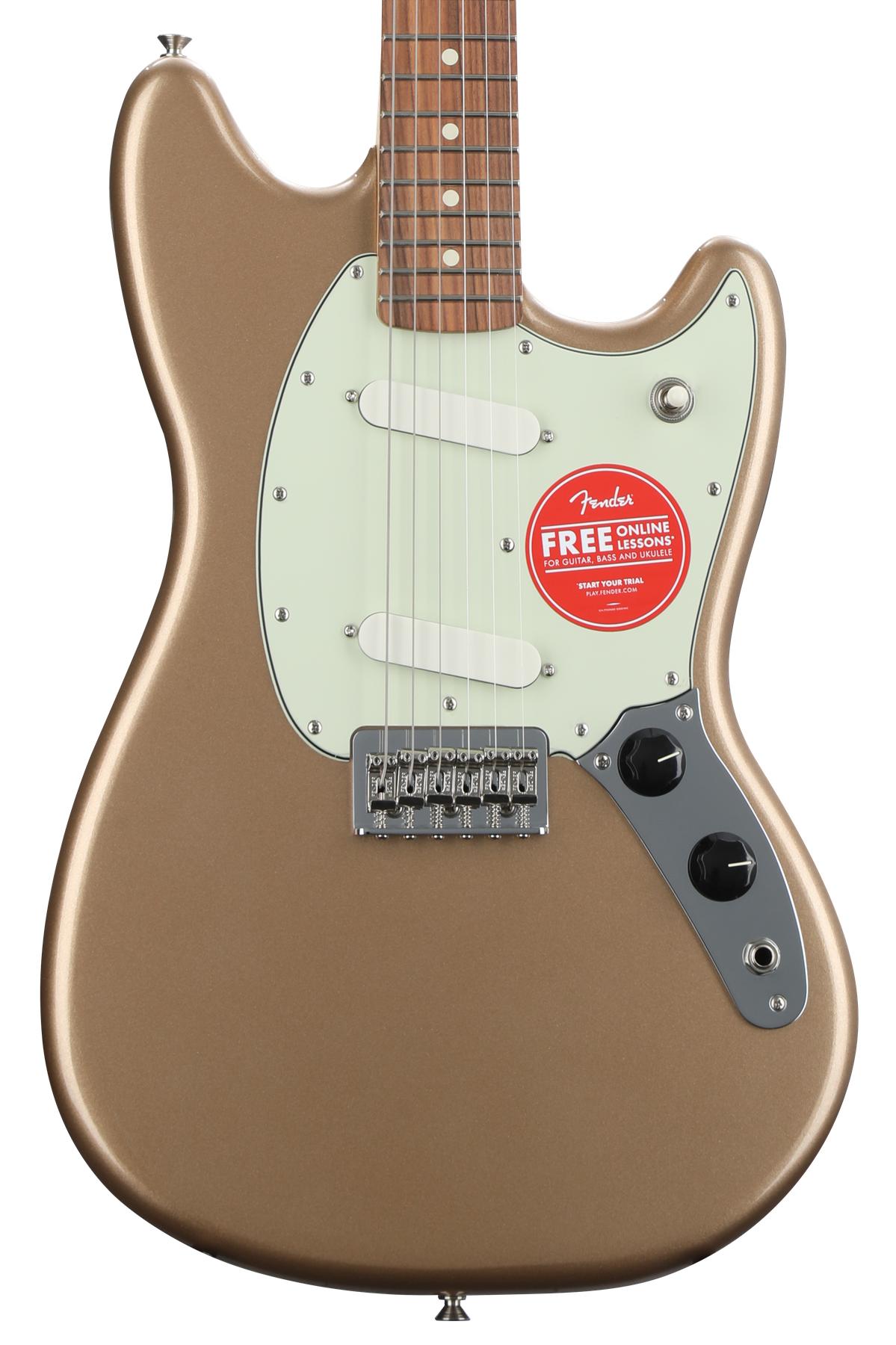 The major difference between the Duo Sonic and the Mustang in terms of body is the color. The Mustang comes in an elegant firemist gold, very classy for practice and for performances. The Duo Sonic has a unique tide pool color, which is a very smooth and cool-looking color.
Neck
Fender is known to produce great instruments, and its guitar necks are among its prized creations. Both the Duo Sonic and the Mustang have maple as the neck material, so you don't have to worry about its durability and longevity.
They also have the same C-shaped neck, radius size, and frets. There are also no differences in the nut width, and their synthetic bone nut material.
The fingerboard is something unique in each guitar, with the Duo Sonic having a maple fingerboard with black dots as its inlay. The Mustang has a Pau Ferro fingerboard with white dots, making it produce a warmer tone compared to the Sonic Duo.
Hardware
The hardware of an electric guitar is something musicians should be meticulous about since this will impact the sound quality and experience a lot.
There is nothing to worry about Fender's hardware as both are built with the highest quality. They have the same bridge of a 6-saddle strings-through body Strat Hardtal with bent steel saddles. Both the Mustang and Duo Sonic have standard die-cast sealed tuners, best for those who like short jam sessions.
Electronics
What musicians will love about Fender instruments is that everything is made with sufficient detailing and precision. Both the Duo Sonic and the Mustang are tried and tested with their electronic settings for a rounded yet clear musical tone.
They both have a single coil neck and bridge pickup. What's great about the Duo Sonic and the Mustang is Fender's high-quality controls. They both operate with a master volume, a master tone, and a 3-way toggle pickup.
Conclusion
If you are trying to pick the best guitar that will work with your skills at the right budget, either the Duo Sonic or the Mustang will be your right fit. The ultimate decision on which is best lies on your budget, and both are equally and rightfully priced for its quality, and the sonic experience you will get.
The Duo Sonic is a very playable instrument for any level. Its unique color and its versatility makes it a well-rounded instrument for practice and various performances. Its slinky feel makes it a great option for those who want to play up tricks while playing a great musical tone.
Editor's Pick
Warmer tones with a modern aesthetic is what the Mustang offers its guitar players. You can never go wrong with its iconic offset construction, and with a slinky feel for a fun jamming session.