The Fender Bassbreaker 15 is from the Bassbreaker line of amplifiers designed and constructed by the leading brand Fender. It is a sizable amplifier with many highs and is favored by many of its users.
Here, we review the Fender Bassbreaker 15 amplifier to help you determine whether it's a suitable amplifier for you.
Editor's Pick
Pros
Huge scope and range of amplifier

Suitable for use in recording sessions

Amplifier have plugs for guitar pedals
Cons
It'sIt's not powerful enough for big gigs

The amplifier has no built-in effects

Limited input and output jack options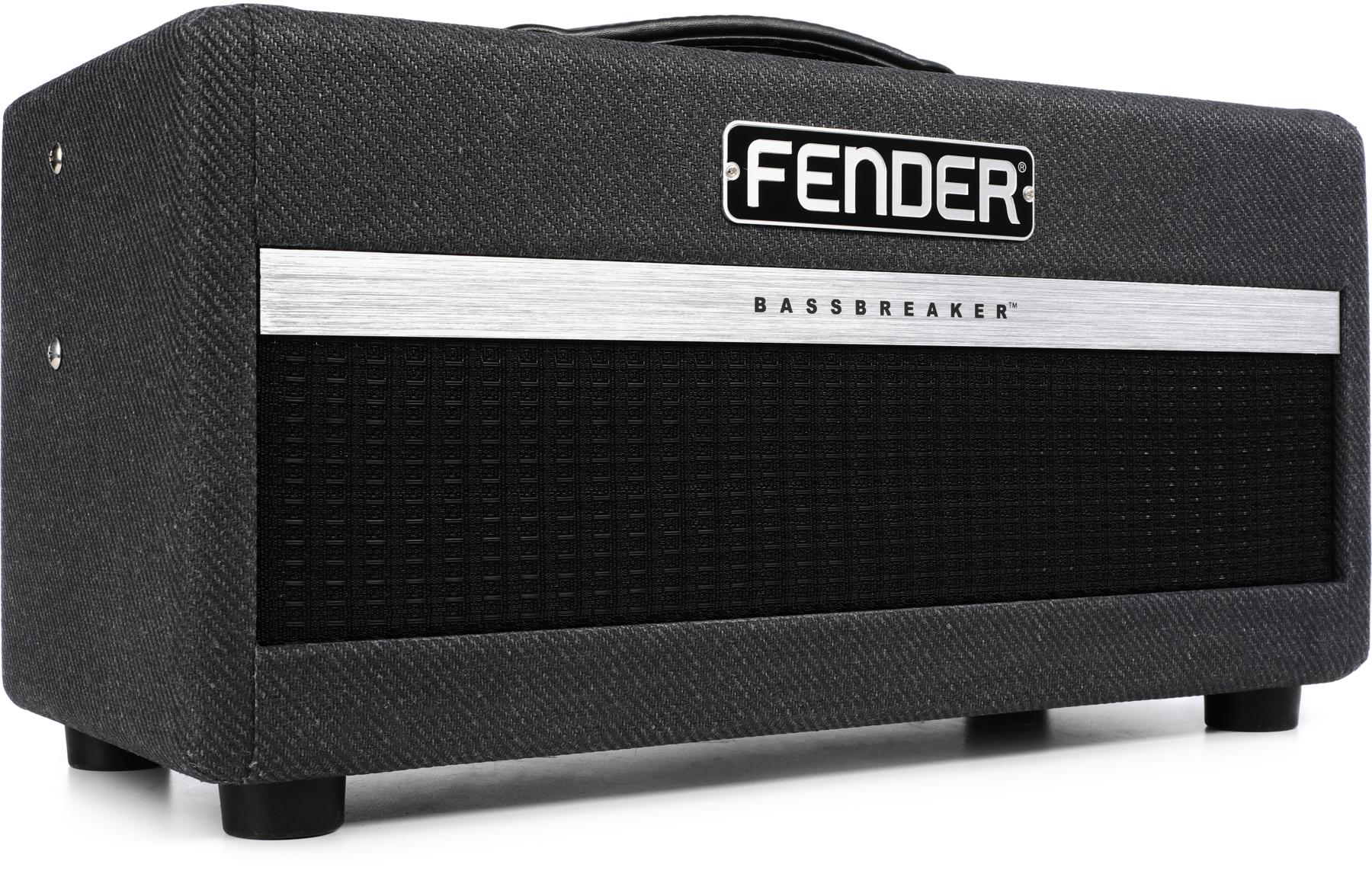 Key Features
Type: Tube
Output Power: 15 Watts Class AB
Top Panel Controls: Power on/off, mute on/off, reverb, master, treble, middle, bass, structure, gain, bright on/off, input
Dimensions: 17.5" H x 19.5" W x 9" D
Overall Weight: 40 pounds
Inputs: 1 x ¼"
Outputs: 2 x ¼" (4 ohm minimum), 1 x XLR (line out)
Versatile Amplifier
The Fender Bassbreaker 15 is a versatile amplifier with the perfect wattage.
The Fender Bassbreaker 15 amplifier can be cranked up at the highest volume in gigs, and it would not overwhelm the other band instruments; it could also be just loud enough for recording sessions with you and your band.
This tube amplifier also has an option where you can mute the power amp section of the amp in order to practice or simply record on your own without waking up the whole block or the whole floor if you live in an apartment.
The bright switch on this guitar is also notable as it makes humbucker pickups not sound as dark, making the amplifier really versatile.
The structured setting of this amplifier is usable, and it could even make you hold off and give your guitar pedals a rest.
Excellent Booming Sounds
The Fender Bassbreaker 15 prides itself on the 3-way Gain Structure Switch feature.
The feature gives your amplifier three extra "voices," making the sound gain higher than the next.
The Gain Structure makes you go from fairly clean guitar finger styling to beefy and cutting hard rock to hitting heavy metal.
Making you feel like you got a 3 for the price of 1 deal in how booming and clear this amplifier can be.
The Fender Bassbreaker also has a reverb feature that creates a complex echo and can enhance the warmth, dreaminess, and vibe of any instrument.
Contemporary Design and Build
The Fender Bassbreaker 15 has a vintage look that is heavily inspired by another Fender great— the 1959 Fender Bassman amplifier.
Its gray tweed covering is a stand-out and is excellent and contemporary looking amidst its obvious vintage inspiration.
This sizable guitar will not only look good at the studio or your room but also will be a stand-out amongst the black amplifiers whenever you go out on gigs.
The controls are all you can see in other amplifier set-ups, but the Fender Bassbreaker is fine-tuned to perfection.
Every setting this amplifier has makes playing enjoyable and exciting as you find new sounds in every flick and adjustment.
Who is it for?
The Fender Bassbreaker 15 are for beginner, intermediate, and professional guitarist looking for versatility.
This amplifier is for the one looking for an amplifier that can do everything.
This amplifier is versatile enough that every guitarist, whatever their music style and genre is, can enjoy playing and will get a lot of use out of this amplifier.
The beginner will enjoy tinkering and exploring the many possible sounds that this amplifier can emit.
The person living in an apartment complex will appreciate that you can mute the power section of this amplifier.
Every guitar player would appreciate this do-it-all amplifier.
Potential Drawbacks
The only drawback to this amplifier is that it would not fare well in gigs in a larger outdoor area or space.
This drawback is okay since it's not advertised as a concert amplifier, but it might be a point of reference to some.
The Fender Bassbreaker 15 can also be lacking in the input and output jacks.
Some guitarists work with multiple guitar pedals and all kinds of stuff that a limited number of jack wouldn't be able to accommodate.
Conclusion
Editor's Pick
The Fender Bassbreaker 15 is fantastic for the mid-range price, making fans of Fender and the average electric guitar beginner and enthusiast alike afford and acquire this adaptable amplifier.
The Hall Reverb feature of this amplifier sounds superb, and we can even say that we recommend this amplifier for that feature alone!
If you are looking for an exceptional Fender tube amplifier with some features and extras, you will do well to check out the Fender Bassbreaker 15.
It will not disappoint you.
FAQs
What is so special about a tube amplifier like the Fender Bassbreaker 15?
If we're talking about amplifiers for guitars or other instruments, then a tube amplifier is the way to go.
Tube amplifiers are durable and reliable; they add a warm tone to the music you are playing and make it richer sounding.
Tube amplifiers are also best for that vintage sound; this is why they sound great for music genres like blues, classic rock, jazz, and even orchestral music.
Tube amplifiers can also be louder than solid-state amplifiers.
Is the Fender Bassbreaker 15 worth it?
The Fender Bassbreaker 15 is definitely worth it.
It is mid-range for a Fender, but the payoff with all the excellent features and how it works beautifully is more than enough to pay for the premium price.
The question of if it is worth it will depend on what you need and what you are looking for, so in the end, it's totally up to you whether this amplifier is for you.
Will the Fender Bassbreaker 15 work as a jazz guitar amplifier for gigs?
Yes, the Fender Bassbreaker 15 will work perfectly for your jazz set!
The Fender Bassbreaker 15 is a tube amplifier, so the amplifier will not only offer you a warmer and richer euphonic distortion, but the sound is also super clean, even when on louder volumes.