Top: Glossy stained quilted maple
Top: Bamboo Pattern HPL Rosette
Back: Glossy stained quilted maple
Back: Solid Indian rosewood
Sides: Glossy stained quilted maple
Sides: Solid Indian rosewood
Sides: Bamboo Pattern HPL
Classic and creative with good sounds
Most popular choice with its long baritone size
Fashioned from hand-selected koa
Have a wider fingerboard for easy playability
Durable, great for travel, and eye-catchy
Are you familiar with a ukulele? Do you know how to play it? Are you planning to buy a ukulele? Whatever your purpose is, I know you are here, reading this article, because you are somewhat interested in ukulele.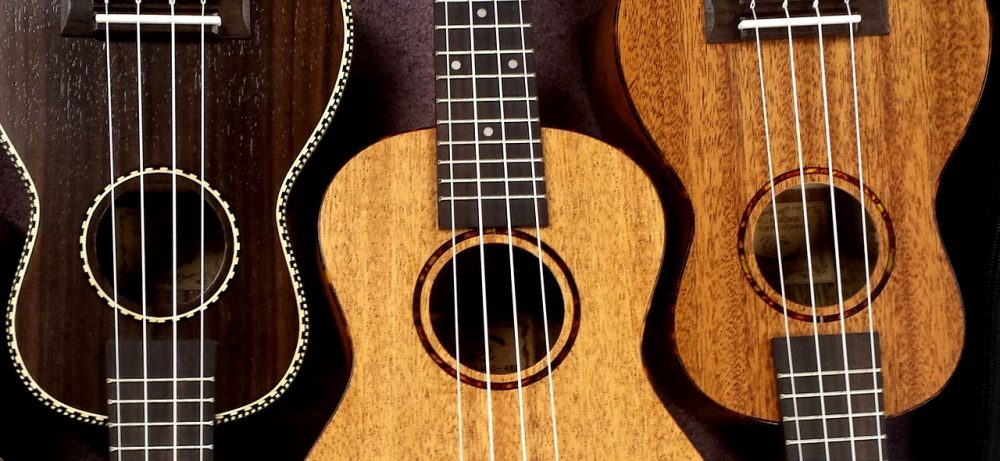 Read on to know what a ukulele is and what you should examine/consider before buying a new one. You will also know the list of 5 best ukuleles under $500. Shall we get started?
5 Best Budget Ukuleles Under $500 in 2018
Ukulele is a musical instrument often associated with the lower end of the market. Because they are smaller in size and has only four strings, many believe that they are overrated. The fact is, it is not.
There are good ukuleles under $500 that you can buy. Good, meaning handy to use, durable, and can really give you satisfaction. To help you find the great ukulele that will suit your needs, here is the list of the 5 best ukuleles under $500.
Lanikai Ukulele (QMBLCEC)
Deluxe Grover Chrome open back tuners for tuning accuracy and keeping the headstock light for player comfort
NuBone XB nut and saddle for maximum Sustain and best tone
Wide comfortable neck profile for player comfort
Chrome strap buttons are standard for safety and comfort
Glossy stained quilted Maple ukuleles add a bit of color - Red (sun), natural (Sand) and Blue (surf) with pickup - ideal for stage or recording
The first thing you will notice with this concert ukulele is its eye-catching design. Its finish is a glossy stained quilted maple on the top, back and sides, all finished with a distinctive glossy translucent blue stain – aka, the 'Surf' finish. Red (sun), natural (Sand) and Blue (surf) with a pickup, a very good vibes for stage or recording.
This electro-acoustic ukulele model has 18 frets that sit on the rosewood fretboard. QM-BLCEC produces a robust acoustic tone which is bright and clear, which is what a concert ukulele should offer.
Overall, this instrument is a good buy since it has reliable electronics, plays brilliantly, and brings a wow-factor in the design.
Pros
great design
good for beginners
durable
produces a nice sound

Cons
This four-string acoustic-electric baritone ukulele from Oscar Schmidt is made up of Nyatoh neck and Abalone inlays. It possesses good value and proves a popular choice with its long baritone size, D-G-B-E tuning, and a distinctive cutaway.
OU55CE is crafted from covered select Hawaiian koa on the top, back and sides, showing off a beautiful grain that's complemented with a sleek gloss finish, and a nice abalone rosette and binding for some extra flair.
It can produce an acoustic vibe combined with a warm balanced tone that will surely tingle your ears.
Pros
higher-end baritone
with accesses when bought
attractive design

Cons
Cordoba 32T All Solid Tenor Ukulele with Polyfoam Case
Solid Sitka spruce top with solid Indian rosewood back and sides
Handmade with Spanish heel neck joint and fan bracing, with a wider fingerboard for easy playability
Rosewood bridge, binding, and fingerboard with abalone rosette
Hand-rubbed PU finish
Includes Cordoba tenor polyfoam case
Cordoba ukuleles are somewhat known for is poor tuners, but for the 32T model, it is kind of bearable. Actually, it gives you some solid components which keep things running smoothly, including Aquila strings, a rosewood bridge, and a black Tusq nut and saddle.
Aside from that, it also comes with the Cordoba polyfoam case, which is very protective, looks good, and fits this ukulele perfectly.
The tonewoods of 32T ukulele really complement each other, which gives us a very great and well-balanced sound. In addition, this uke is very durable and easy to bring with. The top is made from solid Sitka spruce, while the back and sides are solid Indian rosewood.
Pros
with accessories when bought
produces good sound
durable
lightweight

Cons
expensive for beginners
poor tuner
Martin X Series 0X Uke Bamboo Soprano Ukulele Blue
Construction: Applied Dovetail Neck Joint Body size: Soprano Uke Top: Bamboo Pattern HPL Rosette: Multi-Stripe Ink Top bracing pattern: Soprano Uke Top braces: Solid Sitka Spruce 1/4" Back material: Bamboo Pattern HPL Back purfling: none Side material: Bamboo Pattern HPL Neck material: Natural Birch Laminate Neck shape: Soprano Ukulele Nut material: White Tusq Headstock: Solid with Ukulele Profile Headplate: Bamboo Pattern HPL Finge
The unique X Series 0X Uke Bamboo Soprano Ukulele is crafted from a green bamboo patterned high-pressure laminate (HPL) for the top, back and sides
The rosewood fingerboard and bridge add a tasteful color contrast and feature Martin's Clear Fluorocarbon ukulele strings
This fun little instrument is super durable, great for travel, and sure to appeal to ukulele players of all levels
Includes gig bag
Not a disclaimer but truth, Martin uses an eco-friendly high-pressure laminate instead of bamboo for the 0X Soprano Ukulele. The material consists of wood particles pressed together with resin under a high heat to make it more durable and lightweight.
Martin's soprano ukulele features a minimalist design, with a simple soundhole rosette and the iconic Martin logo on the headstock providing the only real decoration aside from the colors. In terms of sounds, even though it is not made up of solid wood, it still gives a very good crisp sound.
Pros
sounds great
durable
with accessories when bought

Cons
Elegant, simple, great sound – three adjectives that best describe the KA-KTGE Tenor ukulele from Kala. The top, back, and sides of this musical instrument are purely made of beautiful Hawaiian koa build. In addition, it also has a straightforward look, although a few stylish appointments, including the high-gloss finish and accented maple binding.
Kala's electro-acoustic uke sounds really great and pleasing to the ear. It really possesses a good tenor ukulele, thanks to its warm and mellow 'island sound' vibes. There are better-looking ukes out there, but this one is really a good buy for its price.
Pros
sounds great
durable
perfect tenor

Cons
not eye-catching
no accessories when bought
What is an Ukulele?
A ukulele is one of those musical instruments that are quite unique with regards to its characteristics and sound produced. Originated in Hawaii, the ukulele has played, and still plays an important role in the culture of this country.
The name ukulele means "jumping flea" meaning small size, and vibrant, cheerful, and exuberant sound.
As time goes by, the ukulele has spread out from Hawaii and eventually managed to reach every continent of the world.
Nowadays, it's actually an instrument that brings joy to thousands of people around especially to those who wants a unique and relaxing sound.
The ukulele is a four-stringed musical instrument made from wood that resembles a small classical guitar. It produces a distinctive sound that instantly takes us to tropical environments.
This cute musical magic was born in Hawaii but has its roots in Europe, specifically in the western part.
Also called as uke, the ukulele is a handy instrument, and is often played and heard in a broad range of musical genres, such as jazz, country music, pop, world music, as well as rock. It is also the musical instrument that best represents surfing and surfers.
Unlike the usual guitars, ukeleles have four strings and the standard tuning is G – C – E – A. The ukulele strings of the ukulele is not easy to find since you can have alternatives. Note that they can be made of fluorocarbon, titanium, wound nylon, wound metal, and steel.
Kinds and Sizes of Ukulele
Before purchasing a new ukulele, you have to consider many factors. Of course, first of all, is your budget. Ask yourself: how much money should you set apart for a good ukulele?
Aside from money, there are also brands you might want to consider. There are also factors or elements you want to check in a ukulele. This includes the kind, size, finish, and woods.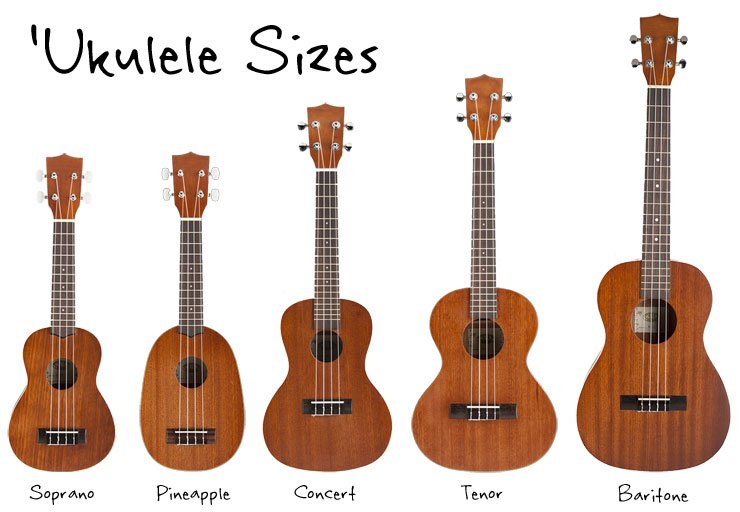 Ukulele has many kinds, which depends on its size. There are four main sizes in ukuleles. Soprano, concert, tenor, and baritone. Nowadays, the sopranissimo is also gaining popularity, this one is the smallest of all, which measures16 inches or 40 cm.
The most traditional size of uke is 20 inches and you will find this in a soprano ukulele. This size is what most people associate the ukulele with and makes the typical classic ukulele sound.h Next is concert ukulele at 23 inches.
The body is bigger and the neck is longer with more room between the frets, thus making it a little bit easier to handle.
The third size is tenor sized at 26 inches. It turns a little bit from the ukulele sound and sounds a deeper like a classical guitar compared to soprano and concert ukuleles.  
The largest of all is at 30 inches and is called the baritone. It has the deepest tone and sounds even more like a classical nylon stringed guitar.
Of all the kinds and sizes of ukulele, the least popular is the baritone. Take note that many players choose the ukulele for its size, portability and, of course, the sound.
The baritone ukulele has kinda a guitar sound because it is the biggest of all. The tuning also differs from the other sizes since it has a more guitar-like tuning.
A ukulele sells for between $20 and more than $1,000, depending on the type, quality, and of course brand. High-quality ukuleles are made of acacia koa or mahogany while the cheaper models are built using plywood, plastic, or laminate woods.
Our Choice
Buying your own ukulele is a really good point especially if you are planning to learn how to play it. However, choosing the best one that will suit what you need is the hard part. It will be better if you have someone to guide you to pick the right ukulele for you.
For experienced or professional players, buying a ukulele shouldn't be too difficult. But when dropping up to half a grand on a single instrument, you want something that will not let you down. If money is not the issue, then you have to see other elements that before purchasing one.
Before anything else, make sure you don't rush your decision. Think a hundred times, especially if this will be your first musical instrument. But if I were to suggest, our rank one would be the Kala KA-KTGE-C Tenor Ukulele.
Create a shortlist of your favorites, review each of them then compare. You can also watch videos -demos and reviews so that you will hear their produced sounds.