It's beautiful and sounds amazing
Smooth finish and a warm tone
Are you planning to buy a new ukulele? Or you want to buy a ukulele to study and master playing it?
Whatever your reason is on reading this, I know you are interested in ukulele.
So, before we proceed with the list of the best ukuleles, let us answer first questions that might help you decide what to buy.
This article can also give you tips on how to choose the best ukulele that fits your budget.
Ukuleles Defined
A ukulele is a four-stringed musical tool and looks like a small version of a guitar. It is a member of the lute family of instruments and generally employs nylon or gut strings.
Some ukulele strings may be paired in courses, giving the instrument a total of six up to eight strings.
Obviously, guitars are bigger than ukuleles. Also, the standard guitar has 6 strings, while the ukulele has 4.
In addition, the fretboard of the ukulele is significantly thinner than the guitar, as well as being much shorter. That is why the sound of the ukulele produces slicker sound.
Today, the popularity of ukuleles shouldn't be surprising. In fact, more and more are learning how to use this cute instrument. And for a beginner player like you, here is a list of the best ukuleles under $300.
5 Best Ukuleles Under $300 (Top Budget Ukes in 2019)
SALE at 63% OFF
Ukulele Starter Kit (15-FREE-Bonuses) Mahogany Uke, Compression Sponge Case, Aquila Strings, Felt Picks, Tuner, Chord Stamp, Chord Chart, Leather Strap, Live Lesson & More (Limited Time)
DID YOU KNOW IF YOU WERE TO BUY EACH INDIVIDUAL ITEM IT'D COST YOU OVER $400? IT'S HARD KNOWING WHAT TO BUY, HOW TO GET STARTED, WORRY OF WASTING MONEY! Each kit is shipped flawlessly to your home with no missing pieces - It all just works perfectly together. Our 40 years in the Music Industry has ELIMINATED the RISK and GUESS WORK. Every item accelerates your learning, want to know how? Keep reading below or beat the price rise and secure one of the last remaining "Limited Launch Edition" sets.
SPEND THE EXTRA $20? IT'S OK TO BE COOL! IMAGINE WALKING AROUND WITH A PLASTIC UKULELE OR AT YOUR 1ST LESSON GETTING EYEBALLED. That's right, we are hip, we are honest, we do stand by our products and we do care. Isn't it always the case, you get what you pay for? Personally, we've found it so and after testing nearly every ukulele on the market through our 27-point QC -We were shocked by fake parts. We aren't the cheapest, we know this, you know this. But cheap often doesn't bring happiness.
HOW IS THIS BUNDLE BETTER? THE INTERNET IS BLOWING UP OVER our "Snug Fit" compression case, smooth glide zip technology keeps your precious ukulele safe, where other designs fail. Felt Picks that don't scratch like other kits. Ukulele Strap, adjustable of course, fits your ukulele, leather and super cool. Clip-on Glow Tuner, Chord Stamp for creating music, Chord Poster, Videos, Lessons, Guides, Assurances, The Lot. ADD a BONDI UKULELE to Cart Now - Everyone else does!
2018 IS THE YEAR YOU MADE FRIENDS WITH THE UKULELE - WE ARE YOUR COMPANION, WHICH IS WHY WE PRODUCED A CAPTIVATING STEP-BY-STEP VIDEO COURSE EXPLAINING EVERY ITEM IN THE KIT AND SKYPE LESSON WITH A PRO - which is a total blast! The whole team at Bondi Ukulele's is here 24/7/365 to ensure you get a kick out of playing the ukulele, whipping it out at a party and playing "I'm Yours" by Jason Mraz or chilling under the palm trees - At Bondi Ukuleles we make fun happen. STRICTLY WHILE STOCKS LAST!
DISCOVER WHAT OUR CUSTOMERS SAY ABOUT THEIR BONDI UKULELE "It's super fun to play and a great deal" "So much care and love from the Bondi Ukulele's team" "Emma was a sweetheart with getting me started" "All the accessories JUST WORK! Period!" "My niece loves her new present, I'm impressed by this high-end uke at a low price" YOU'VE JUST FOUND THE BEST UKULELE KIT ON AMAZON BACKED BY 40 YEARS IN MUSIC! - Most ukulele sellers on Amazon are Newcomers or Chinese. Not us! DON'T MISS THIS CHANCE!
If you are a beginner player, then this Ukulele Starter Kit is for you. Aside from the ukulele guitar itself, you will also have the necessary equipment for you to be more familiarized on how to use a ukulele.
The kit includes a compression sponge case, Aquila strings, felt picks, tuner, chord stamp, chord chart, and a slather strap. Aside from live lessons you can watch through Skype, you can also have a lifetime warranty.
Bondi's Concert Ukulele is made up of quality materials, Sapele, Mahogany, Handmade Deluxe Saddle with an engraved sound hole. Each of the freebies has their own features that you will definitely love.
As such, the tuner included in the kit can work in the dark, the leather strap has a rainbow etched design which is good for men and women.
Pros
Complete kit
Very good for beginners
Beautiful design

Cons
Instructions on the live lesson is confusing
SALE at 50% OFF
Concert Ukulele Professional Series by Hola! Music (Model HM-424SMM+), Bundle Includes: 24 Inch SOLID Mahogany Top Ukulele with Aquila Nylgut Strings Installed, Padded Gig Bag, Strap and Picks
Hola! Music HM-424SMM+ Limited Edition Professional Concert Ukulele Bundle, SOLID Mahogany Top, Mahogany Back & Sides, Beveled Armrest with Aquila Strings, Padded Gig Bag, Strap and Picks - Satin Finish
Built to perfection using the best materials, this ukulele is the best gift you can buy for yourself or your loved one!
HM-424SMM+ Concert Ukulele features: Solid Mahogany top with beveled armrest, Mahogany back, sides and neck, Rosewood fingerboard and bridge.
Classical guitar headstock with high precision golden machine heads, 18 silver nickel frets, bone Nut and Saddle, inlaid Abalone Rosette, and Premium Italian Aquila Nylgut strings.
Don't miss!! Full description, images and specifications down the page. Hola! Music guarantees quality and affordability. Hola! - Say Hello to Music!
This ukulele is from Hola! Music, a well-known company that produces good quality musical instruments. A part of limited edition professional concert ukulele bundle, this solid Mahogany Top, Mahogany Back & Sides, Beveled Armrest with Aquila Strings, comes with Padded Gig Bag, Strap, and three pieces of Picks – Satin Finish.
Close to perfection, the fingerboard of HM-424SMM+ Concert Ukulele is made up of Rosewood. With an overall length of this Concert Ukulele is 24 inch, very advisable for beginners.
Unlike the other cheap ukulele, this one doesn't have a glossy finish, which makes the design luxurious and professional.
Pros
Eye-catchy design
Padded bag is durable
Good for beginners
Good for traveling

Cons
Longers than usual concert ukulele
This concert body ukulele has a length of 23" and features an attractive 3-ply maple binding for design and durability. With its complete 14 frets, it is partnered with an easy-playing C-shaped maple neck, which features a rosewood fretboard that sports 19 frets
In terms of great-looking uke, Luna Fauna Series Dolphin is on its top position. The firm shows good craftsmanship and playability to match other ukuleles in the market. Regarding the sounds, it produces bright and crisp tone, although it's nicely rounded and not overly harsh.
SALE at 42% OFF
Enya EUT-X1 Tenor Ukulele HPL 26 inch Starter Kit with Online Lessons, Padded Gig bag,String, Tuner,Strap,Capo,Picks,Polishing cloth
【Durable Material HPL】HPL with KOA pattern is a new ,thin ,strong and durable material under any humidity or temperature with very balance tone.
【Protect Your Fingers】Black richlite fretboard makes NO any sharp edge,you could play this beginner Tenor ukulele kit very comfortably.
【BT Neck Junction】Enya X1 series ukulele is used BT junction technology which could adjust string height and then take well hand feeling for a good musical instrument.
【Stay The Tune Longer】High grade opening tuning gear and Enya carbon fiber string could hold the tune much longer and the sound is nice and clean .
【Fabulous Deal for The Money】Your purchase is included a 15mm padded ukulele bag,Tuner,Capo,Strings,Fingershaker etc.With a Beautiful gift box.It is the good choice for the present .
Enya is a company that is known for its durable products such as guitars and ukuleles. EUT-X1 is one of the many goods they have, it is quality made with HPL with KOA pattern thin, strong and firm material under any humidity or temperature.
Aside from that, the whole series used BT junction technology which could adjust string height and then take well hand feeling for a good musical instrument.
When you buy this ukulele, you will also have a 15mm padded ukulele bag, Tuner, Capo, Strings, Fingershaker and more accessories you might need. It also comes with a beautiful gift box that is why it is a good choice for a present.
This is a Tenor sized ukulele with 26-inch body measure, the most popular size for mastery.
Pros
Produces good sound
Durable and stylish

Cons
Fretboard not stable
Tuner slips
SALE at 40% OFF
Kala is one of the biggest company that produces good quality ukuleles around the world. And this Baritone size ukulele they have is one of the most popular Mahogany made body and neck.
With its Walnut fingerboard, cream binding, and satin finish, this really gives justice to the musical world.
This Kala KA-B Mahogany Baritone Ukulele bundle is one of a kind and can save yourself the hassle and save some money while you're at it. Aside from the accessories, you will get an instructional DVD is also part of the package so you can pick up some tips while learning your new instrument.
Pros
With accessories when bought
Aquila strings included

Cons
Fretboard not stable
Tuner slips
Tips on Buying Ukulele
When you are on a tight budget, it is really hard to decide which ukulele to buy. However, nowadays, you do not have to worry that much since there are lots of choices you can choose from.

What is the price range of a good ukulele?

Actually, ukuleles are very cheap, however, it really depends on the brand, quality, and design. In fact, you can find a ukulele as cheap as $50. But as far as experience is concerned, a good ukulele has a price range from $100 to $300 – that scale is reasonably well-made instruments that sound good and are comfortable to play.
You can certainly spend more, but it's not necessary to get a great beginner ukulele. Kala, Luna, Oscar Schmidt and more are some of the most expensive ukuleles – but of course, with a really good quality. If you have a limited budget, then you might want to avoid these names in the store.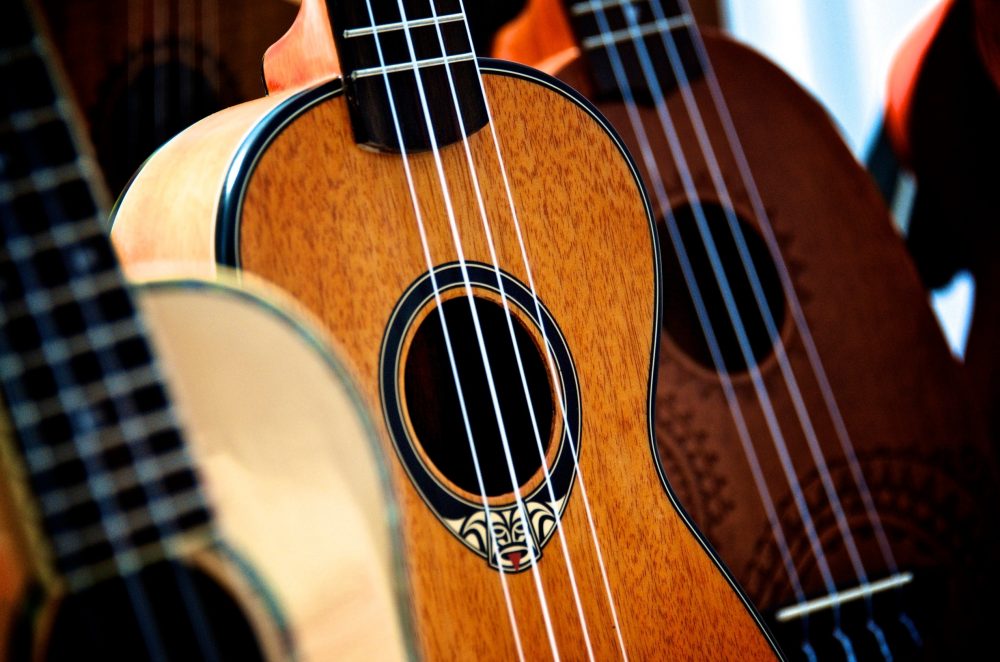 What are the body sizes of a Ukulele?

Ukuleles come in a handful of sizes, but the most common are soprano, concert, and tenor. Any of these sizes are fine for a beginner like you, but of course, it really depends on your purpose and skills. For very small children – or anyone with petite hands, the soprano size is a good bet. However, if a kid already knows the basics, he can jump to concert ukuleles and tenor ukuleles with larger adults.
What do you think is a good age to start playing the ukulele?

Ukulele is one of the easiest musical instrument to learn since it is small and just have fours strings. As far as history is concerned, many Hawaiians start as young as 3 or 4 because learning uke is a part of their cultural heritage. Nowadays, some started at their teenagers, some are in their 30's – it doesn't matter.
As the saying goes, "it's never too late and "now" is always the best time to start."
Effects of Ukulele Size to the Tone

Just like other stringed musical instruments, a bigger body means a bigger tone. Concert and tenor ukuleles tend to produce warmer, richer, and more resonant sound than soprano size. The larger body sizes also deliver more bass and volume.
On the other hand, soprano size ukuleles are typically a little quieter and have a softer sound. This isn't necessarily a bad thing, but it's worth thinking about before you buy a ukulele. Again, the choice of the ukulele size depends on many factors so you need to consider them all.

What are baritone-sized ukuleles?
Another common size of the ukulele is called a baritone. It's a notch up from a tenor and is the largest of the four most common ukulele sizes. Experts consider this size as the ukulele for pros.
A baritone-sized uke has a tuning that's a little different from the three other ukuleles. The unique tuning of this size isn't really practical for most standard ukulele music. Actually, it has tuning that is closer to an acoustic guitar.
Our Choice
Planning to buy a ukulele but on a tight budget? Try the Bondi Concert Ukulele Bundle which you can get with complete accessories. Aside from a player-friendly ukulele and affordable price, most beginners are looking for a convenient way to get started on their new instrument.
This ukulele starter kit from Bondi combines all the elements to deliver a package with true value to any ukulele beginner. With lots of inclusions, this offer really suits you best.
In terms of sounds, Bondi ukulele has a very nice sound that's great for beginners, while more experienced players would also enjoy the richness on offer.