The best guitar amplifiers under $300 are what you need for solid performances and satisfying practices.  They're priced right, yet they have top functions and offer straightforward use.
If you're on the lookout for the right guitar amp in this price range, check out our reviews to help you decide on one that your suits needs and requirements.
Choosing the Best Guitar Amplifiers under $300
Below is a short guide to pick a guitar amp under $300.
Head and cabinet or combo amp?
Sweetwater.com says answering the question on whether you want to get head and cabinet or a combo amp. To help you on that, you should determine where you intend to play – in a small venue or a large concert hall.
If you want to get enough sonic power if trying to fill an open arena, you might as well pick a high-powered amp with at least 100W head.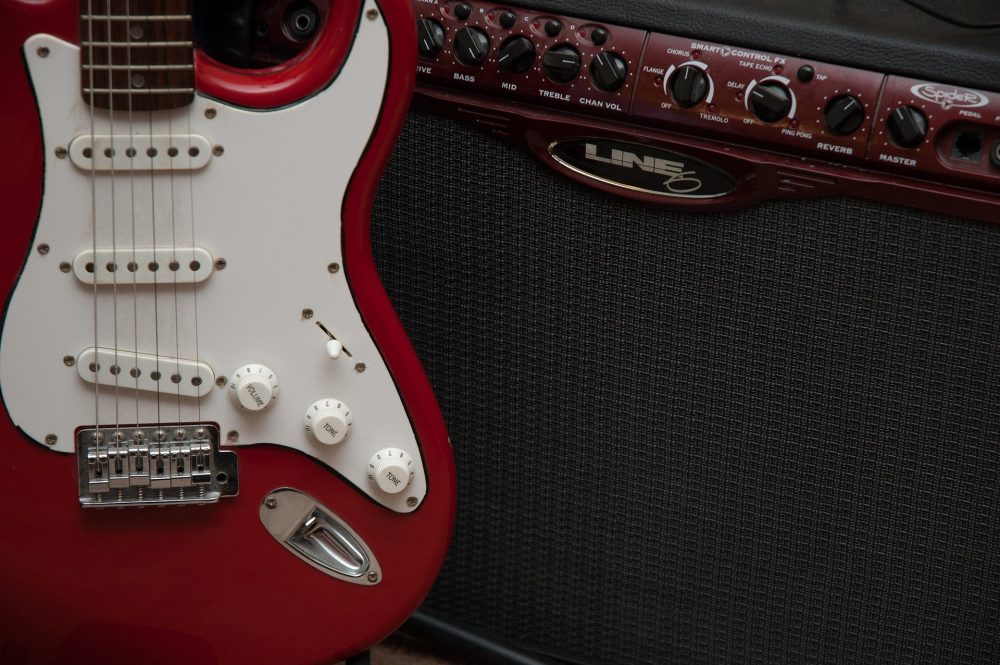 On the other hand, some players prefer a smaller amp for its tone and easy connection to a PA system.
A combo amp may be for you if you're looking for an all-in-one amp or a head and cabinet if you don't mind using something heavier.
Type of music to play
You should identify the music type you want to play when buying a new amp, according to Wikihow.com.
Size matters
You should also figure out the right size when buying your first amp. A 30W practice amp is for you if you intend to use it for rehearsals and bedroom practice.   
But then, a larger amp with a higher power is what you need if you plan to use it for concerts or gigs.
There you have our short guide when buying an amplifier under $300.   Hope this help you pick the right one for your needs.
VIDEO: If you're looking for help in troubleshooting your tube amplifier, click here.
7 Best Guitar Amplifiers Under $300
Fishman has gained worldwide attention and praises from musicians, even professional concert artists because of its warm and accurate sound. One of my favorite amps from them is the Fishman Loudbox Mini.
Despite its small and compact size, the Loudbox Mini is unbeatable for its powerful raw power and "clean" acoustic sounds through the woofer and dome tweeter.
I also liked that the amp can allow for both vocals and guitar sound to be transferred through the amp to the PA via the independent lineout for the two channels.
You can also record your performances or jam along with artists with its balanced AUX input and XLR DI output.
The Orange Crush 35RT is one of the best guitar amplifiers under $300 because it has a speaker system that delivers a great tone. The 35W 1×10″ Guitar Combo amp offers more for the money, including a detailed saturation.
I also liked that it has highly responsive overdrive and superior tones, which make it a great value for the money even if it's on the higher price scale.
I'd also like to note that the amp features two foot switchable channels, giving us plenty of tone options to remind us of classic guitar amps.  It also comes with easy to use controls, including reverb, gain, volume and 3 EQ band.
Combining Marshall's long legacy of being a leader in top edge technology, it offers the CODE Series Combo that culminates their most impressive and versatile combo amp to date.
I liked that the Marshall CODE 25w Combo Amp is one of the most reliable for practice and recording because it offers BT connectivity or USB, making it portable to carry anywhere.
It's also an awesome choice for having the ability for being remotely controlled – and that's thanks to the free app for android or iPhone.
When it comes to versatility, nothing beats this monster in a small package. It comes with 24 effects and 100 presets, giving us more freedom to take control of our music.
When it comes to guitar playing and bringing out the best sound as we can, we need a reliable amp like the M-MG30GFX. It delivers a range of modern and classic tones plus the essential features that we're looking for.
If you're up for silent sessions, you don't have to worry.  The amps in it can be played in the headphone output. Regardless of where you're playing, you will love that the amplifier under $300 sounds great as it looks.
It also features four storable channels (OD1, OD2, Clean and Crunch) and comes with flanger, phaser and reverb effects. I'd also like to note that it lets us jam along with band mates or friends for its AUX input.
The overall consensus for the Marshall Code 50 is that it sounds like a tube amp but not so high on the price tag. It can be the money saver that also gives you the most of your playing experience.
I loved that the digital combo amp offers great versatility along with a range of tones from loud to light.   So regardless you're an experienced musician or a total beginner, you cannot go wrong using this classic and superior amp.
This CODE offers you with 4 MST power amps, 14 MST preamps and so much more.  A few effects included in the model are Flanger, Tremolo and Compressor.
The Roland CUBE-ST combo amp that's loaded in features and functions, no matter you're a seasoned or a keen beginner who wants a reliable amp that offers flexibility than any regular ones on the market.
It's good for lessons or rehearsals because it is also portable.  If you're a festival or street player, you might also want to consider the amp.  It is also loud enough for its two neodymium speakers and dual digital power amps.
This combo amp can also run for up to 15 hours on six pieces of alkaline batteries.
The Roland CUBE also has compact dimensions and offers up to eight different amps.  It is also one of the most impressive around to capture each sound, including blues classics or modern metal stacks.
I'd also like to recommend this combo amp for including two digital effects processors, making it a sure value for the money.
The Fender Mustang I V2 is one of the top picks in the category because it can help you create songs and capture inspiration moments.  
This Fender Mustang comes with the recording software Ableton Live Lite 8 Fender Edition, which is compatible with PC or Mac.   It also has easy to use controls for the treble, volume, master, preset select, exit button and more.
It also lets us jam along with our favorite tracks by just plugging our MP3 player into its AUX input.   In addition, we can practice in silence or private using the headphone jack output.
It's also versatile, allowing us to shape the amp models or edit through our PC using the FUSE software to change/tweak delay/echo, reverb, phaser and more.
OUR TOP CHOICE FOR THE BEST GUITAR AMPS UNDER $300
The Fishman Loudbox Mini Limited Edition Black/White Acoustic Amplifier is the beat guitar amps under $300 that you might want to consider if you're looking for an amp with 60W of power and comes with preamp control designs and legendary tones.
It's also the ideal choice for its wide range of tones for more flexibility. It's also the guitar amp if you want vocal and guitar sound to be routed via the amp going into the PA system through separate lineouts for the two channels.
Overall, it's the best pick in this category you have to consider if you're looking for a top performing amp.
Buy it now!