Sides: Laminated basswood
Natural Gloss with accessories
Final assembly and set-up
Lightweight nylon string guitar
Most popular model in Iberia Series
Guitars are the most common musical instrument all over the world. One of its kind, the classical guitar, is the very old and traditional string instrument that has changed a lot over the years. But one thing that has stayed the same is the fact that only highest-quality instruments are making it into the hands of professionals.
Classical Guitars vs Acoustic Guitars
Now you are ready to buy a guitar but you are wondering about the difference between a classical guitar and an acoustic guitar. Here is a comparison you might consider before purchasing one.
The fretboard of a classical guitar is a lot wider compared to an acoustic. Quite often classical models will not have the fret markers or the dots or along the fingerboard either.
Aside from that, the shape is very different too. Acoustic guitars come in a dreadnought shape that why it is larger than that of a classical guitar. The cutaways where you have access to the higher frets on classical guitars are rather rare too.
Both guitars are in fact acoustic guitars, except one uses nylon strings, which is the classical model and the other uses steel string, the acoustic guitar. A classical guitar uses nylon strings whereas the modern acoustic uses steel string, hence it's often referred to as a "steel string acoustic".
The difference between strings and the shape of the two guitars are already discussed. Now, let us compare the sounds which will also be a deciding factor when it comes to choosing one over the other. They might be same sting instrument but they have different sounds.
Most guitarists will make the natural progression from classical to acoustic, but very few choose to stay loyal to a classical guitar. The two kinds of guitars have the same chords and tuning but they have different accents. The acoustic is more on the rock 'n roll sound while the classical play a warm, soft tone and cost a little less than an acoustic.
Here is the break down of the difference of the acoustic and classical guitars:
Classical Guitar:
Nylon strings

Slightly smaller

No fret markers

Cost less than acoustic

Play a warmer, softer tone
Acoustic Guitar:
Steel strings

Scratchplates

Narrower fretboard

Has a Scratchplates truss rod

The neck is smaller and easier to play

Play a twangy, more banjo tone
Get to Know More about Classical Guitars
Classical guitars are also called nylon-string guitar or Spanish guitar. Unlike in acoustic and electric guitars, classical guitar uses nylon strings combination with its wooden body. The traditional classical guitar has twelve frets while the modern design usually has fourteen frets.
Guitars nowadays are associated with modern and improved classical design. In fact, the term "modern classical guitar" is sometimes used to distinguish the classical guitar from the older look. It also may refer to either of two concepts other than the instrument itself:
the instrumental finger technique common to classical guitar—individual strings plucked with the fingernails or, rarely, fingertips.

the instrument's classical music repertoire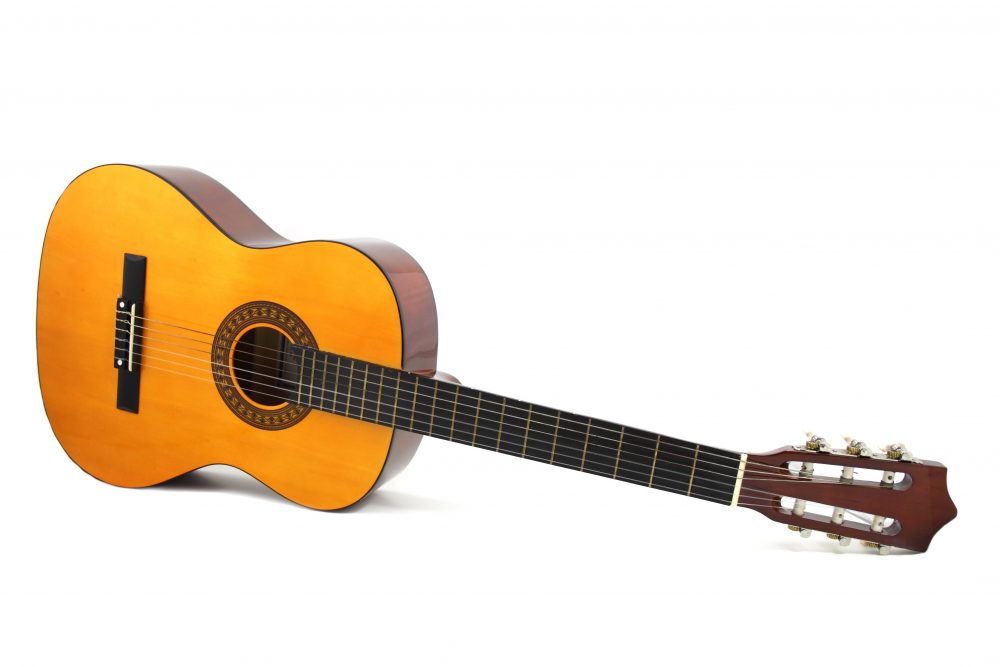 The modern classical guitar is usually played in a seated position. However, some professional needs to stand up in order to perform well. The more skilled this person was, the more attention to detail they paid, the more likely the guitar was to be of high quality.
Best Classical Guitar Under $2000
Spending money to invest seriously on a guitar can be very nerve-wracking. As the owner, you want something that will stand the test of time. Aside from being durable, of course, you want a guitar that is easy to use and not that expensive – especially if you are still learning how to play it.
To help you choose the best classical guitar that will suit your need, we are reviewing only the highest-grade classical guitars available within your budget frame. If you want to compare with some budget options we have a buying guide too as well as pros and cons of each product. Now, let's dive into our 5 best classical guitars under $2000.
This signature Gipsy Kings flamenco model classical guitar is made up of solid European spruce top with solid cypress back and sides. Its overall length is 39 inches (285mm at upper bout, 370mm at lower bout) and 10 pounds in weight. The tuning of this classical guitar is from Cordoba Premium Gold Tuning Machines, a known brand that produces high-quality musical accessories.
Cordoba GK Pro produces superb and rich sound compare to other classical guitars in the market with the same price range. In addition, it also has a two-way truss rod built into the neck with ebony fingerboard and cutaway-electric style neck. This high-end guitar is really worth the price of $1,564.
Pros
Excellent electronics
Superb sound quality
Well built

Cons
Made in China
Not loud as expected
Taylor 214ce-K Grand Auditorium
Shape: Grand Auditorium Number of Strings: 6 Back/Side Wood: Layered Koa Scale length: 25-1/2" Top Wood: Sitka Spruce Body Length: 20" Electronics: Expression System Body Width:16" Cutaway: Venetian Body Depth: 4-5/8" Nut and Saddle: Nubone Nut/Tusq Saddle Neck Width:1-11/16" Neck/Heel: Sapele Bracing: Forward Shifted Pattern Fretboard Wood: Ebony Fretboard Inlay: Small Diamonds Headstock Overlay: Indian Rosewood Binding: Cream<
The top, side, and back of this classical guitar is solid wood with the layered Koa Scale length of 25-1/2″. Koa veneer is part of the resilient layered construction on the GS Mini or the 210ce-K DLX. It is also part of the 200 Series Deluxe category that is loaded with high-end performance appeal.
The 214ce-K model blends tonal versatility with inspiring looks because of its gloss-finish koa laminate body. The cutaway is Venetian Body, which is known for its soft, round lines. The sloping peak of the cutaway will vary depending on the shape of the guitar. This is one of Taylor's signature shape embodies the ultimate all-purpose classical/acoustic.
Pros
Eye-catchy design
Durable
Good for recording

Cons
This is a very well known nylon string guitar from Spain collection. The name "requinto" refers to its small size body with just 560 mm scale. Superb guitar for young players or for adults who wish to purchase a high-quality portable guitar. It has a solid cedar top or solid spruce top, rosewood back and sides, mahogany neck with ebony fingerboard and gold-plated machine heads.
Aside from it being an excellent choice of guitar for small hands, the Raimundo 1498 E Requinto is also durable and easy to play with. The complete 12 fret is 59 mm in length but with the body, its 89 mm in total. Raimundo 1498 E is very eye catchy and nice to see, thanks to its glossy finish design.
Pros
Good for beginners
good for small hands
Lightweight
Complete fret
Can be used by kids

Cons
Small frets
Not for professionals
Yamaha is known to be one of the best company when it comes not just to guitars but almost all musical instruments. The front, back, and sides of this classical guitar are all crafted with solid woods. Aside from that, the nylon string guitar has a perfectly balanced bass and treble, that is why it sounds very good.
The body depth of Yamaha GC22 is ranging from 94 to 100mm and the string length is 650mm. This is good for beginners since it is easy to use. Aside from that, when you but this classical guitar, it will come with a quality custom fit case.
Pros
Good appearance
Comes with a quality custom fit case
Good for beginners
Quality of materials

Cons
Heavy
Not for kids
Not advisable for small hands
This classical guitar is considered the best selling Spanish string guitar ever since 1905  by Rodriguez guitar. It is rich in sound, rich in history, and rich in beauty. It is made up of solid Canadian cedar top and solid Madagascar rosewood body, providing warm, rich tone and great projection.
Madagascar Rodriguez Mod FG Madagascar classical guitar is a well-balanced, all solid woods guitar, with beautiful marquetry work. It also features an ebony reinforcement on the cedar neck, ebony fingerboard, gold-plated tuners, and a beautiful soundhole rosette. When you buy this, you will also have a great quality bag.
Pros
Quality design and sound
A well-known model
Good for beginners

Cons
The Verdict
If you are still an entry level student guitar you have a choice between laminated construction and solid wood construction. You have to choose the best one since you will use your invested classical guitar all the time. You need to know what you need first before buying a new one so there will be no wasted money.
Money wise, it is better to check the cheapest in the given line up and see if fits what you need. If quality, durability, and beginner point of view is to be considered, it is advisable for you to invest in the Raimundo 1498 E Requinto. Aside from it being lightweight, it is also good for small handed people.
However, if you think the size is too small and you will not be comfortable using it, I suggest you purchase other product from the listing. Remember those better classical guitar models, whether student or professional models, will have solid cedar or spruce soundboards, ebony fingerboards, rosewood backs and sides, either laminated or solid, and more precise tuning machines.