Quick Answer: Both Baby Taylor and Little Martin has their own distinct features, making each guitar different from the other. While the Baby Taylor has a Solid Sitka Spruce Top, Layered Sapele back and sides, and an ebony fretboard, the Little Martin on the other hand has HPL Spruce Pattern Top, Mahogany pattern back and sides, and Micarta fretboard.
Some might debate over which one is the better guitar, and that's what we're here for. So, let's get started, shall we?
| | |
| --- | --- |
| | |
| | |
| | |
| | |
| | |
| Back and Sides: Mahogany Pattern HPL Textured Finish | |
| | |
| | |
| | |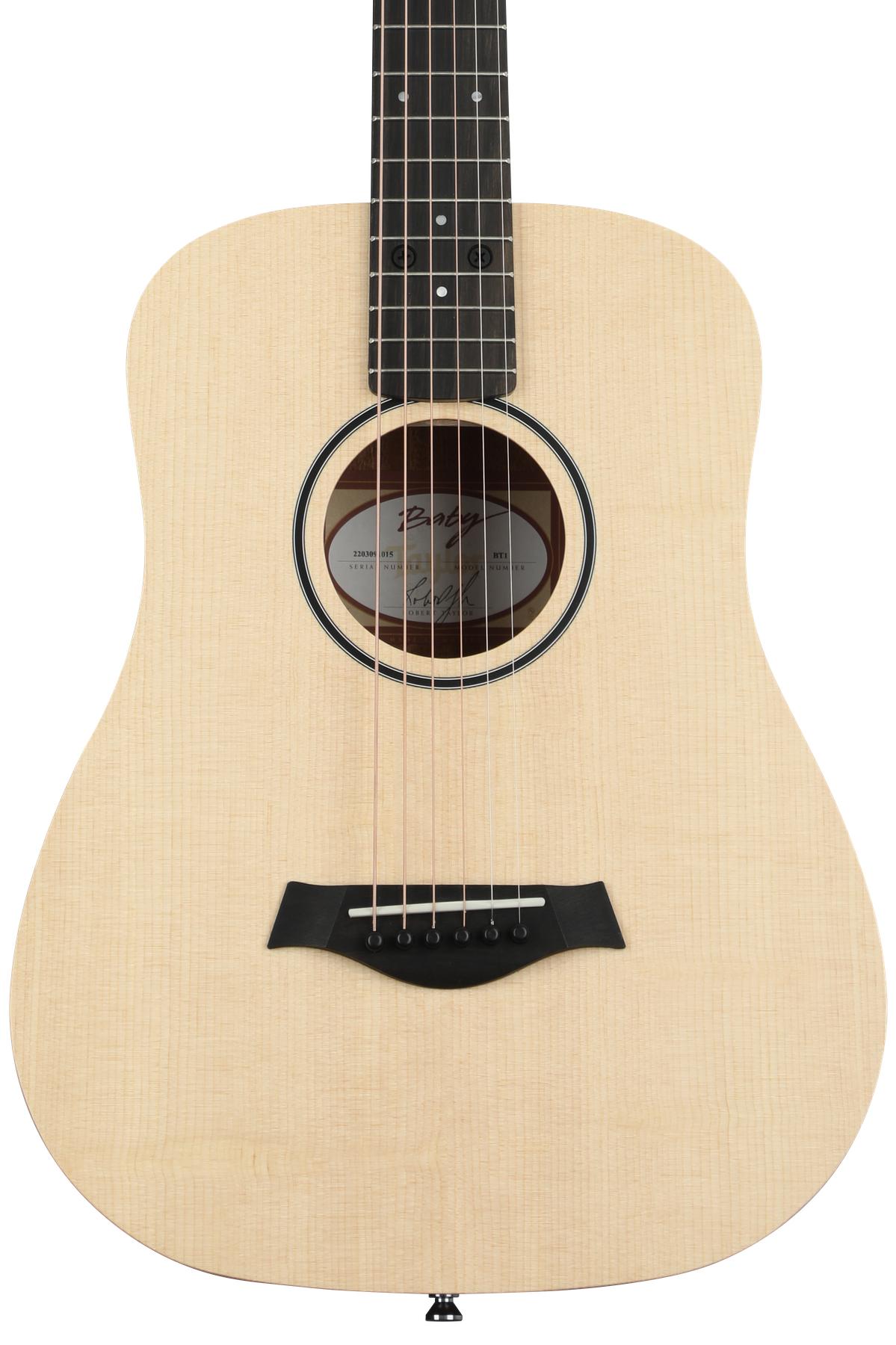 Made for kids who are just entering the guitar world, the Baby Taylor BT1 has been used by every guitarist who wants to play an easy-to-use guitar. This little dreadnought is every little kid's dream guitar.
However, with its versatility and features that are fit for everyone who likes convenience when it comes to travelling, the BT1 can also be a top choice.
With its excellent combination of tonewoods, the BT1 sounds just like a regular-sized dreadnought with its solid Sitka Spruce top and layered sapele as its back and sides.
This great combo of tonewoods make for a sound that has the perfect blend of stiffness and elasticity which gives a crisp articulation.
It has an arched back that generates more sound out of the small-bodied dreadnought, and its layered sapele body makes it adaptive to the ever-changing climate and temperature, making it more durable during travel.
The BT1 has a remarkable build quality which gives this dreadnought a long-lasting life span.
It features a stable and very playable neck, which guitar lovers will love, both beginners and professionals. Complete with eco-friendly materials and a lifetime warranty, the BT1 is surely a great value for its price, and an awesome guitar to start and travel with, too.
If you want to travel smoothly and create music while having a road trip, the BT1 makes a really good companion.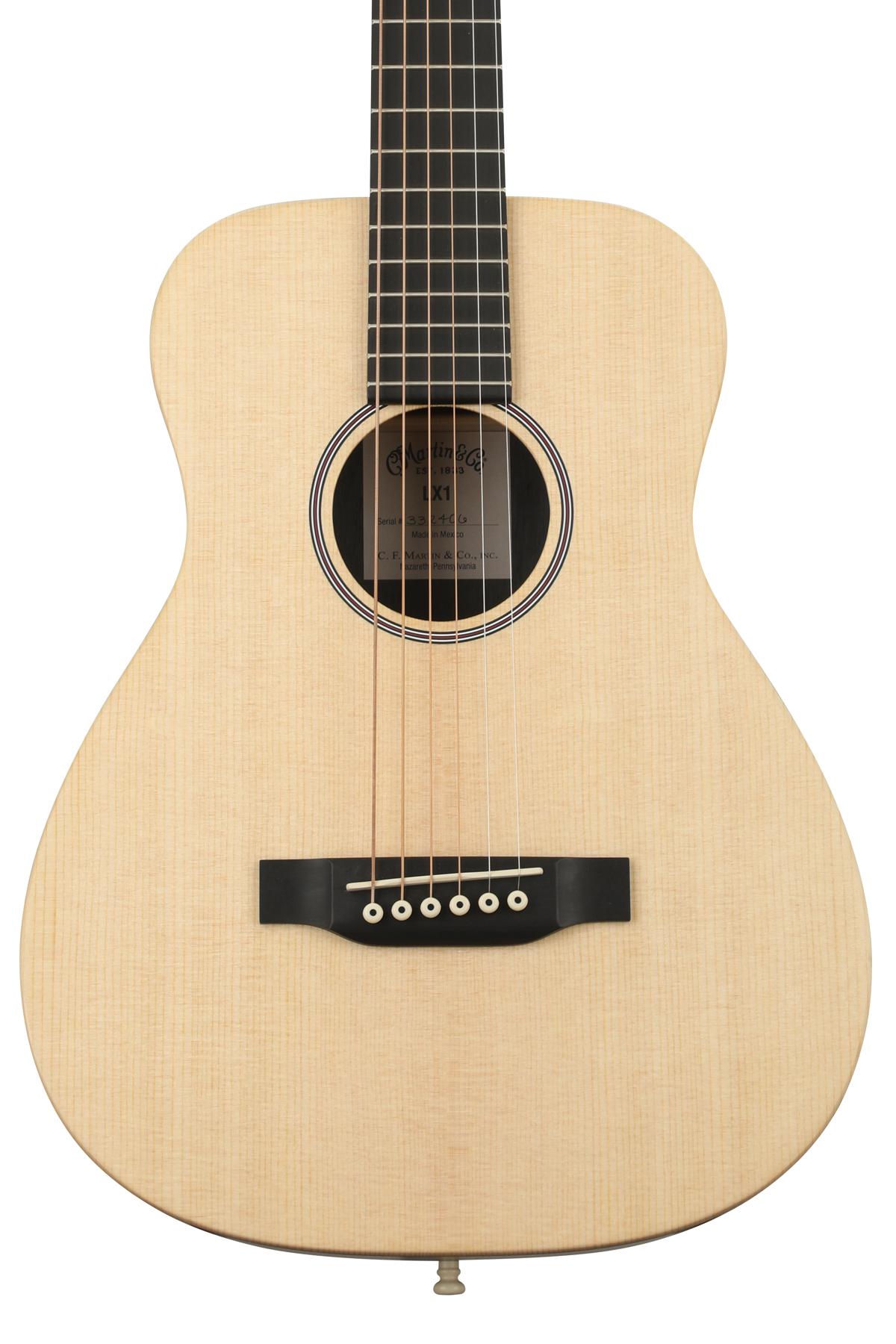 Popular because of its rather controversial construction, the Martin LXM Little Martin creates a beautiful acoustic sound and eye-catching looks despite this.
Martin is known as a manufacturing company that sells guitars with only the best qualities, that's why when the LXM was made, some guitar enthusiasts raised their eyebrows by the fact that the LXM is made with artificial materials.
Despite this, the LXM delivers a pleasing sound which still made it one of the top performing guitars in history.
Instead of laminate wood, the LXM is constructed using spruce and mahogany-patterned HPL (high-pressure laminate). However, the LXM still managed to make it work despite of it being constructed with synthetic materials.
Despite some guitarists turning away from the LXM, it can't be denied that it was put together very skilfully. Not long after, the LXM was at the top of its game.
One of the main reason why the LXM didn't flunk is because of its capability to still produce the trademark Martin tone, despite having all the HPL. It owns a pretty good projection with a powerful volume.
For a travel guitar, the LXM does its job perfectly. It also does not suffer any damage with due to temperature and humidity variations. It is perfect for camping in the wild or even traveling around the world.
Aside from the HPL, the LXM features a rosewood bridge with white Tusq saddle, which enhanced its physical properties. The nut is also made of white Tusq and it boasts tuners that are Martin's very own.
The LXM is more than capable of retaining intonation and tuning of your choice, so worry not on adjusting it. You also don't have to worry about changing its strings as it already comes with a good set of strings.
Editor Pick
Advantages Over Each Other
Baby Taylor BT1
Its spruce top gives it a great sound quality
Can be plugged in and sounds just as good
Excellent quality and craftsmanship
Has a relatively louder volume
Martin LXM Little Martin
Stays in tune for a long time
Its HPL feature makes it more susceptible with humidity and temperature change
Offers good bass
Responsive
How Does Each Guitar Sound?
Baby Taylor BT1
With its solid Sitka spruce top, the Baby Taylor BT1 gives off a great sound quality with a pretty decent sound projection. This awesome travel guitar that offers a very rich tonality with great clarity. Users love it because of its versatility that it can be played with almost any genre, and still sounds great.
Featuring a clean sound with a volume that's high enough not to be considered as noisy, the BT1 will be the ideal travel companion. Pair it with a set of strings that's tried and tested, and you'll be of creating wonderful music. Other users attest that the BT1 has that trademark Taylor sound that is punchier with a lot of overtones and powerful volume.
Martin LXM Little Martin
It goes without saying that because of its HPL feature, the Martin LXM Little Martin will sound a little bit different than with genuine wood. However, despite this fact, the LXM still carries an acoustic sound that can level with its other Martin brothers. It features a full and rich tone that's perfect for a fun time at the beach or a serious brainstorming for creating music on the road.
It features a bright sound with complete clarity, but you'll have to work on its volume a bit more, as it has a slightly low volume. It features a non-obstructive sound that whenever you record yourself playing with it, it does not overshadow your own voice. The LXM has a nice tone that will make every jamming session a time to look forward to. It has a sound that's both dynamic and beautiful, that some users notice that it kind of resembles a ukulele's sound.
Conclusion
We Recommend
If you're in the hunt for a great travel companion, both the Martin LXM Little Martin and Baby Taylor BT1 are qualified. However, each guitars may serve a different purpose, according to how each one is constructed. To some, this fact alone could affect their decision.
With its unique overall construction, the Martin LXM Little Martin produces a pretty decent sound, which left a lot of guitar lovers in awe. Amazingly, the LXM produces a rich and beautiful sound, which you can typically get from a tone wood construction. It still features that certain Martin sound everybody adores.
On the other hand, if you still want to have a fun time with friends while bringing along a trusty travel guitar, the Baby Taylor BT1 makes a good option, too.