Editor
Alesis Professional Strike PRO Electronic Drum Kit
Season drummers and serious players continue to enhance their skills and to make themselves ahead of the competition. So, if you are looking for a cool and complete alternative to your acoustic drum set, Alesis Strike Pro Kit is the one for you. This electronic drum set has everything you need to start drumming and has even more in-store to help you become the best drummer you can ever be.
CHECK PRICE ON SWEETWATER
CHECK PRICE ON GUITAR CENTER
We may earn commission from purchases made from our links, at no additional cost to you.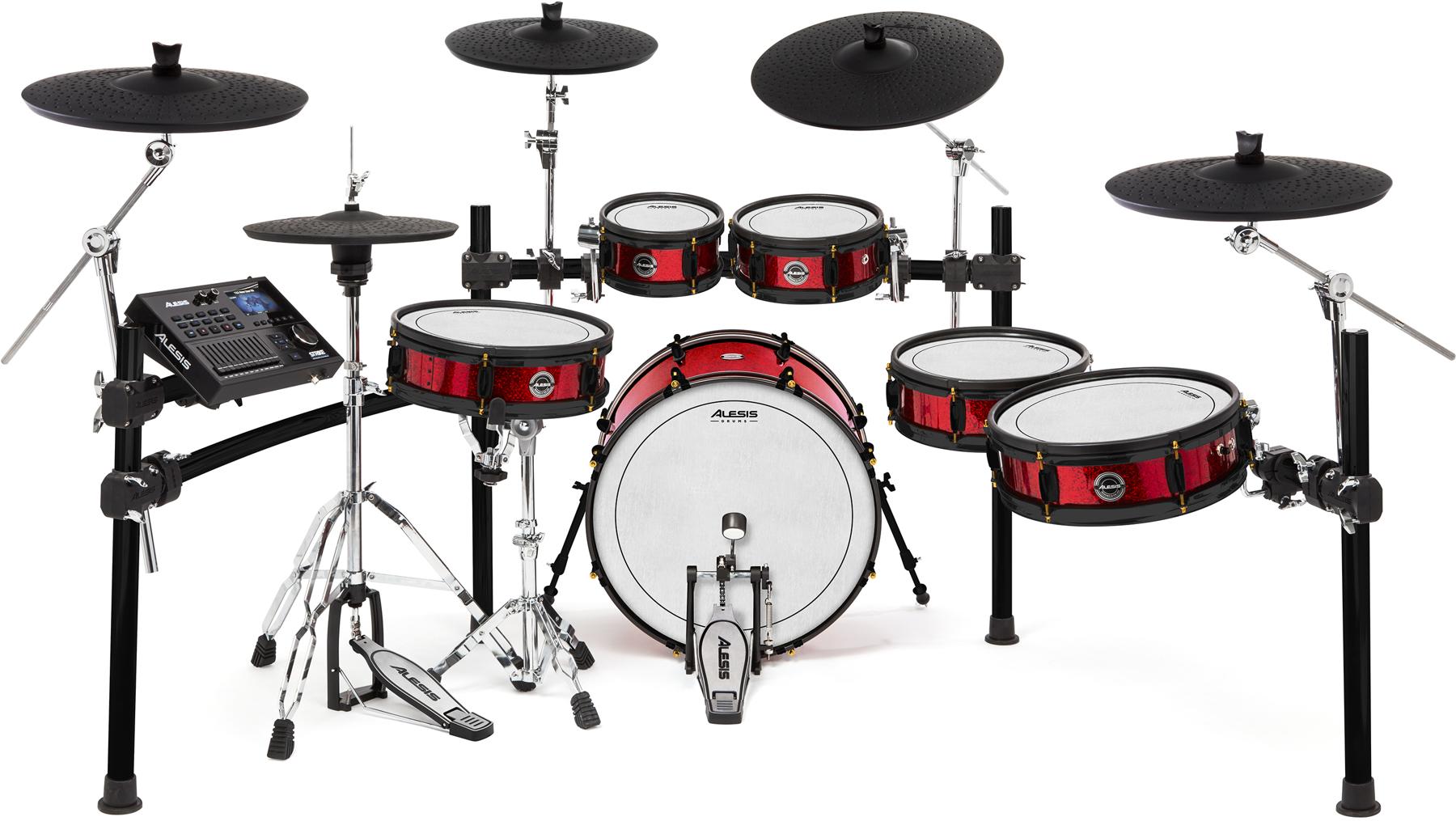 In 2017, Alesis strives to provide serious drummers with the most complete electronic drum set, the Alesis Strike Pro Kit. It's offered in two sizes: the 8-piece and the 11-piece drum kit. So, let's go for the one with the most number of instruments included in the set.
The 11-piece Alesis Strike Pro seems to be a culmination of years of working to find the perfect balance between acoustic and electronic drum sounds. With all its great features, the looks, and its capability, Alesis might have successfully brought out an ace. But, before jumping in, why don't you check its features and weigh if this is the kit that you've been looking for.
Reliable Craftsmanship
Unlike its cheaper brothers, Alesis Strike Pro is bigger and more realistic, by the looks. Instead of just drum pads, this one comes with drums with mesh heads and raised rims. These make it seem like a big, powerful drum set, like a real acoustic set up.
Instead of just rubber, Alesis is really making the whole set out of the wood shell with striking shattered glass-like red sparkle finish. The supporting rack is made of chrome, no plastics, just heavy-duty stand.
Real Drum Feel
Players who have been accustomed to playing real acoustic drums would find electronic drum sets to be a little less powerful. However, with Alesis Strike Pro, you can really feel that you are playing a real, bigger set of acoustic drums. It's very responsive and everything is nice to touch.
These wood shell drums are great and you can easily feel at home playing this set. In addition, everything is sturdy and stable, especially the supporting rack and the mount.
Exciting Instruments Included
Though it's a really big collection of drums, it doesn't mean these instruments are mediocre. Actually, most of the items in the drum set are working. These include the following:
Two 14″ Drums: (1) kick drum pad and (1) dual-zone snare drum pad
Four Dual-Zone Tom pad: 8″, 10″, 12″ and 14″
Five Cymbals: (1) 16″ triple-zone ride, (3) 14″ dual-zone crash cymbals w/choke; (1) 12″ movable hi-hat cymbals
Premium 4-post chrome rack
Double braced snare drum stand
Drum key and Drumsticks
Strike performance module
Module user guide
Kit assembly guide
Safety and warranty manual
Right out of the box, you can tune the whole setup with the drum key included. However, if you are using this electronic drum set for the first time, you need to update the firmware to its latest version. This makes your software more intuitive and you can get the most out of it.
Alesis is releasing updates frequently, fixing issues and optimizing performance. So, better upgrade the firmware before complaining about this excellent drum kit.
Very Useful Performance Module
The vast sound library will make you get exhausted, before even getting bored of all the great things this drum set can offer. It has around 100 preset kits and 100 user kits. In addition, it has more than 1600 multi-layered sample sounds available and around 14,000 individual samples, which you can play with.
To ease all the controls and settings, a multi-colored 4.3" LCD screen is provided where you can easily navigate through its setting. The "trigger" button brings up more options for playing the pads. So, it's very easy to select and play around with all the sounds available.
There is a software editor where you can create custom drum kits or instruments and importing them as .WAV files.
Definitely Make You A Pro
A great electronic drum set is the one that inspires you to play and master your skills quickly. With vast sound library and samples, as well as an intuitive sound module, you surely are being backed up and guided to reach for stardom.
Its connectivity options allow you to really advance to the next level by helping you produce your own music.
Portability and Connectivity
Out of the box, it seems like an acoustic "traveling" drum set. However, this is just an electronic drum set with so many amazing features. The connectivity of the Alesis Pro is simply mind-blowing.
First, it comes with ¼" stereo outputs and eight outputs for the snare, bass drum, toms, cymbals and hi-hats to the stereo pairs. It has a MIDI In/Out, as well as a USB port. It has a 1/8" Auxiliary input and headphone out, even has an SD card input for additional connectivity.
You can connect it to your computer for easy manipulation of your music files via the USB port. It's compatible with MAC OS 10.7 or later, as well as with Windows 7 and later. Actually, it has an 8GB SD card onboard as storage for user kits so, you practically have unlimited storage for your files.
Pros
Mesh heads are excellent
Really nice to play and has a lot of sound options
Firmware is always up-to-date, which can help you improve
Cons
Clamp-style mounts not working properly, floor toms wouldn't securely stay in place
Needs more time to set up completely
Hi-hat controller really needs replacement to make the whole set a pro pack
Supporting rack is heavier and not easy to move around when setting up
Just a word of advice, though…
Great electronic drum sets usually come with a very high price tag. Some sets are even more expensive than acoustic drum sets. However, since the electronic drums are packed with so many features, it's understandable why these sets are very expensive.
For Alesis Strike Pro Kit it's really a great drum pack. However, it has an expensive price tag. So, an alternative to this great Alesis would be the cheaper (just a little) Roland TD-17KV. But, there are actually a lot of cheaper alternatives to this drum set.
Just take my advice lightly as they may or may not represent your personal choice and preferences.
Verdict
Editor Pick
If you are looking for a compact electronic drum set, surely this is not the one you're looking for. However, if you need a drum set for home or concert use, with the looks, feel and sound of a real acoustic drum set, the Alesis Strike Pro Kit is more than you need. With its price point, surely, you've found the best deal ever for high-end and full-size electronic drum set.
Is this recommended for beginning drummers?
For it's price, no. Consider the Alesis Nitro Mesh Kit (you can get it at $16/Month here), instead, which is more cheaper yet reliable drum kit. Being said that, if you a budget for this pricey drum kit, who am I to hold you against it?