Editor's Pick
Electronic drum sets shouldn't be very expensive since serious drummers on a budget, would opt for it than a real drum set. For some good reasons, it's being used by rap and hip-hop musicians for several years now.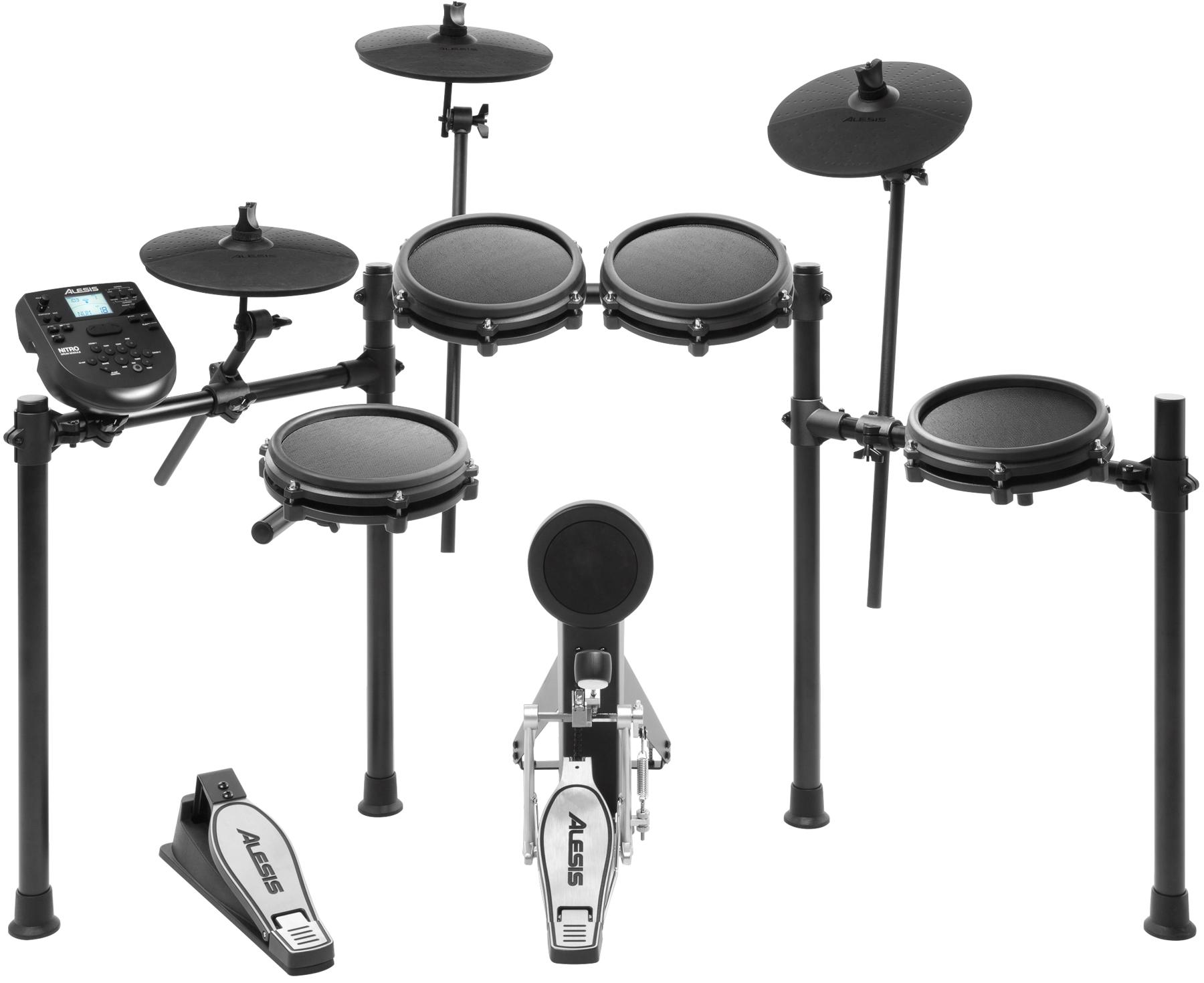 And, thankfully, Alesis, a popular brand when it comes to full electronic drum sets offers the Alesis Nitro Mesh Kit.
This electronic drum set is one of the affordable sets from the manufacturer.
And, it's now the most popular drum set you can buy online. So, check out its features below.
Pros
Drum pads are sturdy and can take even stronger beatings
Small set, which doesn't take so much space
You got the real feel of a real bass drum pedal
Great sounds from its simple set up, especially on headphones
Cons
The rack is a bit low, which might not be ideal for drummers with a bigger profile
No dual zone for the ride cymbals
Premium Feel and Build
All the drum and cymbal pads are made with a very responsive rubber. The bass drum gives you the kick like you are playing a bigger and real bass drum.
Although it might not be the smallest and compact electronic drum kit out there, it's among the sturdiest.
There are four posts that support the aluminum mounting rack, making the set up steady and sturdy.
It's ready to play right out of the box. So, you don't need to go through the hassle of manually tuning each drum which you must do in a real drum set.
Jam-packed Features
For the price of this electronic drum set, who would expect it has many great features inside? They're not the advanced ones, though, but, they're more than enough for practice and even studio recording. Below are the things you can get in this one incredible electronic drum set.
Five 8" high-quality drum pads (dual-zone snare, three single-zone tom drums, and kick drum)
Three 10" cymbals – ride pad, hi-hat pad and crash with choke
Kick pad tower with bass drum pedal that can handle double bass pedal
Hi-hat controller
Drum Key and Drum Sticks
Module User Guide
Kit Assembly Guide
The module user guide is very useful since it comes with everything you need to know to maximize the built-in sounds you can experiment on.
Quality Hardware and Software
Speaking of the built-in freebies in this electronic drum set, Alesis is very generous in providing us with ready-to-play sounds.
Unlike real drum sets, electronic ones are very versatile and it gives you a real kick to get started right away.
Alesis Nitro Mesh Kit comes with the Nitro Module that gives you more versatility than acoustic drum sets.
You can have access to 40 drum kits and 11 General MIDI kits. You got 60 available songs that you can play along and 385 drums, cymbals and percussion sounds, as well.
As for the hardware, you'll get the very reliable 4-post aluminum mounting rack.
This strongly supports the whole setup even if you play and hit the pads harder.
The mount is height adjustable and has memory lock, so you can be very comfortable playing at your desired height.
Unfortunately, some players find the mount to be a little shorter for their profile.
So, you might need to do some tricks, perhaps adding something beneath, or a riser could be a handy solution.
Great Sound and Performance
It's too much to expect to have this cheaper set sounds like those expensive acoustic drum set that cost you thousands of dollars.
But, this one can really play and can give you decent drum sounds.
It comes with an LCD screen display that lets you navigate through the features.
The cymbals and drums have the same set up as the traditional drum set, hence requires only lesser time to familiarize.
There is a metronome, a performance recorder, and sequencer on board, which make it very easy to produce songs on your own.
Handy Practice Drum Set
Since it's lightweight and compact, you can actually be moved around the set up without any problem.
The company is putting up a lot of features that'll allow practice and learning by yourself. So, you can develop and master your drum skills in no time.
Compatibility and Portability
The good thing about electronic drum sets is, you can easily connect your headphones or external speakers for playback.
You can also connect it to your computer for further manipulation of your songs. Alesis Nitro is compatible with Windows 7 and later versions and with Mac OS X 10.7 and later versions, as well.
It's portable and handy as it only weighs around 33.1 pounds. So, You can use it for practicing anywhere. It's easy to transport since you can simply fold it and fit into a small storage.
Possible Drawbacks
Alesis is a great brand, especially when it comes to entry-level electronic drum sets. And, for the Nitro drum set, the quality, playability, and connectivity are among its strongest features. But, it has just one thing Alesis should look into – the height of the rack.
The set up might not be that bothersome to some people. But, for those who practice and play drums for an extended period of time, this might be very uncomfortable. I think it's just a minor thing that Alesis can easily fix.
Yet, if the height is not compatible to you, there are still a lot of great electronic drum sets from Alesis that you can choose from. This is just my humble opinion, though. So, go ahead and get the Alesis Nitro if you find it as the right one for you.
Verdict
Editor's Pick
There are actually three great things that I loved about the Alesis Nitro Mesh Kit: playability, connectivity, and the hardware.
Of course, with the quality construction and build of each element in the set, they are able to deliver great sound and performance.
Alesis is a great drum set for practice at home. Not only that, it's crafted to achieve the responsiveness and natural feel of an acoustic drum set.
With this setting, drummers will be able to play great with the real acoustic drums, if they have the Alesis Nitro as their practice drum set.