One of the most commonly bought musical instruments is the guitar. It offers playability, versatility, affordability, and portability. And, speaking of affordability, acoustic guitars are amongst the cheapest of the guitars.
Not just that, when you buy acoustic guitars online, you can get great discounts and deals not available instore.
What are Acoustic Guitars?
An acoustic guitar is a musical instrument — a type of guitar, of course — that produces sounds through the vibrations of strings into the air.  The sound it produces is dependent on a lot of factors, including the soundboard, tonewoods and bracing.
The soundboard is the top material of the guitar and plays the most critical part of the overall tonal quality of the instrument. It's made of different material which has different sound characteristics. Spruce, for example, offers crisp highs with booming lows and big volume, while mahogany offers warm and sweet tone.
At the back of the soundboard, you'll find a pattern of struts and braces. This provides stability of the topwood, as well as allowing it to vibrate uniformly and freely as possible. Without the braces, the top will just vibrate chaotically and you can't achieve the rich, full or warm tone you want. The most common bracing patterns are the X-bracing and scalloped bracing.
Parts
Guitars, in general, share common parts and features. The headstock with the tuning machines, usually in 3+3 configuration. You'll have the neck and fretboard, which may or may not have the same material as the body. Then, you have nut, the frets, the bridge, and the saddle.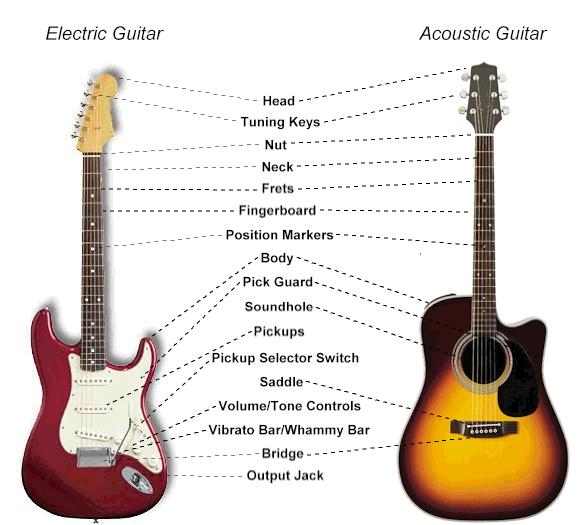 On the soundboard, you can see the soundhole. Sometimes an acoustic guitar has a pickguard, while other manufacturers offer it as an optional or an add-on accessory. Compared to an electric guitar, the acoustic guitar is straightforward to setup and play.
Types
Everyone knows what a guitar is, but not all can easily identify one. Acoustic guitars are divided into two types — nylon-stringed and steel-stringed.
Nylon String Guitars
Nylon-stringed guitars are also commonly called classical guitars, though, in reality, it's just one of the subsets of nylon-stringed guitars.
They are loved by their warmer sounds and smoother upper register responses. Strings have much lesser tension to play complex chords easily. Even some guitarists recommend nylon acoustic guitars for beginners.
Steel-String Guitars
The steel-stringed guitars, on the other hand, are among the widely used guitars in the world. This kind of acoustic guitar takes on different playing styles including strumming, fingerpicking, and flatpicking.
The sound depends on the body shape, too. So, smaller guitars tend to focus on mid-range and high-end tone, while larger guitars offer more volume and a more focused sound.
Body Shapes
As mentioned, the shape of the guitar also affects the projection and volume of the sound it produces. The body styles that are common in the guitar market are the dreadnought, parlor, grand concert, 000 and jumbo.
Dreadnought
The dreadnought body shape is the most popular among the guitars in the market because it projects deeper classic sound with very resonant bass. The midrange stood out, too.
Parlor
Parlor is a compact body shape that is characterized by its punchy and delicate tone. It's very comfortable to play, especially for small players and those traveling musicians.
Grand Concert
The grand concert shape is in the middle – not too big nor small. You can have more controlled overtone, which is not as deep as the full-sized guitar. But, it has good projection and perfect for recording.
OOO
With a similar design as the grand concert, the 000 (read as triple O), except that it's slightly wider and deeper, it has a more balanced tone. Mostly, it has convex back that offers more comfort and playability. It has more low-end response with great dynamics and volume.
Jumbo
Lastly, the jumbo body shape is the largest profile of an acoustic guitar. It produces more volume and more punch. It's made to offer dreadnought's deep tone with maximum resonant space for more volume and sustain. Other players might find this more complex to play because it's bigger and deeper.
Where to Buy Acoustic Guitars?
Now, if you're considering to get a new acoustic guitar, you can either get it online or instore. Getting your new instrument online is fast and easy, you can do it in one sitting. On the other hand, if you're buying in a store, you'll get firsthand experience playing the guitar and you'll get what you want.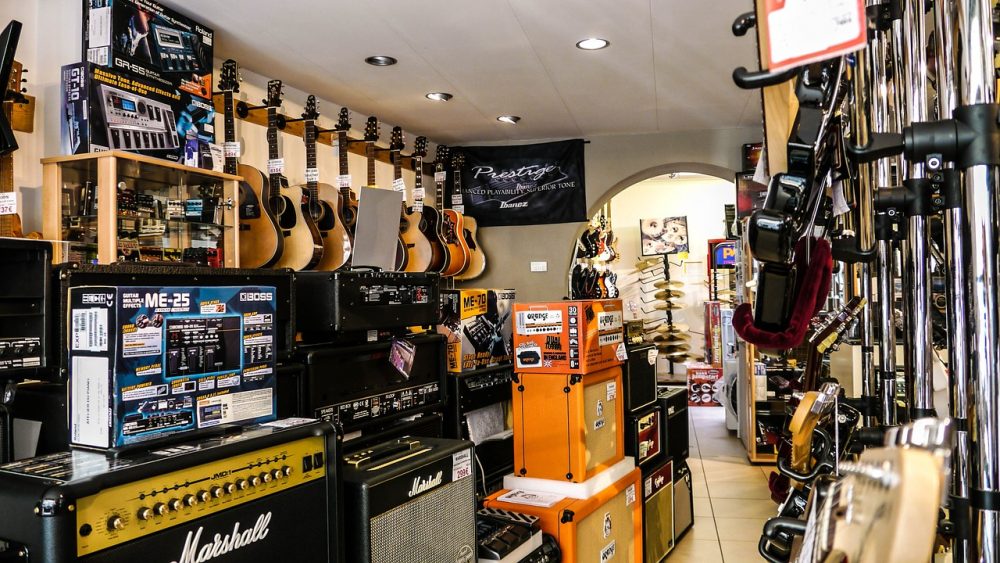 Below is a comparison of the advantages and disadvantages when you buy acoustic guitars online or instore. You make a comparison and decide whether you should buy online or instore.
Why Buy Online?
The internet makes it easier for you to buy anything online and that includes ordering a guitar. With just a laptop or even a smartphone, you can order your new guitar online and it will be delivered at your doorstep in a few days.
Among the most popular online stores for guitars are Amazon, Musician's Friend, Sweetwater and American Musical Supply, and yours truly, Guitar Junky.
Advantages
You'll get a guitar that's never been touched or demo'd
Can easily compare the price, features, and reviews in one sitting
Very convenient and you can do it anytime
No pressure coming from the sales staff
You may find discounted guitar, get some coupons and other deals
Some guitars are offered in bundled packages with all the accessories needed
Disadvantages
The color and the finish may not be the same in the picture and in person
Can't try playing the guitar and you don't know if it fits your playing style
You need to pay the shipping cost, although sometimes it's waived
Everything can happen during the shipment— getting jostled around, thrown or bumped
The reviews can be misleading and you'll be disappointed to receive a substandard guitar
You need to ship the guitar back (which entails additional cost) if you're unsatisfied and need it replaced
Why Buy from a Store?
Since guitar seems to be the prime commodity for musicians, it's not hard for you to find a local store where you can grab your new instrument.
Getting a customer service who talks to you about your needs and an in-house professional guitar tech to answer your questions right away, are among the perks in a local store. If you see Guitar Center, Best Buy or Walmart near you, those are among the best places where you can buy great guitars.
Advantages
You can have a professional luthier in the store to have the setup for you (maybe free or additional few dollars)
You can feel the neck, its playability and hear the sounds of the instrument
You'll get the color finish and the design that you want, exactamente!
Get professional advice right up when you are still undecided
Directly compare the playability and the sound of each guitar
You can negotiate with the price, if not maybe you can get some perks
Can quickly get the store's attention when you see something weird to the guitar you're eyeing on
Disadvantages
The hassle of really going to the store and be confused by all the sales talk
You can get a guitar that's already tried and demo'd for several times
If you need accessories, you might need to spend on it
You can buy a guitar that's out of your budget range, especially if it's offered at a great deal
What you want to buy may not the guitar you get home
There may be a lot of customers, so you'll not be tended to right away
Conclusion
This is a tough decision because it boils down to the preference and experience of the buyer. For starters, perhaps, it's recommendable to have your first guitar from the local store, where you can easily go back whenever you have problems with the instrument. However, the convenience when buying online appeals to most buyers.
When you buy acoustic guitars online, you're taking more risk than when getting it from the store. However, you can bet on that, since guitars are now professionally setup before they are shipped to the customers. So, it's your call whether to buy online or instore.
Visit our other pages: