Editor's Update: I replaced the previous top choice guitar for beginners, the Yamaha FG800 with Fender FA-115, particularly this bundle. In terms of sound, it's clear that the Yamaha is the sure winner. But hey, we're not only comparing sound here. There are a lot of factors to consider when it comes to buying a starter guitar. Coming at a surprisingly cheaper price tag, it already has got everything right out of the box for a beginner to start playing. I highly recommend this acoustic guitar for beginners.
OUR #1 RATED BEST ACOUSTIC GUITAR FOR BEGINNERS
I was a once a beginner acoustic guitar player like you.
I remember having a cheap guitar that sounds almost like a toy.
It is really uncomfortable to play because of the high action and it made my fingers really hurt and almost numb.
But thinking about it today, it actually made me a better guitar player.
It didn't matter to me if my guitar was cheap, uncomfortable to play, or sounded like a cheap can of soda.
The point was I need to start learning no matter what.
But I'm not saying that you also need to have the same experience as mine to be an expert.
With my recommendations, I hope you can immediately start learning the guitar right away.
Anyhow, let's get started, shall we?
7 Best Acoustic Guitars for Beginners (Starter's Guide 2019)
A straightforward beginner's acoustic guitar. This I think best describes the Fender FA-115.
It is not too low key, and at the same time, not too overwhelming. It is just a well-balanced acoustic guitar perfect for anyone who's looking to play something right out of the box.
Materials
The Fender FA-115 is made from standard materials you'll see in a guitar. It has a laminated spruce top, basswood back and sides, satin neck, laminated hardwood fingerboard, and comes in natural satin finish.
Durability
Yes, solid top guitars can have quite an advantage when it comes to overall profile.
But laminated guitars such as the Fender FA-115 has its own respective advantages especially when it comes to durability.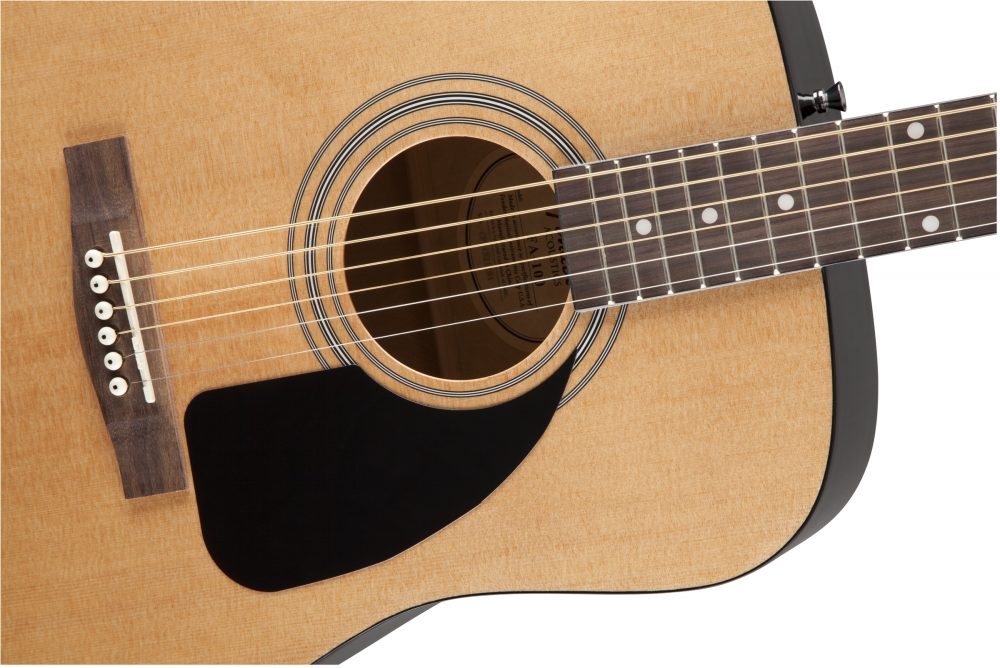 For starters, laminate guitars tend to be less susceptible to cracking. The nature of construction and complex pattern of overlapping grains contributes to this guitar being more durable than the solid ones.
As such, this guitar is perfect for frequent travelers and beginners alike who prefer a much sturdy guitar.
Sound
Fender is a brand known to produce guitars with great sound, and the Fender FA-115 stands true to this.
The X-bracing pattern on this guitar makes it produce a rich sound that mixes well with a right amount of resonance.
Value for Money
You really get more than what you have paid for when buying this guitar.
With Fender as a brand known to produce great quality guitars, money wise, the Fender FA-115 is probably one of the best budget guitars for beginners.
RELATED: Fender FA-100 Review
If you're looking for a guitar that has it all, look no further as the Fender CD-60S will give you great satisfaction. The CD-60S has a dreadnought body style with scalloped X bracing, producing a remarkable sound you surely won't forget.  Belonging to Fender's long list of popular models, the CD-60S is one of the best acoustic guitars for beginners.
Materials
Boasting a solid construction topped with high quality materials, the Fender CD-60S features a solid mahogany top, back, and sides. Fender makes sure that it does not just have a killer sound, but also eye-catching details and design.
With monochromatic neck and body binding and mother of pearl acrylic design surrounding the sound hole, the CD-60S graces you with its natural wood finish.
Aside from an outstanding body and top tonewood, the CD-60S features a mahogany neck with a rosewood bridge and fretboard that has 20 frets, 24 3/4″ ѕсаlе, аnd а nut wіdth оf 43mm.
Durability
Coming from a well-known brand that produces world class guitars such as the Stratocaster, the Fender CD-60S does not have a questionable durability. Since the CD-60S is mostly made up of mahogany, it's guaranteed to last a long time. Mahogany is one of the most commonly-used tonewood when it comes to producing high quality acoustic guitars.
Sound
The CD-60S has excellent tonewood that produces an amazingly warm and mellow tone that's sure to send chills down your spine. Due to its scalloped X bracing, its tonal properties is enhanced with extra resonance and projection each time you play.

Value for Money
With its budget-friendly price, you're getting more than what you paid for with the CD-60S. Aside from its quality and features, the CD-60S comes with a hardshell case, guitar strap, guitar picks, guitar strings, and a clip-on digital tuner.
Ask any expert guitars players about their most recommended acoustic guitar for beginners and they would tell you the same thing: it is Yamaha FG800.
Yamaha's FG series is their best guitar product lines and it wouldn't be that way for no reason.
What makes this the best beginner acoustic guitar is its straightforward sound and durability that could last a lifetime.
As your skills improve overtime, you'll also notice that guitar sound becomes fuller and deeper. This is because of the wood material that makes it sound better as it age.
The Yamaha FG800s is reliable guitar that will journey with you from being a beginner to an expert player.
Materials
The Yamaha FG800 is made from the same from standard wood materials you will see in other guitars.
It features a solid sitka spruce top, nato back and sides, rosewood fingerboard and bridge, die cast tuners and comes in a natural finish.
Durability
Yamaha has always been known to produce high-quality and durable guitars. The brand is almost synonymous to being a long-lasting brand.
Major improvements were done in the new FG800 which makes it more durable for surprisingly exact the same price. Not bad, huh?
Sound
One of the enhanced features of the FG800 is its bracing. It sets itself apart from the traditional bracing structure and now comes in a newly developed scalloped bracing.
What this new feature does is it improves the natural sound on this acoustic bad boy, with an increased low and a much richer harmonic tones in the mid, giving it an overall balance mix of sound profile.
Value for Money
With the new improvements in materials, build, and sound profile, buying the Yamaha FG800 can really make you get more than what you have paid for.
Not to mention quality that the brand brings to the table, this is probably one of the best guitars in its price point which makes it deserving to be the best guitar in this list.
RELATED: Yamaha FG800 Review
A close competitor in the best acoustic guitars for beginners list, the Seagull S6 brings something unique to the table.
This Canadian-made guitar is made from materials that you don't usually find in a standard guitar's material, which makes it a strong contender amongst other guitars in the market.
Let's dive in this guitar's features and see why it deserves to be one of the best acoustic guitar for beginners.
Materials
The Seagull S6 Original is made from only selected Canadian wood materials.
It features a cedar top, wild cherry back and sides, maple neck, rosewood neck and bridge, and compensated saddle that comes in a semi-gloss lacquer finish.
Durability
The craftsmanship and build on this guitar is suited to make it last long.
Some buyers find that mass produced acoustic guitars tend to have issues in durability.
While most guitars are mass produced in China, the Seagull S6 boasts that it is made in Canada.
The wood materials used in this guitar are also sourced locally.
With all these features, issues regarding durability on this guitar is almost non-existent.
Sound
The wood materials, especially the top material in the Seagull S6 plays a major role in the kind of sound that this guitar projects.
While most guitars have a sitka spruce top, the Seagull S6 has a solid cedar top, a wood material that is known to produce a bolder and more profound sound profile.
The overall build on this guitar also contributes to the richness and fullness in tone that can be easily distinguish for any guitar that is made from this material.
Value for Money
From the type of wood materials used, well-crafted build, outstanding craftsmanship, and well-defined sound, what can you ask for more?
You maybe spending a few bucks compared to a standard price of a guitar, but you're definitely getting more than what you have paid for, which makes the Seagull S6 Original a great deal for the money.
RELATED: Seagull S6 Original Review
A much smaller scale guitar, but the same features and sound profile. I think this best describes the Yamaha FS800.
FS means "folk small" body acoustic guitar, and it is considered as one of the best acoustic guitars in the market today.
Aside from the incredible sound that this guitar provides, comfortability is another feature that it brings to the table which makes it deserving to be included in this acoustic guitars for beginners list.
Materials
The Yamaha FS800 also has the same body materials as with the FG800.
It has a solid sitka spruce top, nato back and sides, rosewood fingerboard, and bridge, and comes in natural finish.
Durability
Having a smaller body can have its advantages too. Having a concert size, the FS800 can be your perfect travel companion.
The sitka spruce wood that was used in this guitar is more durable compared to another wood material that is used in other guitars such as cedar.
When closely compared to cedar, a spruce wood is made to last longer.
Sound
We have no issues in terms of sound in the Yamaha FS800.
As a matter of fact, this guitar's sound is incredible that you would not think that it is coming to a guitar of this size.
Surprisingly, the sound is full and bright, with the right amount of resonance. It balances all the features you would like a guitar to sound like.
Value for Money
Money-wise, I think I would place my bet on the Yamaha FS800.
Think of the features this guitar has. Incredible craftsmanship, high-quality wood materials, perfect concert body size,  and overall outstanding sound profile, all in an amazing price.
Buying the Yamaha FS800 can be one of the best buying decisions you've ever made.
RELATED: Yamaha FS800 Review
You want to straight away play an acoustic guitar. At the same time, you are not sure if you are really that committed in playing.
Soon, you may or may not continue playing. If this perfectly describes that situation that you are in right now, then the Jasmine S35 suits you well.
Materials
The Jasmine S35 features a laminated spruce top, laminated nato back and sides, rosewood fingerboard and bridges, nato neck, and comes in smooth satin finish.
Durability
This guitar may not be made from the same solid wood materials as the previous ones from above, but with extreme proper care and maintenance, like most other guitars, the Jasmine S35 is sure to stay with you.
Sound
When played right out the box, it sounds great. With a proper setup, this can even compete against much more expensive guitars.
Value for Money
With a guitar this cheap of a price, you can never go wrong with buying the Jasmine S35 acoustic guitar. Any beginner acoustic guitar player would find this guitar great for its price.
For its materials, build, craftsmanship, and sound, I think that this is probably the cheapest in the beginner's acoustic guitars line.
RELATED: Jasmine S35 Review
As pretty as its brand name, the Jasmine S34C NEX Acoustic Guitar can easily capture your heart with its attractive aesthetics and natural gloss. But it's not just about the outside features, as the S34C NEX is a great sounding grand orchestra-style guitar with Venetian-style cutaway. Featuring with its very own Advanced X Bracing, beginners will surely be amazed of what the S34C NEX has to offer.
Materials
The Jasmine S34C NEX features a laminate Spruce top and sapele back and sides, providing amazing tone and sound. The Jasmine S34C NEX features a slim mahogany neck a rosewood fingerboard complete with a natural gloss satin finish, which does not only serve aesthetic purposes, but also helps with the resonance of the guitar.
Durability
Featuring sapele (also known as "African mahogany") as its body, the S34C would greatly survive the test of time. Since sapele and mahogany have very similar properties, you need not to worry about the S34C's construction and durability.
Sound
Due to its tonewood, the S34C NEX produces a very powerful and direct tone, as well as incredible clarity even with aggressive playing. The S34C NEX has a thin waist, therefore producing a crisp and bell-like tone which is ideal for fingerpicking.

Value for Money
Popular especially to beginners, the Jasmine guitars possess outstanding guitars having great playability and easy handling- not to mention its affordability. And the Jasmine S34C NEX is no exception.
The Beginner's Guide to Picking an Acoustic Guitar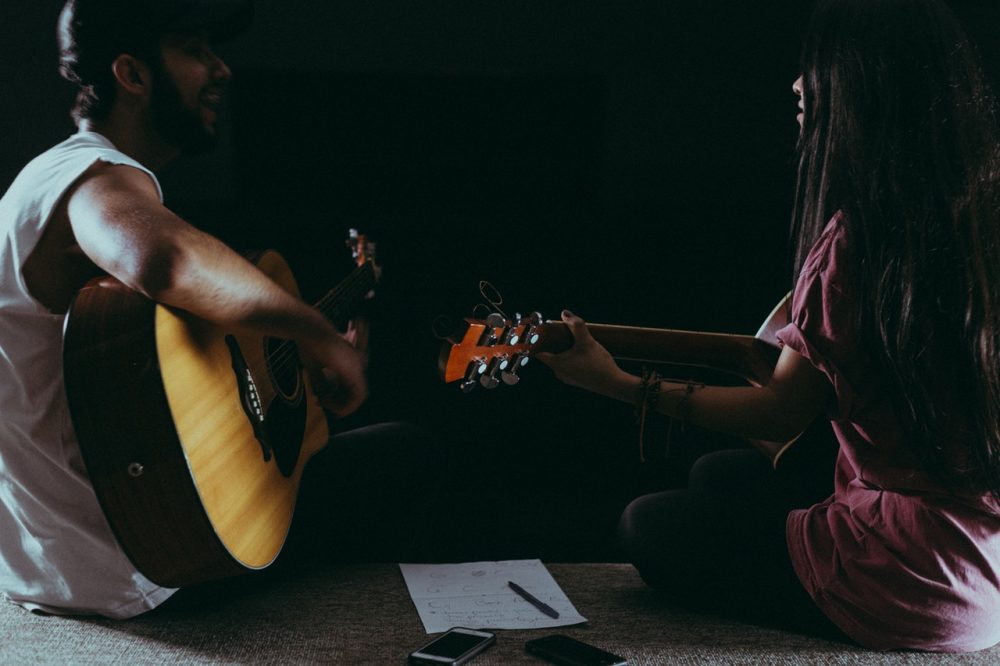 It can be a challenge to figure out a guitar you want, especially when you've just started playing. But with the right information, you can easily brave the nearest guitar store and pick out an acoustic axe that can help you hone your skills.
This article gives you that information, along with a couple of the best recommendations. After all, we're all about turning you into the best guitarist you can be.
Having to pick from hundreds of guitars can be a little overwhelming, but there are three simple rules you can follow to buying an acoustic guitar that will help you slay your lessons.
How much should I pay for a beginner guitar?
See to it that you have a set budget before you head to the store. A good range for a high-quality beginner's guitar would be from $100–$300. This way, you can filter out guitars that can be too high-end for a beginner, and too low-end for someone who is regularly practicing.
Now, speaking of budget, Nate and Andrew from Guitareo emphasizes the importance of knowing your budget. How much can you spend for an acoustic guitar? They'll discuss more in this video.
Read Reviews Online
If you're planning to buy an acoustic guitar online, take a look at other user's reviews. They can give a useful insight on the pros and cons of the same guitar that you are buying. Having a first-hand user experience is really important. You'll be surprise how powerful it is to read these reviews from verified buyers.
Take Only the Essentials
Having a budget can limit the different guitar accessories you might want to get, but you only have to prioritize one other item: the guitar case. This way, you'll be able to protect and carry your acoustic guitar with you easily and can help you practice at a moment's notice.
Which is Easier To Learn – Electric or Acoustic Guitar?
It definitely is easy to learn the electric guitar. The guitar's neck profile makes it easier for beginners to learn the chords since it's slimmer compared to an acoustic guitar. The catch however is the cost. A beginner electric guitar can be more expensive since you need additional equipment such as an amplifier, whereas on an acoustic guitar, you just need the guitar itself.
What Should I look For in a Beginner Guitar?
When looking for a beginner guitar, you should consider the following:
Brand
Price
Ease of Use
Build
Sound Quality
Accessories Included (Optional)